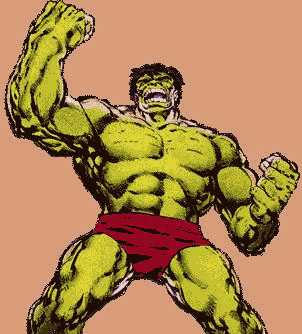 "Enough is enough."
"I find the atmosphere to be somewhat strange."
Bruce Banner is a serious and advanced fictional physicist that takes on a green colour and goes berserk after a gamma bomb accident. Very resistent to pain and disease afterwards, he fights.
An avatar - puh! (Poem)
The first verse of these clippings are verbatim quotations the output of a former SRF devotee who decided to fight too:
"The black-hole of Yogananda-doctrine would suck me in from time to time.
I finally thought, "Enough is enough
I have been a pretty false devotee.
Back then when I was young and stupid
SRF believes [Yogananda] was an avatar
Why was I so determined to delude myself?"

To the superficial, all seems superficial (Saying).
Rattling along, ignoring basic facts, that way is different.