Kamasutra Love-Making Positions

Sir Peter Paul Rubens. Couple in Embrace.

Kamasutra (Kama Sutra) by Vatsyayana is educative and erotic literature, to be distinguished from pornography. The word erotica typically applies to works where the sexual element is regarded as part of the larger aesthetic aspect. There are erotic elements in literary works of all times and all countries. Among the best-known examples are the Kama-sutra from about the 400s AD.
Kama, sensual or sexual pleasure and delight, is one of the great goals of life. Sutra means aphorism. So the text consists of terse sayings about sex, but about more than that too: fine living and family life and other sides to pleasure for humans.
Sir Richard Burton has translated the whole Kamasutra text from Sanskrit into English. The following is a short and quite poetic description of postures.
In our days a book with cosy photos of the positions and their details is all in all better for understanding how to do it. The best use of such recipes for love-making is widening of one's mental horizons - without harm - of what is possible. Not everyone is fit for doing all of them, but some are easy enough. "You are not into it for the sake of the postures; rather, the postures are there for your sake." That is the idea. Basically, to the degree that having fun and do things that enhance thriving are into it, well and good. It may be necessary to keep out of the sight of neighbours. Some like privacy.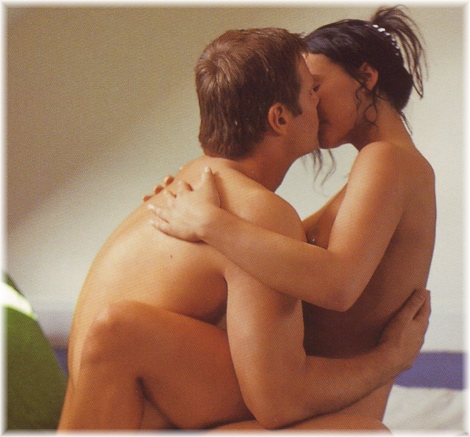 From a (too) difficult, balancing position called Temple. He is holding his arms gently around her waist while her hands is placed on his back, and they kiss. (From The Photographic Kamasutra)
You may enhance your repertoire: the postures are a buffet, pick and choose from among them as you find it fit. Maybe you could benefit from loosening up a bit first. What follows is a selection of positions that some have a good chance of success at, I guess. And once again, if you want to see the postures illustrated, photos are much more telling than old Indian paintings of postures.
Putting a fancy name on many very small variations of what flows and stems from two coupling organisms is not supposed to be an end in itself. Keep yourselves in charge - Names could be used for reference, though. - TK

Linga(m) is Sanskrit for penis. The cylindrical penis has a body (external portion) and a root, and consists of spongy tissue. 'The front is called glans penis.
Yoni is Sanskrit for vagina, and perhaps also at times for vulva. What is the difference? Vulva is the external female genitalia, the labia majora, the labia minora, clitoris, vestibule of the vagina, bulb of the vestibule, and the glands of Bartholin. The vagina is a ca. 9 cm long canal inside all the exterior.
Lying Down Positions
Grasping the ankles
of the round hipped woman, whose buttocks
are like two ripe gourds,
raise her beautiful thighs
and spread the thigh-joints widely.

Lying-down Positions - Samputa Group
In Pidita the darlings' thighs
are interlaced and squeeze each other in rhythm.
In Veshtita she crosses her thighs
or rolls each one inward,
thus greatly strengthening her yoni's grip.

Your darling traps and milks your penis with her vagina -
When she uses it, a woman should simply hold the lock.
From The Medieval Texts
She draws her limbs together,
clasping her knees tightly to her breasts,
her yoni, like an opening bud,
offered up for pleasure.



Sitting Positions
The Sun-Wheel, Swasthika
Sitting face to face in bed,
her breasts pressed tight against your chest,
let each of you lock heels
behind the other's waist,
and lean back clasping one another's wrists.
The Peacock, Mayura
Seated, the lady raises
one foot to point vertically over her head
and steadies it with her hands,
offering up her "yoni" for lovemaking.
Victory, Jaya
Kneeling between her thighs,
tickle her breasts and under her arms,
call her 'my lovely darling'
and [circle a little] around her nipples.



Rear-Entry Positions
The Milch Cow, Dhenuka
She bends well forward and grips
the bedstead, her buttocks raised high;
cup your hands to serpents' hoods
and squeeze her jar-shaped (sic) breasts together.
The Elephant, Aibha
When your darling lays
breasts, arms and forehead to the carpet,
raising her buttocks high,
and you guide your penis into her yoni.
Lying on her side, facing away,
the fawn-eyed girl
offers you her buttocks
and your penis penetrates the house of love.



Standing Positions
The Suspended, Avalambitaka
When the woman sits in her darling's
cradled hands, her arms around his neck,
thighs gripping his waist,
her feet pushing back and forth against a wall.
The Palm, Tala
Put your arm around her neck
and enjoy her as she leans there at her ease.



Oral Pleasures. Fellatio Variants
The Outer Pincers, Bahiha-samdansha
Now she takes the head of your penis
gently between her lips,
by turns pressing, kissing it tenderly
and pulling at its soft skin.
Sucking a Mango, Amrachushita
And now, fired by passion, she takes
your penis deep into her mouth,
pulling upon it and sucking as vigorously
as though she were stripping clean a mango-stone.
Swallowed Whole, Sangara
When she senses that your orgasm
is imminent she swallows up the whole penis,
sucking and working upon it
with lips and tongue until you spend.



Oral Pleasures. Cunnilingus
Sucked, Chushita
Next, fasten your lips to hers
and take deep kisses
from this lovely one, your beloved,
nibbling at her and sucking hard at her clitoris.
Stirring, Kshobhaka
Stirring the root of her thighs,
which her own hands
are gripping and holding widely apart,
your fluted tongue drinks at her sacred spring.
Also
Lie side by side,
facing opposite ways,
and kiss each other's secret parts.



Variations
During lovemaking, a gentle forward stroke
may be varied for depth and speed,
allowing a subtlety, rhythm
and spontaneity.
Churning, Manthana
If you grasp your penis and move it
in circles inside her yoni.
Pressing, Piditaka
You hold your penis pressed breathlessly
to her womb.
The Boar's Blow, Varahaghata
Continuous pressure on one side of her yoni
is the Boar's Blow.
Sparrow Sport, Chatakavilasa
Quivering in her yoni is "Sparrow Sport".
It heralds orgasm.
Differences
No two women make love quite the same way,
so orchestrate your rhythms
to the moods and colors of your darling.
She Sits on Top and Varies Her Moves
If long lovemaking exhausts you
before your darling has reached her orgasm,
you should allow her
to roll you over your back
and sit astride you, taking initiative.

If the posture gives her deep pleasure,
or you enjoy its novelty,
she may transpose into it as a matter of course.

The Tongs, Samdamsha
She climbs upon you,
her giggles turning to gasps;

As her hips begin to churn,
her head, flung back, bobs.

If she grips your penis with her yoni's vice,
squeezing and stroking it,
holding it inside her for a hundred heart-beats.
The Bee, Bhramara
She revolves her hips so that your penis
circles deep within her yoni,
you arch your body to help her.
Lovely Lady in Control, Charunarikshita
Catching your penis, the lady
with dark eyes like upturned lotus petals
guides it into her yoni,
clings to you and shakes her buttocks.
Also
She sits upright upon you,
her head thrown back like a rearing mare,

She faces your feet,
brings both her feet up to your thighs,
and works her hips frantically.
The Bull, Virsha
You lie flat on your back
with legs stretched out
and your darling sits astride you, facing away
and grasping your feet.
The Wheel, Chakrabandha
Lying upon you, your beloved
moves round like a wheel,
pressing hands one after the other on the bed,
kissing your body as she circles.
Caressing
A man who climaxes too swiftly
could arouse his lady
by caressing her clitoris with his fingers
and flooding the well
of her yoni before he enters her.