On Norgay, Norway, a Norg among Norgs, and Norge -
Norgay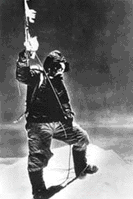 The dramatic photo of the Sherpa guide Tenzing Norgay on the summit of Mount Everest in 1953 got world famous. It was taken by the New Zealand explorer Sir Edmund Hillary (1919-2008).

National Geographic is among international magazines that have become aware of the scenery of Norway where there are no cities to drag it downwards, pollute the air, foster cramped "payman living", and such things. So, well, outside the cities the scenery may be good and those parts of Norway get high ranks. But it depends on where you go. Other travel agencies, including Lonely Planet, have ranked the West coast climate is "exotic" and rather "unstable". A rugged terrain may awe or impresses, and a limited population around some fjords pollutes less than a large one "Where people are few, pollution is less - hopefully." A sad fact is that many Norwegian fjords are polluted. There is a list from 2007 of 34 poisoned Norwegian fjords and their main poisons. Generally quicksilver, PCB, cadmium, and lead stand out. One is advised not to eat fish and shellfish from these fjords.
[www.dagsavisen.no/innenriks/article300728.ece]
Not extremely bad living conditions by and large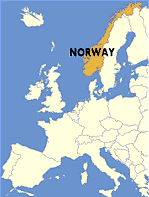 Norway lies as far north as Siberia and Alaska.
Not only the scenic beauty, but main sides to the living conditions are quite good for many in Norway too, even though the number of poor people has increased over the last ten years or so. It is a shame. Still, for several years the United Nations has chosen Norway as the best country to live in. [WP, sv. "Human Development Index"]
What is called the Human Development Index (HDI) is a composite statistic of (1) life expectancy (a sign of health and longevity), (2) education (years of schooling), and (3) income indices (signs of the standard of living) that the United Nations use to rank countries.
Admittedly, there is more to life than these three "strands of the rope". It is difficult to capture all the factors that go into human conditions in a single index. For example, climate is also factor to consider in real life, and the degree of inequality - "where some get rich and influential, and many more poor". The difference between the have's and have-not's is into it. A mere average masks these much significant inequality sides to life too.
So a Norwegian doesn't have to agree wholly with the ranking. Professor Svein Sjøberg at the University in Oslo, for example, says the UN report's criteria are too crude, and the variables that go into it, are a selection based on figures. Norway has money from oil production and still some oil reserves, but the good professor finds it completely unreasonable to say it is better to live in Norway than in any other of the twenty countries on top of the list. One may add, cautiously, "not better than in some of the top ten, then."
What you prefer - much and free access to nature, wildlife, the sea, a warm climate, cheap wine and scenic beauty, the prices, for example, will make some countries stand out as better than others for you; what country is preferred, is also somewhat individual. Some thousand Norwegians who reach retirement age, settle in warmer countries, such as Spain. Other countries are attractive too: [◦Survey]
Even though some say, "There is no such thing as bad weather, only unsuitable [inappropriate] clothing," climate does have an effect on thriving. During long, dark winter months in the north more people may get depressed.
A glance at a happiness report too
The World Happiness Report 2016 Update ranks 156 countries by their happiness levels. When self-declared happiness is used to figure out how good a country is to live in, Norway is among the top ten or better, but it does not say how much of this declared happiness is due to antidepressants, where Norway is among the top-ranked countries, with some 300.000 users (2011). If they should stop that use, it is quite probable that a larger percentage would have self-reported differently, and the happiness ranking of Norway could have been different. I point at a possibility.
[http://worldhappiness.report/]
How rich you are also means a lot. "In Norway you know you are poor if the food in your fridge is placed to make it look fuller than it actually is." Joking aside, poverty in Norway exists mostly among immigrants and single parents. Also, poverty is a greater problem in the big cities than in the countryside, according to recent findings by SSB (2011). [Wikipedia, s.v. "Fattigdom"] [1]
Finally, the UN report above has focused on health, education, and economy. But living in a society is more that that, says Sjøberg. Freedom of speech counts, legal security, democracy, absence of corruption, happiness in life, and conditions for realising oneself are significant factors too. However, they are not measured in this UN report, which therefore is not really a proper documentation that "Norway is the best country to live in". The happiness report does not really say that either, even though some seem oblivious of such apt points, concluded Professor Sjøberg as early as in 2001. [◦Link]

Norway is mountainous for most part. Along the west coast of our country there are mountains and steep and high cliffs that one may throw oneself out of with a hang-glider to ride the wind or fail. If the view from the mountain top is a quite all right experience and you don't trip and fall, you may typically do without a hang-glider or parachute.
Landslides are expected; tourists are welcome
There is a snag to the magnificent view along stupendous fjords in Norway: There are unstable mountain areas along some of them. Landslides have killed many people earlier, in part drowning them by tsunami-like waves. For example, the Tjelle avalance in Sunnmøre in 1756 caused a 25 meter high tsunami. 32 people were killed.
In 1905 a catastrophe struck Loen in Stryn when Ramnefjellet ("the mountain of ravens") unleashed a rock slide, and 61 people were killed.
Along the pretty fjord around Tafjord on the west coast of Norway there was a landslide in 1934. A huge avalanche of rocks - perhaps three million cubic metres - rushed into the sea. The tsunami waves drowned cattle and pigs and 40 people in Tafjord and Fjørå. The waves were up to 64 metres high. Most houses, roads, bridges, boats, and quays were washed away.
There have been other deadly landslides into fjords over the last hundred years too, and also clayed mud slides and avalances of snow and slush. A clayed mud slide in Gauldal, Trøndelag, killed 500 people in 1345. A slide of the same sort killed 118 people in Verdal in 1893, for instance.
Astor Furseth writes of these and other natural catastrophes, telling there have been more than 3000 avalanche and landslide disasters in Norway over the past 400 years, and over the last 200 years nearly 2500 persons have been killed so far, and there is more in store. [◦Link].
Landslides occur almost everywhere in the country. Modern researchers expect more landslides to come along Storfjorden ("the big fjord") in the Møre and Romsdal county, but cannot tell exactly when. For example, at Åkerneset near Stranda a major avalanche of up to 100 million cubic metres is expected, and tsunamilike waves that are tens of metres high, depending on how big the landslide is, the distance from Åkerneset and some more factors. The cracks in the mountain side above the fjord are widening year by year. If a major landslide comes in the summer, several visiting cruise ships in the fjord may chance to see it and be at risk.
The Geiranger fjord area is now a Unesco site too, along with Bryggen in Bergen, Urnes Stave Church, Røros Mining Town; Rock Art of Alta; The Vega Archipelago; and another West Norwegian Fjord, the Nærøyfjord. Struve Geodetic Arc may be counted in too.
There are lots of gulches and sagging fjords along the west coast of Norway. Elps and fjords of Norway may impress a visitor, while those who live along the fjords may get used to them. There is also a lot more to earth living than plenty of fjords and mountains.
Der böse Norg - The evil Norg
On the Riffianer Alm a bad Norg often appeared after sunset and damaged the cattle so that they died of poisoning. (Riffian.) [Sagen aus Tirol, collected and edited by Ignaz V. Zingerle, Innsbruck 1891, No. 129.]
Norge
Those who live in Norge (Norway), are not called Norgs.
People who are dainty must not come to Norway. [Mortimer 1850, p. 286]
The magpie . . . is the favourite bird. [Mortimer, p. 289]
Things have changed since 1850. One should be able to enjoy the sight of a sheep or a whole flock in the countryside still. As for biological value, they are far above castles of rock. A word to the wise: "A castle of bone is more than a castle of stone (British proverb)." Compare 1 Corinthians 6:13.