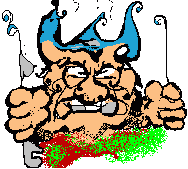 Few were as grave.
Odin (stress on the first letter) is the ruler of Asgard in Norse mythology. Odin is the same as the Anglo-Saxon Woden and the Old High German Wotan. Odin was referred to by more than 200 names that suggest his different roles.
Norse Odin is acknowledged in Ásatrú, the "faith in the Æsir", an officially recognised religion in Iceland, Denmark, Norway, Sweden and Spain. In Norway there appear to be about 300 members, maybe some more. Scandinavian folklore still contains fragments from tales about Odin and Thor in particular, as Inger Boberg shows. [Daf]
Many Indo-Europeanists hypothesize that Odin in his Proto-Germanic form was not the chief god, but that Tyr - origin of the name Tuesday and the god of single combat, great honesty and courage, victory and heroic glory - was then: It is assumed that Tyr (Tiwaz) was overtaken in popularity and in authority by both Thor and Odin at some point.
Support for Odin as a late-comer to the Scandinavian Norse pantheon can be found in the Sagas where, for example, at one time he is thrown out of Asgard by the other gods - a seemingly unlikely tale for a well-established "all father."
Adam of Bremen recounts around 1080 that in the gold-decked temple of Uppsala, the people worship the statues of three gods. The mightiest of them, Thor, occupies a throne in the middle of the chamber; Wotan [Odin] and Frikko [Frigg] have places on either side. Surely, tatus is reflected thus. Adam writes, "Thor, they say, presides over the air, which governs the thunder and lightning, the winds and rains, fair weather and crops. The other, Wotan - that is, the Furious - carries on war and imparts to man strength against his enemies."
The Prose Edda tells Odin had three residences in Asgard, and the third of them was Valhalla (the hall of warriors fallen in battle). In the prologue to the work, Snorri speculates that Odin and his peers were originally refugees from the Anatolian city of Troy, and that the word Æsir (gods) as derived from the word Asia. The Ynglinga saga shows the details that Snorri furnishes.
The name of Odin is related to oðr, which means "fury, excitation," besides "mind," or "poetry." He is considered a principal and ambivalent member of the Aesir (gods) of the Norse Pantheon, and is associated with wisdom, war, battle, and death, and also trickery, cunning, and deception, magic, poetry, prophecy, victory, and the hunt.
The Norse poem Havamal is attributed to Odin. Significant parts of it and the whole tenor compare with the wisdom literature of Solomon.
Odin is closely connected with a horse and spear, shape shifting into animal forms, and the Wild Hunt across the sky. Sacrifices made to Odin were called blóts, where male slaves and other males were sacrificed and hung.
Parallels between Odin and Celtic Lugus, Lugh, Lug (identified with Mercury) have often been pointed out: both are intellectual gods, commanding magic and poetry. Both have ravens and a spear as their attributes. However, there is no one-to-one correspondence between Germanic and Celtic gods.
So, there is (1) the quasti-historical Odin, (2) a god of rites, and (3) perhaps a blurred idea of an Odin in any man too. [Ng, sv. "Starkad"]
Quasti-historical
Snorre Sturluson writes that Odin settled in both Odense (Denmark) and Sigtuna (Sweden). He is presented as a a law-maker who instituted Norse laws, rituals, and brought sports with him. Odin apparently spoke in verse, and taught runes. They are Norse alphabeth letters. [Agr]
Odin was a magician. Women in particular were taught Odin's magic, seid. Also, berserk warriors were devoted to Odin, who mastered to make his devoted men strong as bears and mad as dogs and wolves. It was thought that some Norse warriors perhaps could change themselves into fighting bears for a couple of hours, bringing death and ruin to an enemy. Norse berserks are much like Samson when he got the Spirit over him, killed a thousand persons with the jaw-bone of a donkey, we are told by writers and editors of the Old Testament who were out to emphasise their "specialness". [Judg 15:4-15] It is also worth noting about ancient Hebrew writings that their alphabeth did not contain vowels, and 100 and 1000 and so on were written similarly, and so was 300 and 3000. This suggests that later understanding of old passages rely on later interpretations. So maybe Samson did not manage to capture 300 foxes and later a thousand persons armed with far better weapons, with a fresh jaw-bone either. As Philip Yampolsky suggests, many old stories get more fanciful with time, as a general drift. We see it documented in both religions and myths. [Tun]
Odin lorded over dogs and wolves. He could allegedly make enemies go blind, and was handsome, noble and dangerous to behold for offenders. He also knew how to change colour and look. By his word alone he could make the sea still. By his word alone he could make the sea still. He could also make fire go out, and turn the wind in this and that direction. He could also make fire go out, and turn the wind in this and that direction.
At times Odin used to lie down. Then he could be turned into bird, animal, fish or snake (a shape-shifter). He could even be in other countries. Odin used to carry the head of a dead man with him for wise conversation.
Norsemen believed these things, and vital parts of the old Norse religion appears in the form of "folk beliefs" and superstitions in Scandinavia. [Nok 1:3-9; Daf]
Snapshot of on-line material related to on this site:

At a very strange threshold, no matter what it is or where, it could pay to continue being polite and sparing of speech, that is, reserved in some okay way.
Havamal is Norse teaching poetry. The poem consists of 164 verses, and is found in the Poetic Edda (or Edda Saemundar, or the Elder Edda). Medieval Snorre Sturlason wrote a second Edda, called the Younger Edda, or the Prose Edda. Together, these Eddas are "the fullest and most detailed source for modern knowledge of Germanic mythology" [Ebu]
The hold of Snorre's various outputs stem from mythological stuff, great or savage men described in dialogues and otherwise, and the old Norse style he made use of. His writings reflect an Icelanders' interest in pagan ancestors.
In Heimskringla Snorre described the descent of kings of Norway from gods.
The following is extracted mainly from Inger M. Boberg's book on Danish folk tradition:
"Praise of wisdom, recurrently voiced in proverbs of Solomon, is likewise found in Havamal," says Inger M. Boberg, and "Solomon's proverbs and Havamal have many points of view in common." [Daf 135]. A telling side to this so-called wisdom is not to reveal much. "Even a fool is thought wise if he keeps silent, and discerning if he holds his tongue." [Proverbs 17:28]
"Havamal consists largely of warning and teaching (instructive) proverbs that were to be urged on the Scandinavians of old. They are the oldest Nordic proverbs known", Boberg also informs. [Daf 133]. Not a few proverbs look better than they work, for "much goes worse than expected", says Havamal, verse 40.
Be that as it may, the fittest proverbs suggest how to accommodate in a tradition, very often linked up to hailed and exemplary personages of the past. Some proverbs deal in prejudice.