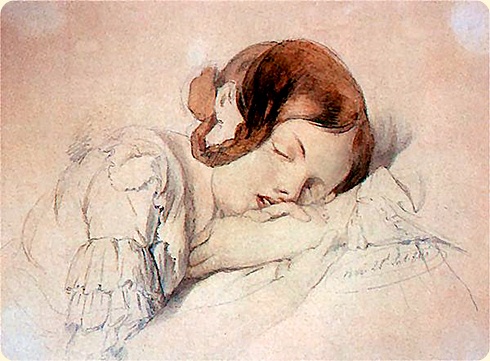 Sound sleep is something needed, and death is too, explains Paramahansa Yogananda in an article below, and also that "In heaven there are no crackers or soup."
I am an expert of electricity. My father occupied the chair of applied electricity at the state prison. [W. C. Fields]
A troll near Galdhopiggen Mountain sat inside an icy cave and thought, "A castle of bone is worth more than a castle of stone".
A tourist, taking shelter in the same cave to escape bad weather, thought: "What most men do not trouble to find in the Jotunheimen mountain range, is a decent little mountain cave to settle in."
The troll kept sitting still, and he did not sleep. He was electrified.
[Compare "The sleepless saint" in Yogananda's Autobiography, ch. 13].
When you become experienced in meditation, able to go deep into superconsciousness, five hours of sleep are enough. - Yogananda, Ak 20

I think six or seven hours of sleep is enough. After that you don't actually sleep; you drug the body. [Yogananda, in Dr 185]
Ferret out the facts first, and if you wish, add Yogananda's prayer-demand, "Save Me from Wrong Beliefs," for that seems needed too. [Wfe No 150]. One thing is what Yogananda taught; another thing is what is fit. What SRF and Yogananda sloppily teach about sleep could derange less than half the followers. Guru followers are told by Beloved Leader (of the pack - eh, sect) to cut down sleep to seven, six, or five hours a night, depending on what Yogananda quotations are employed, ignoring that many persons need far more sleep to function well. Just see what sleep research has come up with and learn to draw benefits from it.
On the other hand, some who find it fit to break down the resistance of others, may deprive them of sleep and go on to indoctrinate them more easily. It is feasible, but not much of a good deed. It is fit to seek to found your rhythms of living on facts that rank higher than what is childishly "doctrinated" in sects as "infallible".
"How much sleep do I need - and what may happen if I don't get enough?" is a legitimate double question. 7,5 to 8 hours a night is the average. Many need more and others much more. If we get too little sleep, we may get awfully tired and make stupid mistakes and endanger ourselves and others thereby. And in the longer run, health may suffer.
"Can I really get on by four or five hours a night?" The short answer is: No, you probably can't. But all are not alike. "A few people need a little (four to six hours), a few people need a lot (nine to ten hours), and most are in the middle (seven or eight hours)," explains Epstein, and continues with: "Most sleep specialists believe that the overwhelming majority of people need at least seven and a half hours of sleep to function at their best. That's a good goal for the average person." [Hgs 27-28]
Now it would be good to search for the key causes of your lack of sleep. Could some be sloppy sleep guidelines propagated by SRF? Many years ago they were, in my case. I clearly needed more sleep than seven-six-five hours a night, no matter what the guru Yogananda shortsightedly decreed in SRF writings and guidelines to the contrary. I was taken in, and suffered from results of that. Where possible, I suggest it is fit to dismiss personally unsuitable Guidelines for the sake of maintaining good health.
From here I go into more sides to averaged sleep lengths for different sorts of folks, various effects of sleep reduction, sleep deprivation, and what is called normal sleep:
Sleep research, initially
Sleep length varies among people. Some people naturally sleep for eight and nine hours a night, and some even longer. And the effects of sleep reduction can rebound. See what experts maintain below, and bear in mind that one has to make allowances for the fact that that some diseases, like allergies, simply call for more than an average length of sleep too. There is much research to draw on to suggest how necessary sleep is for health, well-being and life itself.
Help yourself at night. You can help yourself get a truly good night's sleep, says Lawrence J. Epstein in A Good Night's Sleep. Sleep is basic, and most people can get better sleep. I appears that in 2005, about 75 percent of the American population had at least one symptom of a sleep problem. Moreover, the partner of someone with a sleep disorder is often as disrupted as the one with the disorder - if they sleep in the same bed, for example. Experts think most people need 7,5 to 8 hours sleep to function at their best. [Hgs 3-5]
From sleeping too little. Sleep experts tell from how several long-term studies reveal that if you sleep less than five hours a night, you're more at risk of developing depression, heart disease, stroke and type 2 diabetes. A recent major study suggested that women who sleep for six hours or less each night were 62 percent more likely to develop breast cancer than those who sleep seven hours. Lack of sleep has been shown to affect hormones and metabolism, making overeating and weight gain more likely. Moreover, lack of sleep can lower your immunity, affect your mood, leading to relationship problems. Your judgment may be impaired. And overall, evidence suggests that people who sleep less than five hours at night don't live as long as those who sleep seven to eight hours. [Tdt 13, 14, 19].
Assess your own sleep need and whether you are sleep-deprived. How much sleep do you need? Wendy Green thinks the answer can be found by "listening to your own body. If you're able to fall asleep fairly quickly at night when tired, enjoy largely unbroken sleep and awaken feeling refreshed, then you're probably getting enough sleep - regardless of how much that is." Sleep expert Neil Stanley says, "What is important is that you get the right amount of sleep for you. Simply, if you feel awake and function at a high level during the day, you are probably getting enough sleep, but if on six hours sleep you feel sleepy the next day, then it's not enough for you." [Tdt 20]
"Take a minute to think about how much sleep is not enough for you. The key here is daytime drowsiness," says Epstein. "Along with feeling drowsy in the daytime, you're probably sleep deprived if you (a) struggle to get out of bed; (b) are frequently irritable; (c) have difficulty concentrating; or (d) nod off or come close to nodding off after lunch or dinner, at the movies, watching television, or while driving." [Hsg 28-29]
Wendy Green counsels that you answer these questions: (1) Do you rely on an alarm clock to wake you up? (2) Do you feel sleep during the day? (3) Do you doze during the day, whenever you have the opportunity? If you answered 'yes' to any of these three questions, it is likely you are sleep-deprived. To find out why it is so, identify the root causes of your sleep problems, she says [Tdt 21]. Learning about normal sleep will allow you to recognize if what you are experiencing is a genuine problem. Further, seeking to address the source of the sleep problem should improve your sleep and your daytime energy and alertness, says Epstein. [Hgs 9]
Varying lengths of sleep, and REM sleep
Jim Horne goes on to tell: "There will be some who sleep longer or shorter than the average, and I am excluding those who have insomnia. For adults aged between 20 and 70 years, the average [which is thirty-four percent] sleep is between 7 and 8 hours a night" [Sjs 172] - and around twenty minutes longer for women than men. Around the seven-eight hours average "is the typical bell-shaped 'normal distribution', with decreasing numbers sleeping longer and shorter than the average." [Sjs 172-73] Accordingly, around 24 percent sleep for 8-9 hours a night, and about 12 percent sleep for 9-10 hours a night. And ca. 5 percent sleep for 10-11 hours a night. One or two percent sleep over 11 hours. [From figure 15, in Horne 2006, p 172]
The first five hours of sleep seem to be of the same quality for five- and nine-hour sleepers alike, in terms of how light or deep the sleep is, and rapid eye movements (REM). Both types have similar amounts of deep sleep and REM sleep. [Sjs 173] Also, about every ninety minutes, a sleeper enters REM sleep, going through several stages of sleep throughout the night, alternating between REM and non-REM sleep. In normal young adults, there are usually for or five alternating non-REM and REM periods. Most deep sleep occurs in the first half of the night, and as the night progresses, periods of REM sleep get longer. Later in life there is less deep sleep, says Epstein. [Hgs 18]
Cutting down on sleep - and mania
From long to short sleepers. Extremely short sleepers and extremely long sleepers are very rare. Natural sleep of these sorts is termed healthy if the sleepers feel quite alert and are not dozing off during the waking day. Healthy short and long sleepers do not differ much by way of intellect and IQ. However, there is a tendency for short sleepers to be more 'enthusiastic' people, and very short sleepers may tend toward mild mania. Very short sleepers "may have a somewhat shorter life expectancy." [Sjs 174, 175]
Great short sleepers are found. As for great leaders and notables who have been able to survive on little sleep, like Alexander the Great, Napoleon Bonaparte, and Thomas Edison, they "all were somewhat hypomanic [having mild manias]." [Sjs 175] Further, a study of naturally short sleepers found that they had a more positive attitude to life and were more optimistic. Long sleepers, on the other hand, were more likely to be 'worriers'. For all that, the long, happy sleeper is to be reckoned with too. And true happiness has no mania and nothing faked in it, I would add. [Sjs 174]
Sleep reduction is possible, but count the possible, accumulating cost. It may be feasible for some to cut down on sleep to the degree that Yogananda tells followers to. "Given a few weeks of gradual sleep reduction, people may well be able to adapt to taking less sleep, without increasing their day-time sleepiness. I am not advocating that we do so," says Horne, and speaks of the effects. "Restriction to six hours of sleep is just about the limit for most people," he goes on to say on the basis of studies on sleep reduction. However, there was a snag to it: the extra wakefulness that resulted from cutting down on sleep, was used by the participants in the study just to waste time. [Sjs 180-82] And lack of sleep is directly linked to poor health, including heart disease, diabetes, and obesity. Even a few nights of bad sleep can be detrimental. [Hgs 5]
Sleep reduction is possible within some reasonable bounds, but hardly recommendable, one may add. "Are we chronically sleep deprived?" asks Horne before commenting: "Increasingly, it is being claimed that seven to seven and a half hours of sleep per night, typical for many healthy adults, is insufficient, and that chronic sleep debt is becoming endemic in western populations. Seemingly, many of us are largely unaware of this apparent chronic sleepiness, and to avoid this state of affairs we should be taking up to nine hours of daily sleep." However, there is a great chance that "much of this sleepiness is more imagined than real". Horne brings up his arguments and the studies he bases them on, in the following twenty pages. [Sjs 184, 184-205]
Cumulative sleep debt. Partial sleep deprivation - when you get some sleep, but not 100 percent of what you need - is said to bring on what is called sleep debt. Concerning cumulative sleep debt, Lawrence J. Epstein says, "When you fail to get eight hours of sleep, you start to accumulate a sleep debt . . . The greater your sleep debt over a few days, the stronger the drive for sleep." In the quote, "eight hours" stands for the certain amount of sleep the body needs to function at its best, and that could be more or less than eight hours. [Hgs 24]
Epstein writes that by sleeping more than usual we can repay a sleep depth. In such cases we add an extra hour to the hours of sleep you really need for several days, and then we can return to getting the sleep the organism needs without the added hour. And "if you've accumulated hundreds or thousands of hours of sleep debt" through bad sleep habits by heeding insensible directives and rules, "a few weeks of getting the sleep you need, plus a bit more, should clear the slate," writes Epstein. [Hgs 36-37] Estimated costs of sleep deprivation and sleep disorders. Studies have shown that performance on tests of alertness and thinking continues to get worse the longer the sleep deprivation lasts. So we do not adapt to sleep deprivation. Further, sleep deprivation and sleep disorders are estimated to cost Americans over $100 billion [100 000 000 dollars] annually. Sleep problems affect moods, mental alertness, work performance, energy level, and the sex life of about a quarter of partnered adults, so there are many good reasons to wake up to the importance of sleep. [Hgs 6-7]
A repeat: We are not alike. By comparison, a horse needs 3 hours, a cow needs 4 hours, a rabbit 8 hours, a cat 12,5 hours, and a bat needs 19 hours. [Hgs 30]
Larks and owls among us
Some are inborn early risers, termed larks, and some are late risers, called owls. Owls go late to bed and sleep late. Standard sleepers are in between the larks and the owls in that their sleep/wake rhythm pushes them to sleep from about 10:30 or 11:30 PM to 6:30 or 7:30 AM. [Hgs 30-31]
As we age, we have tendency to go to sleep earlier, typically by about an hour. [Hgs 31]
On sleep, sleep curtailment, sleep deprivation, and sleep recovery
Sleep's brain activation. J. Allan Hobson, a man who needed eight to ten hours of sleep and still did not fell completely refreshed when writing Dreaming: A Very Short Introduction [Dsi], tells of the value of sleep and of dreams too. Studies in sleep laboratories have brought such evidence that it is generally assumed that everyone dreams in sleep. Recalling the dreams is quite another matter. [Dsi 70, 10] The brain self-activates in sleep. Brain activation in sleep is essential to survival because it allows the organism to restore the effectiveness of its core regulatory systems, Hobson goes on. [Dsi 70, 76, 71]
Recovery from sleep-deprivation debated. After three or four weeks or so, sleep-deprived rats begin to die off. Some persons get psychotic through prolonged sleep deprivation. A good thing is that recovery should be complete for those who have been deprived of sleep for a week or two - when sleep finally is allowed. [Dsi 76, 72, 75]. Is really sleep recovery complete, as Hobson says? It depends. Jim Horne says in Sleepfaring that following "a night or two without sleep, or even longer ... only around a third to a half of the lost sleep seems to be reclaimed on recovery. Almost all of the deep sleep is recovered, but most of the missing light sleep seems to be gone for good." And then he adds some detail. [Sjs 178-79]
Long sleepers and short sleepers. "When long and short sleepers [referring to length of sleep and not body size] are sleep deprived for a night, long sleepers do not usually sleep for much longer than normal during the following recovery night, because this sleep seems to 'soak up' the essential parts of the lost sleep that has to be recovered, at the expense of light sleep. [Sjs 173-74]" This essential sleep is mostly deep sleep. And, to quote Epstein: "Deep sleep seems to be a time for your body to renew and repair itself." [Hgs 15] Horne: "Short sleepers, on the other hand, have to extent their recovery sleep to replenish lost deep sleep. It is as if they have no spare capacity within their normal sleep to absorb it. The average sleeper lies between these two extremes." [Sjs 174]
Hobson informs that short sleepers (four to six hours a day) are no more 'abnormal' or unusual than longer sleepers (eight to ten hours a day). But there is a caveat: Short sleepers tend toward being more 'enthusiastic' and having mild manias [Sjs 174]. Hobson mentions further that sleep curtailment compromises his ability to be attentive and to organize his own mental activity efficiently and effectively. [Dsi 70, 76, 71]
Epstein defines complete sleep deprivation as what happens as the hours of waking go beyond sixteen and seventeen hours. The immediate result is you feel tired, and then you feel exhausted. A study showed that twenty-four hours of wakefulness had the same deleterious effect on driving ability as having a blood count of .10 (one per thousand) and 'under the influence'. If complete sleep deprivation lasts longer, things go downhill, and mood swings, depressions, and increased feelings of tension are less rare. Total sleep deprivation can be dangerous and even fatal. [Hgs 32-33]
Partial sleep deprivation is the type that occurs when you get some sleep, but not 100 percent of what you need – commonly what we think of as building up a sleep debt. Problems are more likely to become apparent after two or more nights of short sleep. The most obvious signs are increased irritability and sleepiness. Work performance begins to suffer, particularly on complicated tasks, and people are more likely to complain of headaches, stomach problems, and sore joints. In addition, people are at substantially higher risk of falling asleep on the job and while driving home." Short term consequences of sleep deprivation are increased accident risk, and long term consequences are increased disease risk. [Hgs 34-35]
Benefits of sleep
If, like Yogananda, you have been used to "treating sleep as a second-class citizen in your life," you may get rid of sleep debt by getting more sleep. "It will take some time to fully recover lost sleep but you will feel the effects quickly." It may be better alertness or performance, or both. It may be improved memory and creativity, and improved overall health, writes Epstein. [Hgs 37-38]

Finally we go from the little sleep to the "big sleep".
Different people experience death differently. - Yogananda
"You are here for only a little while," says Yogananda
What about the big sleep, death? Could that be needed for health and well-being too? You may have to think about it. But sleep-deprivation should be unnecessary.
To make yourself ready to enter into a better world, some say patience in sitting still is the thing, while much of their lives and potentials slip away and drop off. Others like to eat, drink, and relax, thinking this world is real and public honor is good deep inside, in Essence.
Paramahansa Yogananda spoke about the other side on occasion, and spoke more or less impromptu about what he thought were fair and fit things, such as entering isolated caves and meditate there most of the day for years on end. If you do not have anything better to do, make a cave yourself, minding the necessary, official permits. In lots of mountain areas and in the hill country - even on flat land - there is room for plenty of good caves for those who really want to be alone. Such people may have put faith in ideas like:
"You are here for only a little while, then depart for a dissimilar and fascinating world." [Yogananda, Spa 7]
Yogananda does not mean any markedly different cave interior by that, and not just to Paradise either. And how is that other side to many? The atmosphere that envelops a materialistic person at the time of death is something like very foggy and dark, cold and gloomy, said Yogananda. "He slips from this world into what seems to be a heavy mist. Nothing is clear to him; and for a time he feels lost and afraid. Then, in accordance with his karma, he either goes on to a bright astral world to learn spiritual lessons, or sinks into a stupor until the right karmic moment arrives for him to be reborn on earth." [Spa 86-7]
Yogananda - Death Quotations
In 1928, Yogananda authored the following in an article called "The Mystery of Life and Death" [1]. You get verbatim Yogananda quotations, but regrettably many of them have to be drastically abridged to be less idiotic, and some abridged into deletion - sorry about that . . .:
Death, Its Utility, Drawbacks and Possible Rewards
[The guru did not tell all of what is worth telling. Compare Buddha on karma. - TK]
The Caged Bird of the Mind
When an aged man dies he changes.
Do we cry when our dear ones die? It is because we sorrow.
If there were no death, fifteen hundred million people [estimate of the earth's population ca. 3 generations ago] would monopolize the Infinite [and] everything would grow old and stale.
The Actual Phenomena of Death
The actual phenomena of death is something to be carefully noted . . . I shall try to describe it just as I have experienced it . . .
When death comes it is variously experienced by different people according to their earthly mode of living ... Different people experience death differently ... The man who neglects the duties of life or causes confusion often experiences something like nightmares . . .
The moral man often has delightful dreams at death. The wise man experiences through death a . . . safer haven.
During death the ordinary man finds every part of the body going to sleep. When your leg goes to sleep you see it, but cannot feel it belongs to you. Similarly, the dead man sometimes remembers his body distinctly, but cannot create motion in it. In death the power of touch goes first, then vision, then taste, then smell and last of all, hearing.
Dying People Can Hear
It is highly unwise to discuss the condition of a dying man within reach of his hearing. His body or speech may be paralyzed but not his hearing.
Only those who have practiced the control of heartbeat and learned to live without oxygen ... can consciously experience death at will as a rest from constant muscular activity and specially life's involuntary activity of the heart, lungs, diaphragm, circulation, et cetera. In heaven there are no crackers or soup, no breakfast, lunch or dinner, no water or oxygen or sunshine.
Death is ... a transition to a higher state to the wise. To him it is a promotion in school to higher grades of life.
Life can exist in a corpse in a different form. A chicken heart can lie 16 years in a chemical syrup –longer than the life of a chicken.
The Lightless Light Is Not Perceived by Our Blind Physical Eyes
Death gives new robes to the soul actors to play new dramas on the stage of life. Death above all else is a transition ... a change of residence.
[The wise man] The soul-bird of paradise finds its freedom from the limitations of the cage of life. The soul appareled in searchlights of multi-hues soars ...
In the mellow light of the other world, the wise perceive the inner sides of stars, stones, living beings, corpses, dust, iron, gold, earth, planets, dazzling with Infinite brilliancy. Every object which we perceive has two sides—the gross ugly outer side present before the physical eyes, and the inner, most beautiful side revealed to the eye of wisdom. The crude brick revealed by the physical eyes appears to be like a garden of electrons, when viewed through the spiritual eye. Human beings ... appear as beautiful many-hued living beings made of visible mellow materialized love. The rose of the human garden looks like a paper rose before the inner rosy lustre of its whirling atoms. Nothing fades there so quickly. Everything talks there silently. The roses talk to the souls with the language of spirit. The garden of roses lives by the breath of the souls, and the souls breathe the aroma of roses. The gentlest earthly flower—the lily, violet, drunk with gross sunlight—is not allowed to tread the sanctity of that fair garden of the gods. The mortal, enslaved by oxygen and sunlight, gorged with material food, faints at the delicate airless atmosphere of that divine supernal region. Darkness and gross lights equally lose their relative dualities in the darkless dark, lightless but all revealing soul-light of that sphere.
The Life Beyond this Life
Souls in that region ... carry no frail, heavy frames to collide and break with other crude solids. There is not war there between the solids, oceans, lightning, disease and man's frail frame ... Forces live in peace and conscious helpfulness. The souls, the rays on which they tread, the orange rays which they drink and eat—all are living ... breathing ... the joy of the spirit ... [the] ocean of light ...
Let us not ... call death annihilation, but see it as a door ... Why pity the dead? ... They can see their super-region and us also with their spiritual eye.

One had better work to make life fair and successful for the afterlife too, and not only for this one life. That is often repeated by Guru Dev, Shankaracharya Brahmananda Saraswati. Gurus may tell you how to improve your fare here and prepare for the further journey(s) by well calculated means like Buddha's Middle Way. An expanded view takes into account not just one life and death, but a possible chain of many lives and deaths. Yogananda says, ""Life is like a great chain in the ocean of God. When a portion of the chain is pulled out of the waters you see only that small part. The beginning and the end are hidden. In this incarnation you are viewing only one link in the chain of life. The past and the future, though invisible, remain in the deeps of God." [Spa 55]
Some children appear to tell of their past life on earth. A NRK program on May 5 2011, Schrödingers katt, brought a 2010 footage of an American boy, a four-year old boy that talked to his parents about his past life where he died in an accident in 1939 after having written the manuscript for "Gone with the Wind". The boy said he had been born on 26 June, that is mother's name was Coe and his daughter's name was Jennifer, that he had lived in Hollywood where he wrote films and other things, and was 48 when he died from getting a car onto his arms. His mother checked the data, and when it all matched, she was surprised and took the boy to Dr. Jim Tucker at an institute at Virginia University. The institute was founded by Dr. Ian Stevenson (1918-2007), and has a large Memorial Library of thousands of cases of claimed, past lives.
Stevenson studied birthmarks on children are compared them with what the children said they had died from in their claimed, past lives. There have been mixed reactions to Stevenson's work. Critics have questioned his research methods and conclusions, and his work has been described by some as pseudoscience. Others have, however, stated that his work was conducted with appropriate scientific rigor. [Wikipedia, s.v. "Ian Stevenson"]
In an extended view of life - of lives and death - we may find it best to see what things - seemingly small or otherwise - we can work on today, and if we can cultivate a better terrain as well. Also, it is good to heed what we can nurture here on the ground level, what good and fair advice to offer, what good patterns to set in motions, and well adapted to the characters.
Your own path, is it really wrong to tread? Further, there are not necessarily any wrong steps involved to prepare for success and commit yourself to it, to go towards reasonable warmth and light activity. The confidence of the blooming summer leads into being fruitful, step by step.
By regulated steps you may improve your afterlife and further stations on your sojourns along the chain of being in the garb of bodies and without such garbs. That is the key teaching. More details about karma and reincarnation: [Buddha on reincarnation] [More]
And now for the expert Yogananda:
"One day the switch of your heart will suddenly be pulled, and you will have to leave everything behind — And this is what the SRF stands for" - Yogananda phrases, [Ak 443-444]
惡 In the first book that Paramahansa Yogananda (1893-1952) is claimed to be the author of, the final aim is to teach us how to die. His official motto was not "Die! Die", however, he said his basic mission was to teach others how to die at will. "We ought not to fear to practice conscous death ... Death will then be under our control ... we shall be able to leave [the body] of our own accord." [Srg 57-58] [More]
Comment
"SRF is not always easy." - James Jesse Lynn (1892-1955) [Rajn 64]
惡 Maybe he knew how it was of all members at the time, maybe not. He took over as the second president of Self-Realization Fellowship (SRF) in 1952, and died in Borrego Springs in California a few years later. [Rajn 9].
The Feeler question
"Soul . . . Do you feel it? Can you be . . .?" [Rajn 52].

"Master [Yogananda] . . . acknowledged only God as the Doer." [Rajn 70].
惡 If God is the only one (Sole Doer) who can feel your soul, can you?
❀ ❀ ❀
Trickeries of scheming, charlatan gurus were not uncommon where Yogananda came from. He set up a church, Self-Realization Fellowship Church, and instituted a claim that he and it stand for the original Christianity of Jesus Christ (there was none). An aim and ideal of SRF is to "reveal the complete harmony and basic oneness of original Christianity as taught by Jesus Christ and original Yoga as taught by Bhagavan Krishna". See how valid that claim is too: [More]
Regardless of that, the Hindu monk Yogananda teaches the soul is immortal, while Jesus says it can be destroyed, as part of the hell teachings of Jesus: "It is better for you to lose one part of your body than for your whole body to be thrown into hell. [Matthew 5:29] — Be afraid of the One who can destroy both soul and body in hell. [Matthew 10:28]."
And so on. Someone has been bungling somewhere.
One thing is varnish, another is true content.