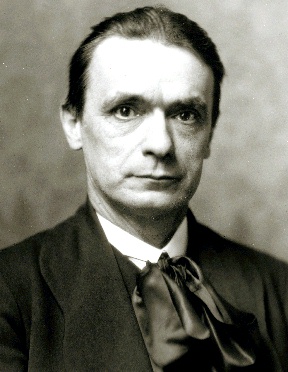 Rudolf Steiner (1861-1925)
Dr. Rudolf Steiner (1861-1925), was the originator of anthroposophy, the Waldorf school movement, biodynamamic agriculture and more. He was also an editor. He founded a many-faceted movement based on the notion that there is a spiritual world. He taught that perception of spiritual things is served by training of the human consciousness.
The first Waldorf school was founded in 1919 in Germany. There are now more than 1000 independent Waldorf schools and 1400 independent Waldorf kindergartens in about sixty countries throughout the world. Three-quarters of them are in Europe. Thus, the Waldorf school movement is one of the world's largest independent educational systems, aiming, among other things: at ". . . allowing the most fruitful expansion possible to individual initiative and personal worth . . ." [Rudolf Steiner, in Reordering of Society, GA 24]
Editorial statement: Below is a survey of most online Steiner works, and there are about a hundred of them. Rudolf Steiner's outlooks are his own and for you to plumb if you care to. My referrals to his works do not mean that I endorse all of his outré outlooks. As long as sound verifications are missing, you should feel free to consider them to be in the arms philosophy - even better, to be handled with reservations [Kalama Sutta] [From the Art of Forming Low-cost Reservations].
Very many fundamental ideas that Steiner express, are very good, though, and there is some evidence that Waldolf education helps, since it seeks to let "heart, head, and hands" work together in harmony, as the educator Pestalozzi would have put it.
Less accidents and physical harm caused by other children (Hultin og Kilpinen. Helsinki, 1985).
Less stress-related troubles. (Thomas Zdrazil's Doctoral Thesis at Universität Bielefeld 2001)
Less allergic rhinitis and atopical eczema, even despite the states of their better-educated parents. (2006)
Presumably less sclerosis (arthrosis) and not as hightened blood pressure and as many heart diseases are found among former Waldorf School pupils in Germany. (H. Barz og D. Randoll, 2007 - Somewhat controversal findings)
Source of all the extracts above: Anette Bender. "Steinerskole og helse. (Do Waldorf Children have a better health?)" Lecture of 25 October 2007
Copy and paste a work's URL address (it begins with "www") into "location" on top of the screen, to find these online works, and some more, at the site of the Rudolf Steiner Archive. - TK.

The Rudolf Steiner Archive has some newer titles in addition to the following ones The titles are in alphabetic order within each group.
Rudolf Steiner: Christianity As Mystical Fact and the Mysteries of Antiquity. Np: Centenneal ed. Nd. Online.
[www.rsarchive.org/Books/camf.txt.index.html]
Rudolf Steiner: Cosmic Memory Prehistory of Earth and Man. GA 11. New York: Rudolf Steiner Publications. 1959. Online.
[www.rsarchive.org/Books/GA011/CM/GA011_index.html]
Rudolf Steiner and Ita Wegman: Fundamentals of Therapy. 4th ed. Tr. by E. A. Frommer and J. M. Josephson. GA 27. London: Rudolf Steiner Press. 1983.
[www.rsarchive.org/Books/GA027/GA027_index.html]
Rudolf Steiner: Guidance in Esoteric Training. Tr. rev. by Charles Davy and Owen Barfield. London: Rudolf Steiner Press. 1972. Online.
[www.rsarchive.org/Books/GuidEsot.index.html]
Rudolf Steiner: Knowledge of the Higher Worlds and Its Attainment. GA 10. Tr. by George Metaxa. Anthroposophic Press. 1947.
[www.rsarchive.org/Books/GA010/English/GA010_index.html]
Rudolf Steiner: Mysticism at the Dawn of the Modern Age. GA 7. Tr. by Karl E. Zimmer, Introductory Comment by Paul M. Allen. New York: The Rudolf Steiner Publications, 1980. Online.
[www.rsarchive.org/Books/GA007/English/GA007_index.html]
Rudolf Steiner: The Philosophy of Freedom. Tr. with an Introduction by Michael Wilson. 7th and rev. tr. London: The Rudolf Steiner Press, 1964. Online.
[www.rsarchive.org/Books/GA004/TPOF/"]
Rudolf Steiner: The Story of My Life. Ed. by H. Collison. New York: Anthroposophic Press, 1928. Online.
[www.rsarchive.org/Books/tcoml.index.html]
Rudolf Steiner: Theosophy. GA 9. Tr. by Henry B. Monges, rev. by Gilbert Church. Hudson: The Anthroposophic Press, 1971. Online.
[www.rsarchive.org/Books/GA009/English/GA009_index.html]
Rudolf Steiner: Truth and Knowledge: The Fundamentals of a Theory of Cognition with Special Reference to Fichte's Scientific Teaching. GA 3. The Rudolf Steiner Archive. Online.
[www.rsarchive.org/Books/GA003/TaK/GA003_index.html]
Rudolf Steiner: "An Introduction to Waldorf Education." From GA 24. The Anthroposophic Press, 1985. Online.
[www.rsarchive.org/Articles/IntWal_index.html]
Rudolf Steiner: "Knowledge of the State Between Death and a New Birth." GA35. London: Anthroposophical Publishing Company. 1926. Online.
[www.rsarchive.org/Articles/DeaBir_index.html]
Rudolf Steiner: "On the Life of the Soul." Four essays from GA 36. The Anthroposophic Press, 1985. Online.
[www.rsarchive.org/Articles/OnSoul/OnSoul_index.html]
Rudolf Steiner: "Reincarnation and Karma: How Karma Works." Two essays tr. by Lisa D. Monges. The Anthroposophic Press, 1962. Online.
[www.rsarchive.org/Articles/ReinKarma/ReKarm_index.html]
Rudolf Steiner: "Reordering of Society: Capital and Credit." GA 24. London: Anthroposophical Publishing Company. 1927. Online.
[www.rsarchive.org/Articles/CapCrd_index.html]
Rudolf Steiner: "Reordering of Society: Requirements of Spiritual, Social and Economic Life." GA 24. London: Anthroposophical Publishing Company. 1927. Online.
[www.rsarchive.org/Articles/SoEcRe_index.html]
Rudolf Steiner: "Reordering of Society: The Fundamental Social Law." GA 24. London: Anthroposophical Publishing Company. 1927. Online.
[www.rsarchive.org/Articles/FuSoLa_index.html]
Rudolf Steiner: "Supersensible Knowledge: Its Secrecy in the Past and Publication in Our Time." GA 35. Anthroposophy Quarterly. Online.
[www.rsarchive.org/Articles/SupKno_index.html]
(Consisting of four lectures or more:)
Rudolf Steiner: An Esoteric Cosmology. 18 lectures given in Paris, May 25 to June 14, 1906. GA 92. The Rudolf Steiner Archive. Online.
[www.rsarchive.org/Lectures/EsoCosmo/EsoCos_index.html]
Rudolf Steiner: Cosmic and Human Metamorphoses. 7 lectures given in Berlin, 6th February 1917 to 20th March, 1917. GA 175. The Rudolf Steiner Archice. Online.
[www.rsarchive.org/Lectures/CosHuMet/CosMet_index.html]
Rudolf Steiner: First Scientific Lecture-Course: Light. 10 lectures tr. by George Adams. Stuttgart, 23rd December 1919 - 3rd January 1920. Clent near Stourbridge: The Goethean Science Foundation. Online.
[www.rsarchive.org/Lectures/LightCrse/LitCrs_index.html]
Rudolf Steiner: Fundamentals of Anthroposophical Medicine: Four Lectures given to Doctors. Stuttgart, October 26, 27, 28, 1922. GA 314. The Mercury Press, 1986. Online.
[www.rsarchive.org/Lectures/FundAnthro/FunAnt_index.html]
Rudolf Steiner: Man in the Light of Occultism, Theosophy and Philosophy. 10 lectures given in Christiania (Oslo): 2nd to 12th June 1912. GA 137. The Rudolf Steiner Press. 1964. Online.
[www.rsarchive.org/Lectures/ManOccult/ManOcc_index.html]
Rudolf Steiner: Manifestations of Karma. 11 lectures given in Hamburg, 16th to 28th May, 1910. GA 120. London: The Rudolf Steiner Press, 1969. Online.
[www.rsarchive.org/Lectures/ManfKarma/ManKar_index.html]
Rudolf Steiner: Occult Signs and Symbols. 4 lectures given in Stuttgart, September 13 - 16, 1907. GA 101. The Anthroposophic Press, 1972. Online.
[www.rsarchive.org/Lectures/OccSigns/OccSgn_index.html]
Rudolf Steiner: Physiology and Therapeutics. 4 lectures given in Dornach, October 7 - 9, 1920. GA 314. The Mercury Press, 1986. Online.
[www.rsarchive.org/Lectures/PhysTher/PhysTh_index.html]
Rudolf Steiner: Spiritual Science and Medicine. 20 lectures given in Dornach, March 21st - April 9th, 1920. GA 312. London: The Rudolf Steiner Publishing Co., 1948. Online.
[www.rsarchive.org/Lectures/SpiSciMed/SpiSci_index.html]
Rudolf Steiner: The Bhagavad Gita and the Epistles of St. Paul. 5 lectures given in Cologne: 28th December 1912 to 1st January, 1913. GA 142. The Rudolf Steiner Archive. Online.
[www.rsarchive.org/Lectures/BhagPaul/BhaPau_index.html]
Rudolf Steiner: The Easter Festival in Relation to the Mysteries. 4 lectures given in Dornach: 19th to 22nd April, 1924. Translated by George Adams. London: The Rudolf Steiner Press, 1968. Online.
[www.rsarchive.org/Lectures/EastFest/EasFes_index.html]
Rudolf Steiner: The Festivals and their Meaning I: Christmas. 8 lectures given in Various cities on various dates from 1904 to 1922. London: The Rudolf Steiner Press, 1955. Online.
[www.rsarchive.org/Lectures/Christmas/ChrMas_index.html]
Rudolf Steiner: The Festivals and their Meaning II: Easter. 8 lectures given in Various cities on various dates from 1908 to 1921. Foreword by A. P. Shepherd. London: Anthroposophical Publishing Company, 1956. Online.
[www.rsarchive.org/Lectures/Easter/Easter_index.html]
Rudolf Steiner: The Festivals and their Meaning IV: Michaelmas. 8 lectures given in Various cities on various dates from 1913 to 1924. Foreword by A. C. Harwood. London: Anthroposophical Publishing Company, 1957. Online.
[www.rsarchive.org/Lectures/Michaelmas/MicMas_index.html]
Rudolf Steiner: The Festivals and their Meaning III: Ascension and Pentecost. 6 lectures given in Various cities on various dates from 1908 to 1924. Foreword by A. P. Shepherd. London: Anthroposophical Publishing Company, 1958. Online.
[www.rsarchive.org/Lectures/AscenPent/AscPen_index.html]
Rudolf Steiner: The Spiritual Beings in the Heavenly Bodies and in the Kingdoms of Nature. 10 lectures given in Helsinki: 3rd-14th April, 1912. GA 136. Steiner Book Centre, 1981. Online.
[www.rsarchive.org/Lectures/SpiBei_index.html]
Rudolf Steiner: World Economy. 14 lectures given in Dornach, 24th July to 6th August, 1922. GA 340. Tr. by A. O. Barfield and T. Gordon-Jones. London: The Rudolf Steiner Press, 1972. Online.
[www.rsarchive.org/Lectures/WorldEcon/WldEco_index.html]
Rudolf Steiner: "Anthroposophy and Christianity." 1 lecture given in Norrköping, July 13, 1914. GA 155. The Anthroposophic Press, 1985. Online.
[www.rsarchive.org/Lectures/AntChr_index.html]
Rudolf Steiner: "Anthroposophy as a Substance of Life and Feeling: Veneration and Reverence for the Occult and Hidden Facts." 1 lecture given in Tübingen, February 16th, 1913. GA 140. Dornach: The General Anthroposophical Society, 1937. Online.
[www.rsarchive.org/Lectures/AntSub_index.html]
Rudolf Steiner: "Christ in Relation to Lucifer and Ahriman." 1 lecture given in Linz, May 18, 1915. GA 159. The Anthroposophic Press, 1978. Online.
[www.rsarchive.org/Lectures/ChrLuc_index.html]
Rudolf Steiner: "Conscience and Wonder as Indications of Spiritual Vision in the Past and in the Future." 1 lecture given in Breslau, February 3rd, 1912. GA 143. Dornach: The General Anthroposophical Society, 1937. Online.
[www.rsarchive.org/Lectures/ConWon_index.html]
Rudolf Steiner: "Esoteric Studies: Cosmic Ego and Human Ego." 1 lecture tr. by Frances E. Dawson. Munich, January 9, 1912. GA 130. The Anthroposophic Press, 1941. Online.
[www.rsarchive.org/Lectures/CosEgo_index.html]
Rudolf Steiner: "Evil and the Future of Man." 1 lecture given in Dornach, October 26, 1918. GA 185. Rudolf Steiner Archive. Online.
[www.rsarchive.org/Lectures/EvlMan_index.html]
Rudolf Steiner: "Facing Karma." 1 lecture given in Vienna, February 8, 1912. GA 130. The Anthroposophic Press, 1975. Online.
[www.rsarchive.org/Lectures/FacKar_index.html]
Rudolf Steiner: "Good Fortune - Its Reality and Its Semblance." 1 lecture given in Berlin, December 7, 1911. GA 61. London: Anthroposophical Publishing Company, 1956. Online.
[www.rsarchive.org/Lectures/GoodFt_index.html]
Rudolf Steiner: "Gospel of St. John - Notes from Three lectures." 3 lectures given in Berlin, February 19 and 26 and March 5. GA 94. Rudolf Steiner Archive. Online.
[www.rsarchive.org/Lectures/GospJohn1906/GosJon_index.html]
Rudolf Steiner: "Human Life in the Light of Spiritual Science - Anthroposophy." 1 lecture given in Liestal, October 16, 1916. GA 35. The Rudolf Steiner Press and The Anthroposophic Press, 1938. Online.
[www.rsarchive.org/Lectures/HumLif_index.html]
Rudolf Steiner: "Isis and Madonna." 1 lecture given in Berlin, April 29, 1909. GA 57. The Mercury Press, 1987. [www.rsarchive.org/Lectures/IsiMad_index.html]
Rudolf Steiner: "Jesus and Christ." 1 lecture given in Hamburg, November 15, 1913. GA 148. The Anthroposophic Press, 1976. Online.
[www.rsarchive.org/Lectures/JesChr_index.html]
Rudolf Steiner: "Love and Its Meaning in the World." 1 lecture given in Zurich, 17th December, 1912. GA 143. by D. S. O. and E. F. and S. Derry. London: The Rudolf Steiner Press, 1972. Online.
[www.rsarchive.org/Lectures/LovWld_index.html]
Rudolf Steiner: "Man as a Picture of the Living Spirit." 1 lecture given in London: 2nd September, 1923. GA 228. London: The Rudolf Steiner Press, 1972. Online.
[ www.rsarchive.org/Lectures/ManPic_index.html]
Rudolf Steiner: "Newborn Might and Strength Everlasting - A Christmas Offering." 1 lecture given in Berlin, December 23, 1913. GA 150. The Anthroposophic Press, 1977. [ www.rsarchive.org/Lectures/NewBrn_index.html]
Rudolf Steiner: "Nutrition and Health - Two Lectures to Workmen." 2 lectures given in Dornach, 31st July and 2nd August, 1924. GA 354. The Anthroposophic Press, 1987 and The Rudolf Steiner Press, 1987. Online.
[www.rsarchive.org/Lectures/NutHealth/NutHlt_index.html]
Rudolf Steiner: "Occult Significance of Blood: An Esoteric Study]. 1 lecture given in Berlin, October 25, 1906. GA 55. London: The Rudolf Steiner Publishing Co. Copyright unknown. Online.
[www.rsarchive.org/Lectures/OccBld_index.html]
. Rudolf Steiner: "Outlooks for the Future." 1 lecture given in Dornach, October 31st, November 1st and 7th, 1915. GA 254. Dornach: The General Anthroposophical Society, 1940. Online.
[www.rsarchive.org/Lectures/OutFut_index.html]
Rudolf Steiner: "Overcoming Nervousness." 1 lecture given in Munich, January 11, 1912. GA 143. The Anthroposophic Press, 1973. Online.
[www.rsarchive.org/Lectures/OvrNer_index.html]
Rudolf Steiner: "Polarities in Health, Illness and Therapy." 1 lecture given in Pennmenmawr, August 28, 1923. GA 319. The Mercury Press, 1987. Online.
[ www.rsarchive.org/Lectures/Polart_index.html]
Rudolf Steiner: "Practical Training in Thought." 1 lecture given in Carlsruhe, January 18, 1909. GA 108. The Anthroposophic Press, 1966. Online.
[www.rsarchive.org/Lectures/PracTr_index.html]
Rudolf Steiner: "Pre-Earthly Deeds of Christ." 1 lecture given in Pforzheim, March 7th, 1914. GA 152. Steiner Book Centre, 1976. Online.
[www.rsarchive.org/Lectures/PreEar_index.html]
Rudolf Steiner: "Preparing for the Sixth Epoch." 1 lecture given in Düsseldorf, June 15, 1915. GA 159. The Anthroposophic Press, 1957. Online.
[www.rsarchive.org/Lectures/PreSix_index.html]
Rudolf Steiner: "Problems of Nutrition." 1 lecture given in Munich, January 8, 1909. GA 68. The Anthroposophic Press, 1969. Online.
[www.rsarchive.org/Lectures/Nutrit_index.html]
Rudolf Steiner: "Self Knowledge and the Christ Experience." 1 lecture given in Dornach, February 2, 1923. GA 221. London: The Rudolf Steiner Press, 1988. Online.
[www.rsarchive.org/Lectures/SelKno_index.html]
Rudolf Steiner: "Signs and Symbols of the Christmas Festival." 3 lectures given in Berlin, December 19th, 1904: GA 90f; December 14th, 1905: GA 54; December 17th, 1906: GA 96. The Anthroposophic Press, 1967. Online.
[www.rsarchive.org/Lectures/SignSymbols/SigSym_index.html]
Rudolf Steiner: "Social and Anti-Social Forces in the Human Being." 1 lecture given in Bern, December 12, 1918. GA 186. The Mercury Press, 1982. Online.
[www.rsarchive.org/Lectures/SocFor_index.html]
Rudolf Steiner: "Social Understanding through Spiritual-Scientific Knowledge." 1 lecture given in Dornach, October 4, 1919. GA 191. The Anthroposophic Press, 1982. [ www.rsarchive.org/Lectures/SocUnd_index.html]
Rudolf Steiner: "Spiritual Emptiness and Social Life." 1 lecture given in Dornach, April 13th, 1919. GA 190. The Rudolf Steiner Archive. Online.
[www.rsarchive.org/Lectures/SpiEmp_index.html]
Rudolf Steiner: "The Ahrimanic Deception." 1 lecture given in Zurich, October 27, 1919. GA 193. The Anthroposophic Press, 1985. Online.
[www.rsarchive.org/Lectures/AhrDec_index.html]
Rudolf Steiner: "The Alphabet: An Expression of the Mystery of Man." 1 lecture given in Dornach, December 18, 1921. GA 209. Mercury Press, 1985. Online.
[www.rsarchive.org/Lectures/Alphab_index.html]
Rudolf Steiner: "The Balance in the World and Man, Lucifer and Ahriman: The World as Product of the Working of Balance." 3 lectures given in Dornach, 20th-22nd November, 1914. GA 158. Steiner Book Centre, 1948. Online.
[www.rsarchive.org/Lectures/BalWorld/BalWld_index.html]
Rudolf Steiner: "The Bible and Wisdom." 1 lecture given in Hamburg, December 5, 1908. GA 68. London: The Rudolf Steiner Publishing Co., 1941. Online.
[www.rsarchive.org/Lectures/BibWis_index.html]
Rudolf Steiner: "The Bridge Between Universal Spirituality and the Physical Constitution of Man: Freedom and Love: Their Significance in World Evolution." 3 lectures given in Dornach, December 17th - 20th, 1920. GA 202. The Anthroposophic Press, 1958. Online.
[www.rsarchive.org/Lectures/BridgeBet/Bridge_index.html]
Rudolf Steiner: "The Concepts of Original Sin and Grace." 1 lecture given in Munich, 3rd May, 1911. GA 127. 2nd ed. London: Anthroposophical Publishing Co., 1973. [ www.rsarchive.org/Lectures/Concpt_index.html]
Rudolf Steiner: "The Deed of Christ and the Opposing Spiritual Powers: Lucifer, Ahriman, Asuras. Mephistopheles and Earthquakes." 2 lectures given in Berlin: 1st January and 22nd March, 1909. GA 107. Steiner Book Centre, 1954. Online.
[www.rsarchive.org/Lectures/DeedChrist/DeedCh_index.html]
Rudolf Steiner: "The Etherisation of the Blood." 1 lecture given in Basle, October 1, 1911. GA 130. London: The Rudolf Steiner Press, 1971. Online.
[www.rsarchive.org/Lectures/EthBld_index.html]
Rudolf Steiner: "The Four Sacrifices of Christ." 1 lecture given in Basel, June 1, 1914. GA 152. The Anthroposophic Press, 1944. Online.
[www.rsarchive.org/Lectures/ForSac_index.html]
Rudolf Steiner: "The Human Heart." 1 lecture given in Dornach, May 26, 1922. GA 212. The Mercury Press, 1985. [www.rsarchive.org/Lectures/HumHrt_index.html]
Rudolf Steiner: "The Inner Development of Man." 1 lecture given in Berlin, December 15, 1904. GA 53. The Anthroposophic Press, 1970. Online.
[www.rsarchive.org/Lectures/InnDev_index.html]
Rudolf Steiner: "The Invisible Man Within Us: The Pathology Underlying Therapy." 1 lecture given in Dornach, February 11, 1923. GA 221. The Mercury Press. Online.
[ www.rsarchive.org/Lectures/InvMan_index.html]
Rudolf Steiner: "The Lord's Prayer." 1 lecture given in Berlin, January 28, 1907. GA 96. The Anthroposophic Press, 1970. Online.
[www.rsarchive.org/Lectures/LorPry_index.html]
Rudolf Steiner: "The Sermon on the Mount." 1 lecture given in Munich, March 15, 1910. GA 118. The Anthroposophic Press, 1978. Online.
[www.rsarchive.org/Lectures/SerMnt_index.html]
Rudolf Steiner: "The Significance of Spiritual Research for Moral Action." 1 lecture given in Bielefeld, March 6, 1911. GA 127. The Anthroposophic Press, 1981. Online.
[ www.rsarchive.org/Lectures/SpiRes_index.html]
Rudolf Steiner: "The Structure of the Lord's Prayer." 1 lecture given in Karlsruhe, 4th February, 1907. GA 97. Translated by A. H. Parker. London: The Rudolf Steiner Press, 1971. Online.
[www.rsarchive.org/Lectures/StrPry_index.html]
Rudolf Steiner: "The Sun-Mystery in the Course of Human History." 1 lecture given in Dornach, 6th November, 1921. GA 208. Translated by D. S. Osmond. London: The Rudolf Steiner Publishing Co., 1955. [www.rsarchive.org/Lectures/SunMys_index.html]
Rudolf Steiner: "The Ten Commandments." 1 lecture given in Berlin, November 16, 1908. GA 107. Tr. by Frieda Solomon and Mel Belenson. The Anthroposophic Press, 1978. Online.
[www.rsarchive.org/Lectures/TenCom_index.html]
Rudolf Steiner: "The Threshold In Nature and In Man." 1 lecture given in Basle, February 1, 1921. Rudolf Steiner Archive. Online.
[www.rsarchive.org/Lectures/ThrNat_index.html]
Rudolf Steiner: "The Two Christmas Annunciations." 1 lecture given in Stuttgart, January 1st, 1921. GA 203. Dornach: The General Anthroposophical Society, 1938. Online
[ www.rsarchive.org/Lectures/TwoAnn_index.html]
Rudolf Steiner: "The Work of the Angels in Man's Astral Body." 1 lecture given in Zurich, 9th October, 1918. GA 182. Tr. by D. S. Osmond with Owen Barfield. London: The Rudolf Steiner Press, 1960. [www.rsarchive.org/Lectures/WrkAng_index.html]
Rudolf Steiner: "Truth, Beauty, and Goodness." 1 lecture given in Dornach, January 19, 1923. GA 220. London: Anthroposophical Publishing Company, 1927. Reprint: 1986. Online.
[ www.rsarchive.org/Lectures/TruGoo_index.html]
Rudolf Steiner: "Woman and Society (Die Frauenfrage)." 1 lecture given in Hamburg, November 17, 1906. GA 54. London: The Rudolf Steiner Press, 1985. Online.
[www.rsarchive.org/Lectures/Woman_index.html]