Click on the large thumbnails for complete pictures. Almost all of the painters in this collection are men, but in the last century many woman have risen into fame too. - TK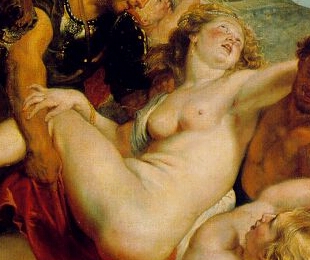 Sir Peter P. Rubens: The Rape of the Daughters of Leucippus. Oil on canvas. c. 1618. Detail. [Click on the thumbnail for a larger picture.]
SIR PETER PAUL RUBENS (1577-1640) was born in Westphalia and died in Anthwerp (Now Belgium). His father had fled the Spanish Netherlands (present-day Belgium) in 1568 with his wife and four children to escape religious persecution for his Calvinist beliefs. After Jan's death in 1587, the family returned to Antwerp and young Peter Paul got a classical education.
Rubens arrived in Rome in 1601, and soon took the Venetian tradition of Titian and Tintoretto a giant step forward. Later, back in Antwerp, he yearned for Italy while he produced paintings on allegorical subjects and much else. One of his finest mythological paintings is the "Rape of the Daughters of Leucippus" (c. 1617-18).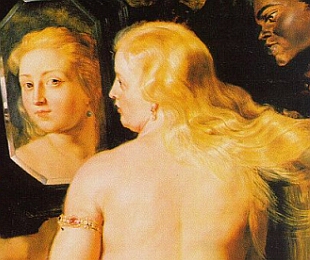 Sir Peter P. Rubens: Venus at Her Mirror. c. 1615. Oil on panel. Detail.
SIR PETER PAUL RUBENS had a studio with many apprenctices that helped him to produce many paintings. Some of them excelled by bodies with muscular, sculptural physiques and a rich, sensuous interplays of light and colour.
When his first wife Isabella died, he became a diplomat, and it is to him personally that the peace treaty of 1630 between England and Spain can be attributed, we are informed. Rubens was knighted by King Charles I of England.
Rubens (and his studio) become one of the most assimilative, versatile, and productive of all Western artists. His (their) impact on other artists was great, and so were Rubens' natural talents. He "embodied the Baroque fulfillment of the Renaissance man." - [Ebl "Rubens, Peter Paul"]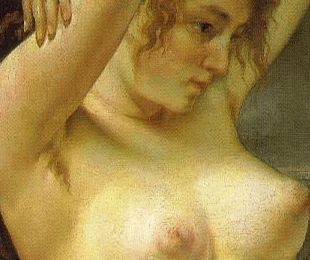 Gustave Courbet: Woman in the Waves (1868). Oil on canvas. Size: 54 x 65 cm. Detail.
GUSTAVE COURBET (1819-77) was the foremost realist painter of France in the mid-1800s. Against much opposition the warm-hearted, generous man truthfully portrayed ordinary places and people and blended his colours well.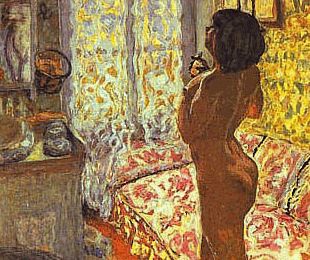 Pierre Bonnard: Model in backlight (1907). Oil on canvas. Detail.
PIERRE BONNARD (1867-1947). French painter and printmaker known for charming interiors lighted by oil lamps, nudes on voluptuous beds. The subjects of his pictures are simple. A leader of the Intimists, generally regarded as one of the greatest colorists of modern art, he specialized in painting intimate domestic scenes and also decorative curvilinear compositions, fascinated with tricks of perspective.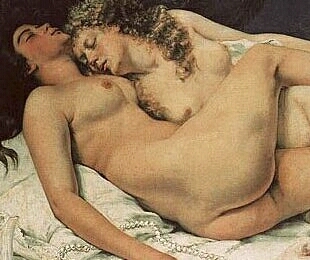 Gustave Courbet: The Sleepers (or Sleep) (1866). Oil on canvas. Original size: 200 x 135 cm. Detail.
Courbet (see data above) was able to devote himself entirely to his art. It was marked by unconventional style and bold subject matter. He depicted humble peasants without glorifying them, but presenting them boldly and starkly. In his homeland he met with stark opposition, but in Germany he was warmly welcomed by his fellow artists. A lover of women, he glorified the female nude in paintings of warmth and sensuality. The aim of his painting was not to embellish or idealize reality but to reproduce it accurately.
In France he was arrested for some demolition he was innocent of, put in jail as a scapegoat, and there his health waned. He was also sentenced to pay a fine of 500,000 gold francs - a lot of money in those days . . .
He fled France and died at the age of 58 in Switzerland, physically and morally exhausted.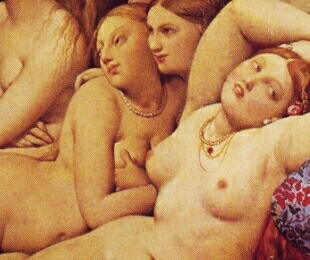 Jean-Auguste-Dominique Ingres: The Turkish Bath (1862). Oil on canvas on wood. Diameter 108 cm. Detail.
INGRES (1780-1867). Neoclassical French painter, one of the major portrait painters of the 1800s. He was was reproached, however, for imitation of Gothic masters and Jan van Eyck. Woman portraits he made, expressed the "cult of the ideal woman".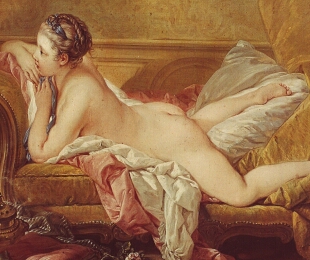 François Boucher: Blonde Odalisque (Portrait of Louise O'Murphy). 1752. Detail.
The immensely successful Francois Boucher (1703-70) is considered someone who expressed French taste perfectly in the Rococo period. He drew cartoons of farmyard scenes and chinoiserie for the Beauvais tapestry factory, and became a member of the Royal Academy in 1734, and its director in 1765.
His elegant and refined but playful style was marked by the use of delicate colours, gently modeled female nudes, and frivolous subject matter. Boucher is acclaimed as one of the great draftsmen in handling the female nude in his century.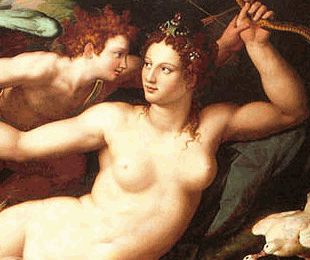 Alessandro Allori: Venus and Cupid. ca. 1570. Detail.
Alessandro di Christofano di Lorenzo Allori (1535-1607) - also called Il Bronzino (II); Alessandro del Bronzino; and Alessandro Bronzino Allori - was an Italian portrait painter of the late Mannerist Florentine school. He was also a fresco painter, designer and author. He was born in Florence and died there, having worked in Florence, Rome, and Pisa. "Venus and Cupid" is one of his main works.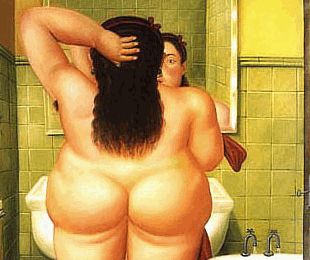 Fernando Botero: The Toilet. 1989. Detail.
Botero was born on 19 April 1932 in Colombia. He is known for his inflated human and animal shapes. He also drew on Old Masters he had emulated in his youth.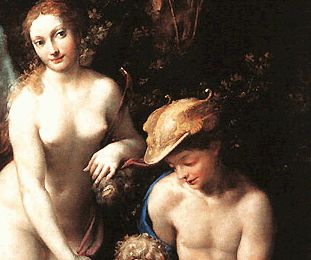 Antonio Correggio: The education of Cupid or Venus with Mercury and Cupid or The School of Love. ca. 1522. Detail.
Antonio Allegri, called Correggio (1489-1534), was the most important Renaissance painter of the school of Parma. His late works influenced the style of many Baroque and Rococo artists. His most famous works are altarpieces; small works of private devotion; and a handful of lyrical-sensuous mythological subjects. In his late works Correggio excelled in oil painting to the degree that his altar paintings were abundantly copied.