Introduction
Johann Wolfgang von Goethe (1749-1832) was a rather adamant Liebling. CLICK on the picture to see the complete painting.
Deep guilt could be slowly grasped by "I'm next to nothing on this planet anyhow". That appears to be the dilemma of man in a nutshell.
The one who craves more light could do it from deep, unknown guilt and next be punished by the arts of gurus. If you do not believe so, it will be your problem.
Let it be said: "The one who is only great, is also good enough."
A poet, novelist and playwright, Goethe (1749-1832) is claimed to be the greatest of all German writers. No one else had such a big influence on art and literature. But he was also an actor, administrator, scientist, geologist, botanist and philosopher. He has influenced lots of writers and thinkers till our days. Goethe's most famous work is a very long play called Faust.
1 - Deep guilt can be transitory
DEEP GUILT is slowly punished by art.*
Till you have grasped this: "Die, and be transformed!" you will be nothing but a sombre guest on the sorry earth.
Deep guilt is sometimes cumbersome, sometimes slowly punished by art.*
All that is transitory is only an image. ◊
2 - If nothing else seems right and fair, go for art
IN ART and architecture the part of guilt is found the best one.*
We must always change, renew, rejuvenate ourselves; otherwise we harden. - Goethe
When old ideas fail, the next best at hand is good enough. Let us hope that.*
When ideas fail, the next best should be good enough.*
Deep guilt could be slowly grasped by: "Die, and be still alive!" as next to nothing on this earth.*
Nothing hurts a new truth more than an old error.
He alone is great and happy who requires neither to command nor to obey in order to secure his being of some importance in the world.
When old ideas fail, the next best at hand is good enough. Let us hope that.*
It could be some part of mellow guilt is the best to get in art and architecture, but who would think that nowadays?*
In art the best is good enough.
More light! (Reported dying words).
When ideas fail, the next best is to be good and careful without knowing how.*
Lord Byron is only great as a poet. ◊
All guilt is punished on earth.
3 - What if guilt influences the situation?
ALL FORMS of guilt can have frozen the spirit deep inside.*
Existential guilt is to be punished only roughly by living along.*
Treat people as if they were what they ought to be, and you help them to become what they are capable of being.
Der Geist, der stetz verneint! The spirit that always denies. (7)
When ideas fail, let a deep-sounding word comes in to save the situation.*
I have found amoung my papers a sheet ... in which I call architecture frozen music. (9) [See ◊Dq].
Sentences marked by *, are carefully modulated in resonance with some major impact associated with (the unmarked) Goethe utterances taken from the British A Dictionary of Quotations. [Dq]

Deep guilt is cumbersome to anyone.
Nothing that just rejuvenates is good enough. Solid gains are needed along with it.
Guilt may slowly influence what a person is capable of.

Deep guilt could enforce one's guilt capacity. What the human race is capable of!


The following sayings come from many sources. Some of the Goethe ideas below are a bit altered to be truer to fact at least, by omissions and insertions in square brackets [ ]. Altered sayings are marked with a star (*)
Excellence is rarely found, more rarely valued.
This is the highest wisdom that I own; freedom and life are earned by those alone who conquer them each day anew.
Truly wise thoughts . . . to make them truly ours, we must think them over again honestly, till they take root in our personal experience.
Taste is [mainly] to be educated by contemplation . . . of the truly excellent. I therefore show you only the best works; and when you are grounded in these, you will have a standard. *
What is important in life is life, and not the result of life.
[Man's] sufferings and his satisfactions instruct him concerning himself, teach him what to seek and what to avoid. For the rest, man is a confused creature . . . and above all, he knows little of himself.
He who enjoys doing and enjoys what he has done is happy.
Dream no small dreams for they have no power to move the hearts of men.
Correction does much, but encouragement does more.
Men show their character in nothing more clearly than what they think laughable.
Ambition and love are the wings to great deeds.
Where there is much light, the shadow [tends to be] deep. *
[Maybe] no one would talk much in society if they knew how often they misunderstood others. *
Before you can do something you must first be something.
A purpose you impart is no longer your own.
No two men see the world exactly alike.
To hard necessity one's will and fancy must conform.
[Few things are] worth more than this day. *
One can be very happy without demanding . . .
[Prefer not to] speak [much] of what [you] cannot praise.
How sweet it is to hear one's own convictions from another's lips.
A [mirthful] person can stand almost anything except a succession of ordinary days. *
Our work is [in part] the presentation of our capabilities. *
May not the opinions that a man holds and expresses withstand all trials, if he only remains true to himself and others?
There is a courtesy of the heart; it is allied to love. From it springs purest courtesy in the outward behavior.
We should quietly hear both sides.
We do not have to visit a madhouse to find disordered minds; our planet is the mental institution of the universe.
The hardest thing in the world [could be] to act in accordance with your thinking. *
One ought, everyday . . . if possible, to speak a few reasonable words.
If you miss the first buttonhole, you will not succeed in buttoning up your coat.
All our knowledge is symbolic.
What government is the best? That which teaches us to govern ourselves.
Be generous with kindly words, especially about those who are absent.
The knowledge I possess everyone can acquire, but my heart is all my own.
With knowledge, doubt increases.
The intelligent man finds almost everything ridiculous, the sensible man hardly anything.
It is not enough to have knowledge, one must also apply it. It is not enough to have wishes, one must also accomplish.
Every situation—nay, every moment—is of infinite worth.
We can stand only a certain amount of unhappiness.
There [are few things] worse than aggressive stupidity. *
Art is long, life short; judgment difficult, opportunity transient.
An idea . . . must be vigorous, positive, and without loose ends so that it may fulfill its divine mission and be productive. *
What makes people happy is [the right] activity. *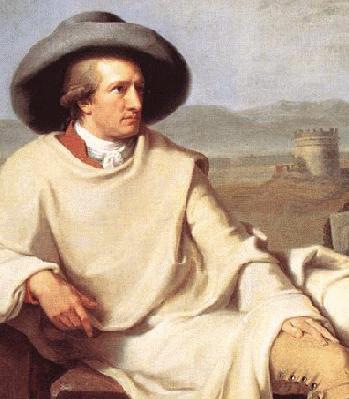 J.H.W. Tishbein: "Goethe in the Roman Campagna". Detail. CLICK on the picture for a full view.


In September of 1786 Goethe travelled to Italy. His Italian journey was the greatest event of his life.

Further notes: The complete painting: Oil on canvas, (164 x 206 cm), was made in 1787 by Johann Heinrich Wilhelm Tishbein, and is in Städelsches Kunstinstitut in Frankfurt am Main.

It portrays Goethe in classical pose. He is reclining on fragments of an obelisk. There is an ionic capital to the right. In the distance is the sweeping campagna, the ruins of ancient aqueducts and the tomb of Cecilia Metella, which was called Capo di Bove in the Middle Ages. Dating from the time of Augustus during the 1st century BC, the tomb is located on the Appian Way (Via Appia Antiqua), the more than two thousand years old road that runs from Rome to Brinidisi.

This and other elements in a background of fragments, were designed by Tishbein as a means to show off culture.

The portrait has been said to mediate Goethe's "vitality by determination", and it also suggests a Zeitgeist - which is long gone.

Hints for approaching a painting: [Link]
Heideröslein
Worte: Goethe, weise: Heinrich Werner.
Sah ein Knab' ein Röslein stehn,
Röslein auf der Heiden,
war so jung und morgenschön,
lief er schnell, es nah' zu sehn,
sah's mit vielen Freuden.
Röslein, Röslein, Röslein rot,
Röslein auf der Heiden.
Knabe sprach: Ich breche dich,
Röslein auf der Heiden!
Röslein sprach: Ich steche dich,
dass du ewig denkst an mich,
und ich wills nicht leiden!
Röslein, Röslein, Röslein rot,
Röslein auf der Heiden.
Und der wilde Knabe brach 's
Röslein auf der Heiden;
Röslein wehrte sich und stach,
half ihm doch kein Weh und Ach,
musst' es eben leiden.
Röslein, Röslein, Röslein rot,
Röslein auf der Heiden.
Literal Translation
A boy saw a little rose standing,
A little rose on the heath,
It was so young and morning-pretty,
he ran fast to see it up close,
saw it with great joy (many joys).
Little rose, little rose, little red rose,
little rose on the heath.

Said the boy, I'll pick you,
Wild rose on the hearth!
Said the wild rose: I'll prick you,
so that you'll always think of me
and I won't suffer.
Little rose, little rose, little red rose,
little rose on the heath.

And the wild boy picked
the little rose on the heath;
the rose protected itself and pricked,
ouchs and oohs did not help him,
he just had to suffer.
Little rose, little rose, little red rose,
little rose on the heath.