Accommodate to good company, accommodate to your own advantage, accommodate for gains, helped by Buddha's deep-seeing counsel. Heed Gautama Buddha's warnings against fools and their company. And respect your own human rights. That is decent.
Ankh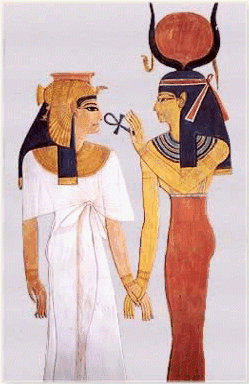 Nefertari receives life from Isis.

The key of life. Egyptian pharaos are depicted as carrying an ankh or two. The ankh, crux ansata, "cross with a handle", or Egyptian Cross, is a symbol of the power to give and sustain life, as well as a symbol of life too - and also life-giving air and water.
The circle symbolizes godside-infusing life - often the sun - and the cross below represents the material plane. By having ankhs, Egyptian kings symbolised they represented life to their people. Ankhs were also worn as amulets for good living and protection from evil influences in the surroundings. Important ankhs were of gold. Two other amulets were often worn along with it, one for strength and one for health. Accordingly, life, health, and strength are top things to go for, at the bottom of the ancient symbols and practices.
To sum up: The ankh is a symbol of the fit way to live - a good life. To cater to life is good. Let the ankh remind you of it, and consider how best to cater to three sides to fortune that should work in unison:
CIRCLE. Divine, inner side: Compatibility. Affection.
HORISONTAL BAR. Mental: Profession. Intellect. Enjoying the company. Do what furthers, assists, and protects mental health.
VERTICAL BAR. Material: Gain status. Bodily life and life-sustaining environments.
To become dry, superficial, and troubled should be avoided. Do not be alarmed to know that a large part of the elements that still work in Christianity, are borrowed from Egypt and other orientations in the Roman Empire either.

Take up the ankh, drop the sorry-making Christian cross. That is the crux of it. The ankh was adapted by the Coptic church in time, but what is favourable is sticking to the basic or better meanings - for your own good, that is.
Accommodate to your benefit, that is, for life-awarding gains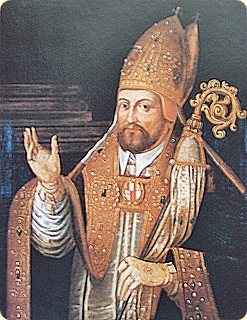 Bishop's equipment
You can eat your cake and have your cake too: If you are hooked on ceremonialism and rituals, drop Christianity and enjoy the ceremonial outfit it borrowed from others as you like; there may be no law against some creative fashioning.
The bishop's attire may impresses, even though some vital parts of it were taken from other religions of the Roman Empire. Massive borrowing brought about the bishop's cap, shepherd's staff, and so on. The cross as a Christian symbol came into use only in the 300s. In India and other places there were other crosses in use earlier, for example sun symbols (swastikas). [More]
Also, monasticism is something that was added after the deal of Jesus was off and the Mosaic Law, the prophets, and the teachings of Jesus were discarded for Gentile followers. Very much of the Bible content is not dearer than that [Acts 15; 21:25].
The swifter you accommodate to better things, the better for you, hopefully. You do not have to worry about cutting off your penis or foreskin at the command of the Law and Jesus (who commanded things like "Pluck out your eye and tear off the offending limb," and so on). The apostles and the Holy Ghost agreed to drop such ruthless self-maiming for non-Jews.
Better: accommodate well to the Buddha-given Middle Path of living, and the better you should develop. It depends on you too, your skills, meticulousness, moral fibre, and having good company are among other key factors.
Refrain from vicarious butchery, from sacrificing innocents at God's behest. The Law of Moses claims it, Jesus tolerated it, but were of two minds about it, obviously. (2)
Handling methods may be studied first and then applied
GO FOR a regulated, dolce vita (sweet life) and get ample yoga instructions, instead of wincing. A rewarding learning process should be catered to, and the best fruits of learning. Rise to getting handy. Basic and scientific handling has much in common that is worth going for. Being based on fair knowledge and non-freak standards matters. Try to link up with those you respect above many others. (3) Opposite to that, hard-hearted ones ensnare others and rise on top of gullible ones. It happens in sects.
Feel free to upgrade your self-esteem according to merits that matter in the long run too. (4)
Take heed, be neat, and be not among fools, says Buddha to help
GO FOR cosy living and do not spread yourself thin. Keep at attuning to your sense of "I am" (meditate), and many other "simple things". (5)
The cosy garden is a fair reward of much strife.
In receiving heartening tidings, also consider calmly, evenmindedly, over and above tidings others tell you. Consider to ease the way for deeper awareness and knowledge. The preferred "soil" of thought seeds is deep. Try to stay attuned to your heart, then. Buddha teaches in the Kalama Sutta to try out his teachings on a provisional basis, and stick to what is found to be good. That is about what to go for.
Abraham Maslow indicates that nasty ones who go after ill-gotten gain tend to be pitied by self-actualisers. [Pusb]
Do not maim farm animals. Where is the fair deal? It is in part to work against stupidity within bounds, says Buddha. How? Drop and stay away from the complacency of fools and immoral guys, for they do harm to themselves. Cater to life as the ancient Egyptian kings.
Refrain from being exposed in public if there is no dire need for such exposure
An exposed animal runs many risks, and so do the rich and the famous. The limelight drive many into wearing dark glasses and shunning paparazzis in their attempts at protection.
Enlightening stories may first appear to be only for fun, although "many a truth is spoken in jest". Consider the long-range effects.
Healthy strides should be the best.
Abstain from entering a cult
Go for concrete possibilities, and do not believe foolishly in great claims and boasts. It is easier to refrain from being led to cult abashment than to recover from awkward vicarious-assertiveness timidity, neuroses, lack of assertiveness, and deep insecurity in time. There is US research by Philip Zimbardo that documents insecurity is a wide-spread problem among American students.


To be based on great knowledge taken out of context can give intimate understanding, but also dangers. If you are attracted to eerie impressions and they evaporate, attending a dinner party could work better for you. Flashes of wit and insight can help those who know how to live along with the wit and insight shown. Insights cost a lot. Also, better detect the trouble coming and thus avoid it. "Forwarned is forearmed": Much may need to be adapted to your solid or local fare and home conditions to work well. (8)

A nicely formed ankh pendant may serve as a life-long companion and reminder of vital sides to living as you steer along and avoid extremism.
Accommodate to your benefit, for gains, but in the wider perspective, just as sketched by Buddha.
Basic and respectable handling of this and that hardly ensnares or tames many.
Take heed - be not among fools, says Buddha. Neat living should pay.

Accommodate to be enabled to handle Buddha's basic teachings well, and advance in deep meditation.