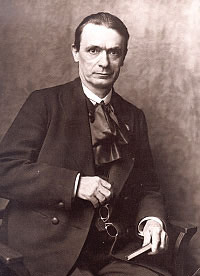 Rudolf Steiner, founder of Steiner Education, biodynamic gardening and much more.
One should read to weigh and consider. [With Lord Bacon]
Many cannot do without weighing and considering. If it is done sanely and sagaciously, it may work well too. Rudolf Steiner points out something vital:
Man is meant to be a whole, and for him knowledge of things will go hand in hand with the development and education of the life of feeling.

Feeling is the means whereby, in the first instance, concepts gain concrete life. - Rudolf Steiner

From The Philosophy of Freedom, chap. 6
Dr Rudolf Steiner (1861-1925) divulges concerns that may or may not diverge from the mainstream, for example methods of education and biologically fit gardening. Steiner presents ideas rather like a word-painter. He elaborates on topics for the sake of listeners and readers to help them understand better.
Steiner himself does not advocate believing in him bluntly, but to inspect and consider fairly and well. Steiner also hands out methods of spiritual development that may be fit for many walks of life.
Steiner:
"No one would be prevented from perceiving the truth of what is said by those who have crossed that threshold [to the spiritual world]. . . .
"Common sense which is not led astray . . . can [hopefully] decide of itself whether the element of truth rules in what anyone says. If someone speaks of spiritual worlds, you must take account of everything . . . to judge whether what is presented as information about the spiritual world is charlatanism, or whether it has foundation. . . .
"No one is hindered from making fruitful in the natural and social realms that which is brought over from the well-spring of spiritual life by those who have the right to speak . . ." - Rudolf Steiner.
From The Michael Impulse - Lecture XI. Dornach, December 14, 1919
The soul which gives itself over to the inner illumination recognises in itself not only what it was before the illumination; it also recognises what it has become only through this illumination . . . - Rudolf Steiner
The seeing soul cannot be selfish in (the) sense that it wills only itself. - Rudolf Steiner
- R. Steiner, Mysticism at the Dawn of the Modern Age: Meister Eckhart (both)