One can visit for better thoughts, too
To reach the country and tract you dream of, make practical arrangements for it while there is ample time.
Start:
The yoga-trainee that calls forth unbalanced, angry conduct, had better devote himself to success.
Consider that mountains look like mountains first and foremost.
"FATHER, I want to invite Master and four friends to accompany me to the Himalayan foothills during my summer vacation. May I have six train passes to Kashmir and enough money to cover our travel expenses?"
As I had expected, Father laughed heartily. "This is the third time you've given me the same cock-and-bull story. Did not you make a similar request last summer, and the year before that? At the last moment, Sri Yukteswarji refuses to go."
"It is true, Father; I do not know why my guru wo not give me his definite word about Kashmir. [1] But if I tell him that I've already secured the passes from you, somehow I think that this time he will consent to make the journey."
Father was unconvinced at the moment, but the following day, after some good-humoured gibes, he handed me six passes and a roll of ten-rupee bills.
"I hardly think your theoretical trip needs such practical props," he remarked, "but here they are."
That afternoon I exhibited my booty to Sri Yukteswar. Though he smiled at my enthusiasm, his words were noncommittal: "I would like to go; we shall see." He made no comment when I asked his little hermitage disciple, Kanai, to accompany us. I also invited three other friends—Rajendra Nath Mitra, Jotin Auddy, and one other boy. Our date of departure was set for the following Monday.
On Saturday and Sunday I stayed in Calcutta, where marriage rites for a cousin were being celebrated at my family home. I arrived in Serampore with my luggage early Monday morning. Rajendra met me at the hermitage door.
"Master is out, walking. He has refused to go."
I was equally grieved and obdurate. "I wo not give Father a third chance to ridicule my chimerical plans for Kashmir. Come; the rest of us will go anyhow."
Rajendra agreed; I left the ashram to find a servant. Kanai, I knew, would not take the trip without Master, and someone was needed to look after the luggage. I bethought myself of Behari, previously a servant in my family home, who was now employed by a Serampore schoolmaster. As I walked along briskly, I met my guru in front of the Christian church near Serampore Courthouse.
"Where are you going?" Sri Yukteswar's face was unsmiling.
"Sir, I hear that you and Kanai wo not take the trip we have been planning. I am seeking Behari. You will recall that last year he was so anxious to see Kashmir that he even offered to serve without pay."
"I remember. Nevertheless, I do not think Behari will be willing to go."
I was exasperated. "He is just eagerly waiting for this opportunity!"
My guru silently resumed his walk; I soon reached the schoolmaster's house. Behari, in the courtyard, greeted me with a friendly warmth that abruptly vanished as soon as I mentioned Kashmir. With a murmured word of apology, the servant left me and entered his employer's house. I waited half an hour, nervously assuring myself that Behari's delay was being caused by preparations for his trip. Finally I knocked at the front door.
"Behari left by the back stairs about thirty minutes ago," a man informed me. A slight smile hovered about his lips.
I departed sadly, wondering whether my invitation had been too coercive or whether Master's unseen influence were at work. Passing the Christian church, again I saw my guru walking slowly toward me. Without waiting to hear my report, he exclaimed:
"So Behari would not go! Now, what are your plans?"
I felt like a recalcitrant child who's determined to defy his masterful father. "Sir, I am going to ask my uncle to lend me his servant, Lal Dhari."
"See your uncle if you want to," Sri Yukteswar replied with a chuckle. "But I hardly think you will enjoy the visit."
Apprehensive but rebellious, I left my guru and entered Serampore Courthouse. My paternal uncle, Sarada Ghosh, a government attorney, welcomed me affectionately.
"I am leaving today with some friends for Kashmir," I told him. "For years I've been looking forward to this Himalayan trip."
"I am happy for you, Mukunda. Is there anything I can do to make your journey more comfortable?"
These kind words gave me a lift of encouragement. "Dear uncle," I said, "could you possibly spare me your servant, Lal Dhari?"
My simple request had the effect of an earthquake. Uncle jumped so violently that his chair overturned, the papers on the desk flew in every direction, and his pipe, a long, coconut-stemmed hubble-bubble, fell to the floor with a great clatter.
"You selfish young man," he shouted, quivering with wrath, "what a preposterous idea! Who will look after me, if you take my servant on one of your pleasure jaunts?"
I concealed my surprise, reflecting that my amiable uncle's sudden change of front was only one more enigma in a day fully devoted to incomprehensibility. My retreat from the courthouse office was more alacritous than dignified.
I returned to the hermitage, where my friends were expectantly gathered. Conviction was growing on me that some sufficient if exceedingly recondite motive was behind Master's attitude. Remorse seized me that I had been trying to thwart my guru's will.
"Mukunda, would not you like to stay awhile longer with me?" Sri Yukteswar inquired. "Rajendra and the others can go ahead now, and wait for you at Calcutta. There will be plenty of time to catch the last evening train leaving Calcutta for Kashmir."
"Sir, I do not care to go without you," I said mournfully.
My friends paid not the slightest attention to my remark. They summoned a hackney carriage and departed with all the luggage. Kanai and I sat quietly at our guru's feet. After a half hour of complete silence, Master rose and walked toward the second-floor dining patio.
"Kanai, please serve Mukunda's food. His train leaves soon."
Getting up from my blanket seat, I staggered suddenly with nausea and a ghastly churning sensation in my stomach. The stabbing pain was so intense that I felt I had been abruptly hurled into some violent hell. Groping blindly toward my guru, I collapsed before him, attacked by all symptoms of the dread Asiatic cholera. Sri Yukteswar and Kanai carried me to the sitting room.
Racked with agony, I cried, "Master, I surrender my life to you;" for I believed it was indeed fast ebbing from the shores of my body.
Sri Yukteswar put my head on his lap, stroking my forehead with angelic tenderness.
"You see now what would have happened if you were at the station with your friends," he said. "I had to look after you in this strange way, because you chose to doubt my judgement about taking the trip at this particular time."
I understood at last. Inasmuch as great masters seldom see fit to display their powers openly, a casual observer of the day's events would have imagined that their sequence was quite natural. My guru's intervention had been too subtle to be suspected. He had worked his will through Behari and my Uncle Sarada and Rajendra and the others in such an inconspicuous manner that probably everyone but myself thought the situations had been logically normal.
As Sri Yukteswar never failed to observe his social obligations, he instructed Kanai to go for a specialist, and to notify my uncle.
"Master," I protested, "only you can heal me. I am too far gone for any doctor."
"Child, you are protected by the divine mercy. Do not worry about the doctor; he wo not find you in this state. You are already healed."
With my guru's words, the excruciating suffering left me. I sat up feebly. A doctor soon arrived and examined me carefully.
"You appear to have passed through the worst," he said. "I will take some specimens with me for laboratory tests."
The following morning the physician arrived hurriedly. I was sitting up, in good spirits.
"Well, well, here you are, smiling and chatting as though you had had no close call with death." He patted my hand gently. "I hardly expected to find you alive, after I had discovered from the specimens that your disease was Asiatic cholera. You are fortunate, young man, to have a guru with divine healing powers! I am convinced of it!"
I agreed wholeheartedly. As the doctor was preparing to leave, Rajendra and Auddy appeared at the door. The resentment in their faces changed into sympathy as they glanced at the physician and then at my somewhat wan countenance.
"We were angry when you did not turn up as agreed at the Calcutta train. You've been sick?"
"Yes." I could not help laughing as my friends placed the luggage in the same corner it had occupied yesterday. I quoted: "There was a ship that went to Spain; when it arrived, it came back again!"
Master entered the room. I permitted myself a convalescent's liberty, and captured his hand lovingly.
"Guruji," I said, "from my twelfth year on, I've made many unsuccessful attempts to reach the Himalayas. I am finally convinced that without your blessings the goddess Parvati [2] wo not receive me!"

Yogananda granted a rare change
Doing well in one's yoga training may be marked by less affect and pretention. Watch out for the one who writes or shouts of gorgeous scenery and gets thrilled by being occupied with company or floating gardens in the air (castles in Spain). There is a chance of someone being shallow ...
In fact, good and suitable company and scenery tend to be taken for granted too among little children - happy in themselves, for themselves, through their inner sides (Lesson).
Start:
If one's life energies are to last one's own life and get spent as time flies, life force is the pay-off for being alive.
And love is attached to it - much of what gives delight in life is taken for granted, almost as if it is for free.
To chant "Ekam sat" ("only oneness exists") in the realm of duality is not unlike boasting and bragging, unless fit mental diving is accomplished.
"YOU ARE strong enough now to travel. I will accompany you to Kashmir," Sri Yukteswar informed me two days after my miraculous recovery from Asiatic cholera.
That evening our party of six entrained for the north. Our first leisurely stop was at Simla, a queenly city resting on the throne of Himalayan hills. We strolled over the steep streets, admiring the magnificent views.
"English strawberries for sale," cried an old woman, squatting in a picturesque open market place.
Master was curious about the strange little red fruits. He bought a basketful and offered it to Kanai and myself, who were near-by. I tasted one berry but spat it hastily on the ground.
"Sir, what a sour fruit! I could never like strawberries!"
My guru laughed. "Oh, you will like them—in America. At a dinner there, your hostess will serve them with sugar and cream. After she has mashed the berries with a fork, you will taste them and say: 'What delicious strawberries!' Then you will remember this day in Simla."
Sri Yukteswar's forecast vanished from my mind, but reappeared there many years later, shortly after my arrival in America. I was a dinner guest at the home of Mrs. Alice T. Hasey (Sister Yogmata) in West Somerville, Massachusetts. When a dessert of strawberries was put on the table, my hostess picked up her fork and mashed my berries, adding cream and sugar. "The fruit is rather tart; I think you will like it fixed this way," she remarked.
I took a mouthful. "What delicious strawberries!" I exclaimed. At once my guru's prediction in Simla emerged from the fathomless cave of memory. It was staggering to realise that long ago Sri Yukteswar's God-tuned mind had sensitively detected the program of karmic events wandering in the ether of futurity.
Our party soon left Simla and entrained for Rawalpindi. There we hired a large landau, drawn by two horses, in which we started a seven-day trip to Srinagar, capital city of Kashmir. The second day of our northbound journey brought into view the true Himalayan vastness. As the iron wheels of our carriage creaked along the hot, stony roads, we were enraptured with changing vistas of mountainous grandeur.
"Sir," Auddy said to Master, "I am greatly enjoying these glorious scenes in your holy company."
I felt a throb of pleasure at Auddy's appreciation, for I was acting as host on this trip. Sri Yukteswar caught my thought; he turned to me and whispered:
"Do not flatter yourself; Auddy is not nearly as entranced with the scenery as he is with the prospect of leaving us long enough to have a cigarette."
I was shocked. "Sir," I said in an undertone, "please do not break our harmony by these unpleasant words. I can hardly believe that Auddy is hankering for a smoke." [1] I looked apprehensively at my usually irrepressible guru.
"Very well; I wo not say anything to Auddy." Master chuckled. "But you will soon see, when the landau halts, that Auddy is quick to seize his opportunity."
The carriage arrived at a small caravanserai. As our horses were led to be watered, Auddy inquired, "Sir, do you mind if I ride awhile with the driver? I'd like to get a little outside air."
Sri Yukteswar gave permission, but remarked to me, "He wants fresh smoke and not fresh air."
The landau resumed its noisy progress over the dusty roads. Master's eyes were twinkling; he instructed me, "Crane up your neck through the carriage door and see what Auddy is doing with the air."
I obeyed, and was astounded to observe Auddy in the act of exhaling rings of cigarette smoke. My glance toward Sri Yukteswar was apologetic.
"You are right as always, sir. Auddy is enjoying a puff along with a panorama." I surmised that my friend had received a gift from the cab driver; I knew Auddy had not carried any cigarettes from Calcutta.
We continued on the labyrinthine way, adorned by views of rivers, valleys, precipitous crags, and multitudinous mountain tiers. Every night we stopped at rustic inns, and prepared our own food. Sri Yukteswar took special care of my diet, insisting that I have lime juice at all meals. I was still weak, but daily improving, though the rattling carriage was strictly designed for discomfort.
Joyous anticipations filled our hearts as we neared central Kashmir, paradise land of lotus lakes, floating gardens, gaily canopied houseboats, the many-bridged Jhelum River, and flower-strewn pastures, all ringed round by the Himalayan majesty. Our approach to Srinagar was through an avenue of tall, welcoming trees. We engaged rooms at a double-storied inn overlooking the noble hills. No running water was available; we drew our supply from a near-by well. The summer weather was ideal, with warm days and slightly cold nights.
We made a pilgrimage to the ancient Srinagar temple of Swami Shankara. As I gazed on the mountain-peak hermitage, standing bold against the sky, I fell into an ecstatic trance. A vision appeared of a hilltop mansion in a distant land. The lofty Shankara ashram before me was transformed into the structure where, years later, I established the Self-Realisation Fellowship headquarters in America. When I first visited Los Angeles, and saw the large building on the crest of Mount Washington, I recognised it at once from my long-past visions in Kashmir and elsewhere.
A few days at Srinagar; then on to Gulmarg ("mountain paths of flowers"), elevated by six thousand feet. There I had my first ride on a large horse. Rajendra mounted a small trotter, whose heart was fired with ambition for speed. We ventured onto the very steep Khilanmarg; the path led through a dense forest, abounding in tree-mushrooms, where the mist-shrouded trails were often precarious. But Rajendra's little animal never permitted my oversized steed a moment's rest, even at the most perilous turns. On, on, untiringly came Rajendra's horse, oblivious to all but the joy of competition.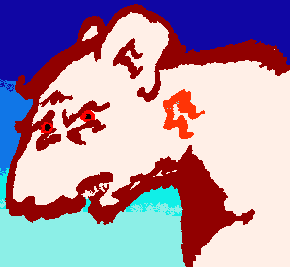 Our strenuous race was rewarded by a breath-taking view. For the first time in this life, I gazed in all directions at sublime snow-capped Himalayas, lying tier on tier like silhouettes of huge polar bears. My eyes feasted exultingly on endless reaches of icy mountains against sunny blue skies.
I rolled merrily with my young companions, all wearing overcoats, on the sparkling white slopes. On our downward trip we saw afar a vast carpet of yellow flowers, wholly transfiguring the bleak hills.
Our next excursions were to the famous royal "pleasure gardens" of the Emperor Jehangir, at Shalimar and Nishat Bagh. The ancient palace at Nishat Bagh is built directly over a natural waterfall. Rushing down from the mountains, the torrent has been regulated through ingenious contrivances to flow over colourful terraces and to gush into fountains amidst the dazzling flower-beds. The stream also enters several of the palace rooms, ultimately dropping fairy like into the lake below. The immense gardens are riotous with colour— roses of a dozen hues, snapdragons, lavender, pansies, poppies. An emerald enclosing outline is given by symmetrical rows of chinars, [2] cypresses, cherry trees; beyond them tower the white austerities of the Himalayas.
Kashmir grapes are considered a rare delicacy in Calcutta. Rajendra, who had been promising himself a veritable feast on reaching Kashmir, was disappointed to find there no large vineyards. Now and then I chaffed him jocosely over his baseless anticipation.
"Oh, I've become so much gorged with grapes I cannot walk!" I would say. "The invisible grapes are brewing within me!" Later I heard that sweet grapes grow abundantly in Kabul, west of Kashmir. We consoled ourselves with ice cream made of rabri, a heavily condensed milk, and flavoured with whole pistachio nuts.
We took several trips in the shikaras or houseboats, shaded by red-embroidered canopies, coursing along the intricate channels of Dal Lake, a network of canals like a watery spider web. Here the numerous floating gardens, crudely improvised with logs and earth, strike one with amazement, so incongruous is the first sight of vegetables and melons growing in the midst of vast waters. Occasionally one sees a peasant, disdaining to be "rooted to the soil," towing his square plot of "land" to a new location in the many-fingered lake.
In this storied vale one finds an epitome of all the earth's beauties. The Lady of Kashmir is mountain-crowned, lake-garlanded, and flower-shod. In later years, after I had toured many distant lands, I understood why Kashmir is often called the world's most scenic spot. It possesses some of the charms of the Swiss Alps, and of Loch Lomond in Scotland, and of the exquisite English lakes. An American traveller in Kashmir finds much to remind him of the rugged grandeur of Alaska and of Pikes Peak near Denver.
As entries in a scenic beauty contest, I offer for first prize either the gorgeous view of Xochimilco in Mexico, where mountains, skies, and poplars reflect themselves in myriad lanes of water amidst the playful fish, or the jewel-like lakes of Kashmir, guarded like beautiful maidens by the stern surveillance of the Himalayas. These two places stand out in my memory as the loveliest spots on earth.
Yet I was awed also when I first beheld the wonders of Yellowstone National Park and of the Grand Canyon of the Colorado, and of Alaska. Yellowstone Park is perhaps the only region where one can see innumerable geysers shooting high into the air, performing year after year with clockwork regularity. Its opal and sapphire pools and hot sulphurous springs, its bears and wild creatures, remind one that here nature left a specimen of her earliest creation. Motoring along the roads of Wyoming to the "Devil's Paint Pot" of hot bubbling mud, with gurgling springs, vaporous fountains, and spouting geysers in all directions, I was disposed to say that Yellowstone deserves a special prize for uniqueness.
The ancient majestic redwoods of Yosemite, stretching their huge columns far into the unfathomable sky, are green natural cathedrals designed with skill divine. Though there are wonderful falls in the Orient, none match the torrential beauty of Niagara near the Canadian border. The Mammoth Caves of Kentucky and the Carlsbad Caverns in New Mexico, with colourful iciclelike formations, are stunning fairylands. Their long needles of stalactite spires, hanging from cave ceilings and mirrored in underground waters, present a glimpse of other worlds as fancied by man.
Most of the Hindus of Kashmir, world-famed for their beauty, are as white as Europeans and have similar features and bone structure; many have blue eyes and blonde hair. Dressed in Western clothes, they look like Americans. The cold Himalayas protect the Kashmiris from the sultry sun and preserve their light complexions. As one travels to the southern and tropical latitudes of India, he finds progressively that the people become darker and darker.
After spending happy weeks in Kashmir, I was forced to return to Bengal for the fall term of Serampore College. Sri Yukteswar remained in Srinagar, with Kanai and Auddy. Before I departed, Master hinted that his body would be subject to suffering in Kashmir.
"Sir, you look a picture of health," I protested.
"There's a chance that I may even leave this earth."
"Guruji!" I fell at his feet with an imploring gesture. "Please promise that you wo not leave your body now. I am utterly unprepared to carry on without you."
Sri Yukteswar was silent, but smiled at me so compassionately that I felt reassured. Reluctantly I left him.
"Master dangerously ill." This telegram from Auddy reached me shortly after my return to Serampore.
"Sir," I wired my guru frantically, "I asked for your promise not to leave me. Please keep your body; otherwise, I also shall die."
"Be it as you wish." This was Sri Yukteswar's reply from Kashmir.
A letter from Auddy arrived in a few days, informing me that Master had recovered. On his return to Serampore during the next fortnight, I was grieved to find my guru's body reduced to half its usual weight.
Fortunately for his disciples, Sri Yukteswar burned many of their sins in the fire of his severe fever in Kashmir. The metaphysical method of physical transfer of disease is known to highly advanced yogis. A strong man can assist a weaker one by helping to carry his heavy load; a spiritual superman is able to minimise his disciples' physical or mental burdens by sharing the karma of their past actions. Just as a rich man loses some money when he pays off a large debt for his prodigal son, who's thus saved from dire consequences of his own folly, so a master willingly sacrifices a portion of his bodily wealth to lighten the misery of disciples. [3]
By a secret method, the yogi unites his mind and astral vehicle with those of a suffering individual; the disease is conveyed, wholly or in part, to the saint's body. Having harvested God on the physical field, a master no longer cares what happens to that material form. Though he may allow it to register a certain disease in order to relieve others, his mind is never affected; he considers himself fortunate in being able to render such aid.
The devotee who has achieved final salvation in the Lord finds that his body has completely fulfilled its purpose; he can then use it in any way he deems fit. His work in the world is to alleviate the sorrows of mankind, whether through spiritual means or by intellectual counsel or through will power or by the physical transfer of disease. Escaping to the superconsciousness whenever he so desires, a master can remain oblivious of physical suffering; sometimes he chooses to bear bodily pain stoically, as an example to disciples. By putting on the ailments of others, a yogi can satisfy, for them, the karmic law of cause and effect. This law is mechanically or mathematically operative; its workings can be scientifically manipulated by men of divine wisdom.
The spiritual law does not require a master to become ill whenever he heals another person. Healings ordinarily take place through the saint's knowledge of various methods of instantaneous cure in which no hurt to the spiritual healer is involved. On rare occasions, however, a master who wishes to greatly quicken his disciples' evolution may then voluntarily work out on his own body a large measure of their undesirable karma.
Jesus signified himself as a ransom for the sins of many. With his divine powers, [4] his body could never have been subjected to death by crucifixion if he had not willingly cooperated with the subtle cosmic law of cause and effect. He thus took on himself the consequences of others' karma, especially that of his disciples. In this manner they were highly purified and made fit to receive the omnipresent consciousness which later descended on them.
Only a self-realised master can transfer his life force, or convey into his own body the diseases of others. An ordinary man cannot employ this yogic method of cure, nor is it desirable that he should do so; for an unsound physical instrument is a hindrance to God-meditation. The Hindu scriptures teach that the first duty of man is to keep his body in good condition; otherwise his mind is unable to remain fixed in devotional concentration.
A very strong mind, however, can transcend all physical difficulties and attain to God-realisation. Many saints have ignored illness and succeeded in their divine quest. St. Francis of Assisi, severely afflicted with ailments, healed others and even raised the dead.
I knew an Indian saint, half of whose body was once festering with sores. His diabetic condition was so acute that under ordinary conditions he could not sit still at one time for more than fifteen minutes. But his spiritual aspiration was undeterrable. "Lord," he prayed, "will you come into my broken temple?" With ceaseless command of will, the saint gradually became able to sit daily in the lotus posture for eighteen continuous hours, engrossed in the ecstatic trance.
"And," he told me, "at the end of three years, I found the infinite light blazing within my shattered form. Rejoicing in the joyful splendour, I forgot the body. Later I saw that it had become whole through the divine mercy."
A historical healing incident concerns King Baber (1483-1530), founder of the Mogul empire in India. His son, Prince Humayun, was mortally ill. The father prayed with anguished determination that he receive the sickness, and that his son be spared. After all physicians had given up hope, Humayun recovered. Baber at once fell sick and died of the same disease which had stricken his son. Humayun succeeded Baber as Emperor of Hindustan.
Many people imagine that every spiritual master has, or should have, the health and strength of a Sandow. The assumption is unfounded. A sickly body does not indicate that a guru is not in touch with divine powers, any more than lifelong health necessarily indicates an inner illumination. The condition of the physical body, in other words, cannot rightfully be made a test of a master. His distinguishing qualifications must be sought in his own domain, the spiritual.
Numerous bewildered seekers in the West erroneously think that an eloquent speaker or writer on metaphysics must be a master. The rishis, however, have pointed out that the acid test of a master is a man's ability to enter at will the breathless state, and to maintain the unbroken samadhi of nirbikalpa. [5] Only by these achievements can a human being prove that he has "mastered" maya or the dualistic cosmic delusion. He alone can say from the depths of realisation: "Ekam sat,"—"Only one exists."
"The Vedas declare that the ignorant man who rests content with making the slightest distinction between the individual soul and the supreme self is exposed to danger," Shankara the great monist has written. "Where there's duality by virtue of ignorance, one sees all things as distinct from the self. When everything is seen as the self, then there's not even an atom other than the self. ...
"As soon as the knowledge of the Reality has sprung up, there can be no fruits of past actions to be experienced, owing to the unreality of the body, in the same way as there can be no dream after waking."
Only great gurus are able to assume the karma of disciples. Sri Yukteswar would not have suffered in Kashmir unless he had received permission from the spirit within him to help his disciples in that strange way. Few saints were ever more sensitively equipped with wisdom to carry out divine commands than my God-tuned master.
When I ventured a few words of sympathy over his emaciated figure, my guru said gaily:
"It has its good points; I am able now to get into some small ganjis (undershirts) that I have not worn in years!"
Listening to Master's jovial laugh, I remembered the words of St. Francis de Sales: "A saint that is sad is a sad saint!"

His Mother God holds a bloody sword!
Sleek rhetorics may be undermined here.
Start:
Blunt, offending people sometimes get the welcomes they deserve -
There are many sorts of welcomes, as we will see in this chapter - and starving oneself does not help a bit. "You have to be tough to be inside Nature and with Mother God," seems to be the ancient credo within this line of representation.
"AS A LOYAL Hindu wife, I do not wish to complain of my husband. But I yearn to see him turn from his materialistic views. He delights in ridiculing the pictures of saints in my meditation room. Dear brother, I have deep faith that you can help him. Will you?"
My eldest sister Roma gazed beseechingly at me. I was paying a short visit at her Calcutta home on Girish Vidyaratna Lane. Her plea touched me, for she had exercised a profound spiritual influence over my early life, and had lovingly tried to fill the void left in the family circle by Mother's death.
"Beloved sister, of course I will do anything I can." I smiled, eager to lift the gloom plainly visible on her face, in contrast to her usual calm and cheerful expression.
Roma and I sat awhile in silent prayer for guidance. A year earlier, my sister had asked me to initiate her into kriya yoga, in which she was making notable progress.
An inspiration seized me. "Tomorrow," I said, "I am going to the Dakshineswar temple. Please come with me, and persuade your husband to accompany us. I feel that in the vibrations of that holy place, Divine mother will touch his heart. But do not disclose our object in wanting him to go."
Sister agreed hopefully. Very early the next morning I was pleased to find that Roma and her husband were in readiness for the trip. As our hackney carriage rattled along Upper Circular Road toward Dakshineswar, my brother-in-law, Satish Chandra Bose, amused himself by deriding spiritual gurus of the past, present, and future. I noticed that Roma was quietly weeping.
"Sister, cheer up!" I whispered. "Do not give your husband the satisfaction of believing that we take his mockery seriously."
"Mukunda, how can you admire worthless humbugs?" Satish was saying. "A sadhu's very appearance is repulsive. He is either as thin as a skeleton, or as unholily fat as an elephant!"
I shouted with laughter. My good-natured reaction was annoying to Satish; he retired into sullen silence. As our cab entered the Dakshineswar grounds, he grinned sarcastically.
"This excursion, I suppose, is a scheme to reform me?"
As I turned away without reply, he caught my arm. "Young Mr. Monk," he said, "do not forget to make proper arrangements with the temple authorities to provide for our noon meal."
"I am going to meditate now. Do not worry about your lunch," I replied sharply. "Divine mother will look after it."
"I do not trust divine mother to do a single thing for me. But I do hold you responsible for my food." Satish's tones were threatening.
I proceeded alone to the colonnaded hall which fronts the large temple of Kali, or mother nature. Selecting a shady spot near one of the pillars, I arranged my body in the lotus posture. Although it was only about seven o'clock, the morning sun would soon be oppressive.
The world receded as I became devotionally entranced. My mind was concentrated on goddess Kali, whose image at Dakshineswar had been the special object of adoration by the great master, Sri Ramakrishna paramahansa. In answer to his anguished demands, the stone image of this very temple had often taken a living form and conversed with him.
"Silent mother with stony heart," I prayed, "you became filled with life at the request of your beloved devotee Ramakrishna; why do not you also heed the wails of this yearning son of yours?"
My aspiring zeal increased boundlessly, accompanied by a divine peace. Yet, when five hours had passed, and the goddess whom I was inwardly visualising had made no response, I felt slightly disheartened. Sometimes it is a test by God to delay the fulfilment of prayers. But he eventually appears to the persistent devotee in whatever form he holds dear. A devout Christian sees Jesus; a Hindu beholds Krishna, or the goddess Kali, or an expanding light if his worship takes an impersonal turn.
Reluctantly I opened my eyes, and saw that the temple doors were being locked by a priest, in conformance with a noon-hour custom. I rose from my secluded seat under the open, roofed hall, and stepped into the courtyard. Its stone floor was scorching under the midday sun; my bare feet were painfully burned.
"Divine mother," I silently remonstrated, "You did not come to me in vision, and now You are hidden in the temple behind closed doors. I wanted to offer a special prayer to you today on behalf of my brother-in-law."
Yogananda comes in the name of Jesus too, says he.
My inward petition was instantly acknowledged. First, a delightful cold wave descended over my back and under my feet, banishing all discomfort. Then, to my amazement, the temple became greatly magnified. Its large door slowly opened, revealing the stone figure of goddess Kali. Gradually it changed into a living form, smilingly nodding in greeting, thrilling me with joy indescribable. As if by a mystic syringe, the breath was withdrawn from my lungs; my body became very still, though not inert.
An ecstatic enlargement of consciousness followed. I could see clearly for several miles over the Ganges River to my left, and beyond the temple into the entire Dakshineswar precincts. The walls of all buildings glimmered transparently; through them I observed people walking to and fro over distant acres.
Though I was breathless and my body in a strangely quiet state, yet I was able to move my hands and feet freely. For several minutes I experimented in closing and opening my eyes; in either state I saw distinctly the whole Dakshineswar panorama.
Spiritual sight, x-raylike, penetrates into all matter; the divine eye is centre everywhere, circumference nowhere. I realised anew, standing there in the sunny courtyard, that when man ceases to be a prodigal child of God, engrossed in a physical world indeed dream, baseless as a bubble, he reinherits his eternal realms. If "escapism" be a need of man, cramped in his narrow personality, can any escape compare with the majesty of omnipresence?
The temple

In my sacred experience at Dakshineswar, the only extraordinarily-enlarged objects were the temple and the form of the Goddess. Everything else appeared in its normal dimensions, although each was enclosed in a halo of mellow light—white, blue, and pastel rainbow hues. My body seemed to be of ethereal substance, ready to levitate. Fully conscious of my material surroundings, I was looking about me and taking a few steps without disturbing the continuity of the blissful vision.
Behind the temple walls I suddenly glimpsed my brother-in-law as he sat under the thorny branches of a sacred bel tree. I could effortlessly discern the course of his thoughts. Somewhat uplifted under the holy influence of Dakshineswar, his mind yet held unkind reflections about me. I turned directly to the gracious form of the goddess.
"Divine mother," I prayed, "wo not you spiritually change my sister's husband?"
The beautiful figure, hitherto silent, spoke at last: "Your wish is granted!"
I looked happily at Satish. As though instinctively aware that some spiritual power was at work, he rose resentfully from his seat on the ground. I saw him running behind the temple; he approached me, shaking his fist.
The all-embracing vision disappeared. No longer could I see the glorious goddess; the towering temple was reduced to its ordinary size, minus its transparency. Again my body sweltered under the fierce rays of the sun. I jumped to the shelter of the pillared hall, where Satish pursued me angrily. I looked at my watch. It was one o'clock; the divine vision had lasted an hour.
"You little fool," my brother-in-law blurted out, "you've been sitting there cross-legged and cross-eyed for six hours. I've gone back and forth watching you. Where's my food? Now the temple is closed; you failed to notify the authorities; we are left without lunch!"
The exaltation I had felt at the goddess' presence was still vibrant within my heart. I was emboldened to exclaim, "Divine mother will feed us!"
Satish was beside himself with rage. "Once and for all," he shouted, "I would like to see your divine mother giving us food here without prior arrangements!"
His words were hardly uttered when a temple priest crossed the courtyard and joined us.
"Son," he addressed me, "I've been observing your face serenely glowing during hours of meditation. I saw the arrival of your party this morning, and felt a desire to put aside ample food for your lunch. It is against the temple rules to feed those who do not make a request beforehand, but I've made an exception for you."
I thanked him, and gazed straight into Satish's eyes. He flushed with emotion, lowering his gaze in silent repentance. When we were served a lavish meal, including out-of-season mangoes, I noticed that my brother-in-law's appetite was meagre. He was bewildered, diving deep into the ocean of thought. On the return journey to Calcutta, Satish, with softened expression, occasionally glanced at me pleadingly. But he did not speak a single word after the moment the priest had appeared to invite us to lunch, as though in direct answer to Satish's challenge.
The following afternoon I visited my sister at her home. She greeted me affectionately.
"Dear brother," she cried, "what a miracle! Last evening my husband wept openly before me.
"'Beloved devi,' [1] he said, 'I am happy beyond expression that this reforming scheme of your brother's has wrought a transformation. I am going to undo every wrong I've done you. From tonight we will use our large bedroom only as a place of worship; your small meditation room shall be changed into our sleeping quarters. I am sincerely sorry that I've ridiculed your brother. For the shameful way I've been acting, I will punish myself by not talking to Mukunda till I've progressed in the spiritual path. Deeply I will seek the divine mother from now on; someday I must surely find her!'"
Years later, I visited my brother-in-law in Delhi. I was overjoyed to perceive that he had developed highly in self-realisation, and had been blessed by the vision of divine mother. During my stay with him, I noticed that Satish secretly spent the greater part of every night in divine meditation, though he was suffering from a serious ailment, and was engaged during the day at his office.
The thought came to me that my brother-in-law's life span would not be a long one. Roma must have read my mind.
"Dear brother," she said, "I am well, and my husband is sick. Nevertheless, I want you to know that, as a devoted Hindu wife, I am going to be the first one to die. [2] It wo not be long now before I pass on."
Taken aback at her ominous words, I yet realised their sting of truth. I was in America when my sister died, about a year after her prediction. My youngest brother Bishnu later gave me the details.
"Roma and Satish were in Calcutta at the time of her death," Bishnu told me. "That morning she dressed herself in her bridal finery.
"'Why this special costume?' Satish inquired.
"'This is my last day of service to you on earth,' Roma replied. A short time later she had a heart attack. As her son was rushing out for aid, she said:
"'Son, do not leave me. It is no use; I shall be gone before a doctor could arrive.' Ten minutes later, holding the feet of her husband in reverence, Roma consciously left her body, happily and without suffering.
"Satish became very reclusive after his wife's death," Bishnu continued. "One day he and I were looking at a large smiling photograph of Roma.
"'Why do you smile?' Satish suddenly exclaimed, as though his wife were present. 'You think you were clever in arranging to go before me. I shall prove that you cannot long remain away from me; soon I shall join you.'
"Although at this time Satish had fully recovered from his sickness, and was enjoying excellent health, he died without apparent cause shortly after his strange remark before the photograph."
Thus prophetically passed my dearly beloved eldest sister Roma, and her husband Satish—he who changed at Dakshineswar from an ordinary worldly man to a silent saint.
⊕ To be on the safer ground, remember the artist who made the Kali image too . . . And the Catholic Church has not exactly the same definition of 'saint' as Yogananda, if that matters.

Let the "rearranged following" try for good grades
"Cut out useless phrases," says Martin Cutts, and "point it out" (etc). In a good study we go for such things and benefit from it. [Peg 42]
Start:
It can be an error to teach fine things to undeserving ones.
Cheating is different from taming study. You do not have to become frantic in your studies if others take you through it wholly or in part.
"YOU IGNORE your textbook assignments in philosophy. No doubt you are depending on an unlaborious 'intuition' to get you through the examinations. But unless you apply yourself in a more scholarly manner, I shall see to it that you do not pass this course."
Professor D. C. Ghoshal of Serampore College was addressing me sternly. If I failed to pass his final written classroom test, I would be ineligible to take the conclusive examinations. These are formulated by the faculty of Calcutta University, which numbers Serampore College among its affiliated branches. A student in Indian universities who is unsuccessful in one subject in the AB finals must be examined anew in all his subjects the following year.
My instructors at Serampore College usually treated me with kindness, not untinged by an amused tolerance. "Mukunda is a bit over-drunk with religion." Thus summing me up, they tactfully spared me the embarrassment of answering classroom questions; they trusted the final written tests to eliminate me from the list of AB candidates. The judgement passed by my fellow students was expressed in their nickname for me—"Mad Monk."
I took an ingenious step to nullify Professor Ghoshal's threat to me of failure in philosophy. When the results of the final tests were about to be publicly announced, I asked a classmate to accompany me to the professor's study.
"Come along; I want a witness," I told my companion. "I shall be very much disappointed if I have not succeeded in outwitting the instructor."
Professor Ghoshal shook his head after I had inquired what rating he had given my paper.
"You are not among those who have passed," he said in triumph. He hunted through a large pile on his desk. "Your paper is not here at all; you've failed, in any case, through non-appearance at the examination."
I chuckled. "Sir, I was there. May I look through the stack myself?"
The professor, nonplussed, gave his permission; I quickly found my paper, where I had carefully omitted any identification mark except my roll call number. Unwarned by the "red flag" of my name, the instructor had given a high rating to my answers even though they were unembellished by textbook quotations. [1]
Seeing through my trick, he now thundered, "Sheer brazen luck!" He added hopefully, "You are sure to fail in the AB finals."
For the tests in my other subjects, I received some coaching, particularly from my dear friend and cousin, Prabhas Chandra Ghose, [2] son of my Uncle Sarada. I staggered painfully but successfully—with the lowest possible passing marks—through all my final tests.
Now, after four years of college, I was eligible to sit for the AB examinations. Nevertheless, I hardly expected to avail myself of the privilege. The Serampore College finals were child's play compared to the stiff ones which would be set by Calcutta University for the AB degree. My almost daily visits to Sri Yukteswar had left me little time to enter the college halls. There it was my presence rather than my absence that brought forth ejaculations of amazement from my classmates!
My customary routine was to set out on my bicycle about nine-thirty in the morning. In one hand I would carry an offering for my guru—a few flowers from the garden of my Panthi boarding-house. Greeting me affably, Master would invite me to lunch. I invariably accepted with alacrity, glad to banish the thought of college for the day. After hours with Sri Yukteswar, listening to his incomparable flow of wisdom, or helping with ashram duties, I would reluctantly depart around midnight for the Panthi. Occasionally I stayed all night with my guru, so happily engrossed in his conversation that I scarcely noticed when darkness changed into dawn.
One night about eleven o'clock, as I was putting on my shoes [3] in preparation for the ride to the boarding-house, Master questioned me gravely.
"When do your AB examinations start?"
"Five days from now, sir."
"I hope you are in readiness for them."
Transfixed with alarm, I held one shoe in the air. "Sir," I protested, "you know how my days have been passed with you rather than with the professors. How can I enact a farce by appearing for those difficult finals?"
Sri Yukteswar's eyes were turned piercingly on mine. "You must appear." His tone was coldly peremptory. "We should not give cause for your father and other relatives to criticise your preference for ashram life. Just promise me that you will be present for the examinations; answer them the best way you can."
Uncontrollable tears were coursing down my face. I felt that Master's command was unreasonable, and that his interest was, to say the least, belated.
"I will appear if you wish it," I said amidst sobs. "But no time remains for proper preparation." Under my breath I muttered, "I will fill up the sheets with your teachings in answer to the questions!"
When I entered the hermitage the following day at my usual hour, I presented my bouquet with a certain mournful solemnity. Sri Yukteswar laughed at my woebegone air.
"Mukunda, has the Lord ever failed you, at an examination or elsewhere?"
"No, sir," I responded warmly. Grateful memories came in a revivifying flood.
"Not laziness but burning zeal for God has prevented you from seeking college honours," my guru said kindly. After a silence, he quoted, "'First seek the kingdom of God and his righteousness; and all these things shall be added to you.'" [4]
For the thousandth time, I felt my burdens lifted in Master's presence. When we had finished our early lunch, he suggested that I return to the Panthi.
"Does your friend, Romesh Chandra Dutt, still live in your boarding-house?"
"Yes, sir."
"Get in touch with him; the Lord will inspire him to help you with the examinations."
"Very well, sir; but Romesh is unusually busy. He is the honour man in our class, and carries a heavier course than the others."
Master waved aside my objections. "Romesh will find time for you. Now go."
I bicycled back to the Panthi. The first person I met in the boarding-house compound was the scholarly Romesh. As though his days were quite free, he obligingly agreed to my diffident request.
"Of course; I am at your service." He spent several hours of that afternoon and of succeeding days in coaching me in my various subjects.
"I believe many questions in English literature will be centred in the route of Childe Harold," he told me. "We must get an atlas at once."
I hastened to the home of my Uncle Sarada and borrowed an atlas. Romesh marked the European map at the places visited by Byron's romantic traveller.
A few classmates had gathered around to listen to the tutoring. "Romesh is advising you wrongly," one of them commented to me at the end of a session. "Usually only fifty per cent of the questions are about the books; the other half will involve the authors' lives."
When I sat for the examination in English literature the following day, my first glance at the questions caused tears of gratitude to pour forth, wetting my paper. The classroom monitor came to my desk and made a sympathetic inquiry.
"My guru foretold that Romesh would help me," I explained. "Look; the very questions dictated to me by Romesh are here on the examination sheet! Fortunately for me, there are very few questions this year on English authors, whose lives are wrapped in deep mystery so far as I am concerned!"
My boarding-house was in an uproar when I returned. The boys who had been ridiculing Romesh's method of coaching looked at me in awe, almost deafening me with congratulations. During the week of the examinations, I spent many hours with Romesh, who formulated questions that he thought were likely to be set by the professors. Day by day, Romesh's questions appeared in almost the same form on the examination sheets.
The news was widely circulated in the college that something resembling a miracle was occurring, and that success seemed probable for the absent-minded "Mad Monk." I made no attempt to hide the facts of the case. The local professors were powerless to alter the questions, which had been arranged by Calcutta University.
Thinking over the examination in English literature, I realised one morning that I had made a serious error. One section of the questions had been divided into two parts of A or B, and C or D. Instead of answering one question from each part, I had carelessly answered both questions in Group I, and had failed to consider anything in Group II. The best mark I could score in that paper would be 33, three less than the passing mark of 36. I rushed to Master and poured out my troubles.
"Sir, I've made an unpardonable blunder. I do not deserve the divine blessings through Romesh; I am quite unworthy."
"Cheer up, Mukunda." Sri Yukteswar's tones were light and unconcerned. He pointed to the blue vault of the heavens. "It is more possible for the sun and moon to interchange their positions in space than it is for you to fail in getting your degree!"
I left the hermitage in a more tranquil mood, though it seemed mathematically inconceivable that I could pass. I looked once or twice apprehensively into the sky; the sun appeared to be securely anchored in his customary orbit!
As I reached the Panthi, I overheard a classmate's remark: "I've just learned that this year, for the first time, the required passing mark in English literature has been lowered."
I entered the boy's room with such speed that he looked up in alarm. I questioned him eagerly.
"Long-haired monk," he said laughingly, "why this sudden interest in scholastic matters? Why cry in the eleventh hour? But it is true that the passing mark has just been lowered to 33 points."
A few joyous leaps took me into my own room, where I sank to my knees and praised the mathematical perfections of my divine Father.
Every day I thrilled with the consciousness of a spiritual presence that I clearly felt to be guiding me through Romesh. A significant incident occurred in connection with the examination in Bengali. Romesh, who had touched little on that subject, called me back one morning as I was leaving the boarding-house on my way to the examination hall.
"There's Romesh shouting for you," a classmate said to me impatiently. "Do not return; we shall be late at the hall."
Ignoring the advice, I ran back to the house.
"The Bengali examination is usually easily passed by our Bengali boys," Romesh told me. "But I've just had a hunch that this year the professors have planned to massacre the students by asking questions from our ancient literature." My friend then briefly outlined two stories from the life of Vidyasagar, a renowned philanthropist.
I thanked Romesh and quickly bicycled to the college hall. The examination sheet in Bengali proved to contain two parts. The first instruction was: "Write two instances of the charities of Vidyasagar." As I transferred to the paper the lore that I had so recently acquired, I whispered a few words of thanksgiving that I had heeded Romesh's last-minute summons. Had I been ignorant of Vidyasagar's benefactions to mankind (including ultimately myself), I could not have passed the Bengali examination. Failing in one subject, I would have been forced to stand examination anew in all subjects the following year. Such a prospect was understandably abhorrent.
The second instruction on the sheet read: "Write an essay in Bengali on the life of the man who has most inspired you." Gentle reader, I need not inform you what man I chose for my theme. As I covered page after page with praise of my guru, I smiled to realise that my muttered prediction was coming true: "I will fill up the sheets with your teachings!"
I had not felt inclined to question Romesh about my course in philosophy. Trusting my long training under Sri Yukteswar, I safely disregarded the textbook explanations. The highest mark given to any of my papers was the one in philosophy. My score in all other subjects was just barely within the passing mark.
It is a pleasure to record that my unselfish friend Romesh received his own degree cum laude.
Father was wreathed in smiles at my graduation. "I hardly thought you would pass, Mukunda," he confessed. "You spend so much time with your guru." Master had indeed correctly detected the unspoken criticism of my father.
For years I had been uncertain that I would ever see the day when an AB would follow my name. I seldom use the title without reflecting that it was a divine gift, conferred on me for reasons somewhat obscure. Occasionally I hear college men remark that very little of their crammed knowledge remained with them after graduation. That admission consoles me a bit for my undoubted academic deficiencies.
On the day I received my degree from Calcutta University, I knelt at my guru's feet and thanked him for all the blessings flowing from his life into mine.
"Get up, Mukunda," he said indulgently. "The Lord simply found it more convenient to make you a graduate than to rearrange the sun and moon!"

Selfless service is a responsibility for both parents and swamis
Harsh responsibility hardly depend on the robe of one who has vowed renunciation.
Start:
In the Hindu scheme of living, monks are quite close to leaving life, as a basic design.
Citing Carl G. Jung may be done wisely and well, and otherwise. There are many ways of citing, both in and out of context.
"MASTER, my father has been anxious for me to accept an executive position with the Bengal-Nagpur Railway. But I've definitely refused it." I added hopefully, "Sir, will you not make me a monk of the swami order?" I looked pleadingly at my guru. During preceding years, in order to test the depth of my determination, he had refused this same request. Today, however, he smiled graciously.
"Very well; tomorrow I will initiate you into swamiship." He went on quietly, "I am happy that you've persisted in your desire to be a monk. Lahiri Mahasaya often said: 'If you do not invite God to be your summer guest, he wo not come in the winter of your life.'"
⊕ (1) Yoga training should be beneficial, no matter your age, if you keep to favourable methods and teachings and sensible all-round guidelines. That is a basic attitude. (2) As for the value of being a monk or nun, it should be debated: "Lahiri Mahasaya discouraged many disciples from entering monastic life . . . "It is better to lead spiritual life incognito. In a householder's life, there can be moderation and every possibility of self-discipline." [From River of Compassion: Excerpt from a biography of Paramahamsa Hariharananda, by Paramahamsa Prajnanananda. On-line:
[74.54.252.194/~kriya/store_product_detail.php?id=30]
"Dear Master, I could never falter in my goal to belong to the swami order like your revered self." I smiled at him with measureless affection.
"He that is unmarried cares for the things that belong to the Lord, how he may please the Lord: but he that is married cares for the things of the world, how he may please his wife." [1] I had analysed the lives of many of my friends who, after undergoing certain spiritual discipline, had then married. Launched on the sea of worldly responsibilities, they had forgotten their resolutions to meditate deeply.
To allot God a secondary place in life was, to me, inconceivable. Though he is the sole owner of the cosmos, silently showering us with gifts from life to life, one thing yet remains which he does not own, and which each human heart is empowered to withhold or bestow—man's love. The Creator, in taking infinite pains to shroud with mystery his presence in every atom of creation, could have had but one motive—a sensitive desire that men seek him only through free will. With what velvet glove of every humility has he not covered the iron hand of omnipotence!
The following day was one of the most memorable in my life. It was a sunny Thursday, I remember, in July, 1914, a few weeks after my graduation from college. On the inner balcony of his Serampore hermitage, Master dipped a new piece of white silk into a dye of ochre, the traditional colour of the swami order. After the cloth had dried, my guru draped it around me as a renunciate's robe.
"Someday you will go to the West, where silk is preferred," he said. "As a symbol, I've chosen for you this silk material instead of the customary cotton."
In India, where monks embrace the ideal of poverty, a silk-clad swami is an unusual sight. Many yogis, however, wear garments of silk, which preserves certain subtle bodily currents better than cotton.
"I am averse to ceremonies," Sri Yukteswar remarked. "I will make you a swami in the bidwat (non-ceremonious) manner."
The bibidisa or elaborate initiation into swamiship includes a fire ceremony, during which symbolical funeral rites are performed. The physical body of the disciple is represented as dead, cremated in the flame of wisdom. The newly-made swami is then given a chant, such as: "This atma is Brahma" [2] or "You are that" or "I am he." Sri Yukteswar, however, with his love of simplicity, dispensed with all formal rites and merely asked me to select a new name.
"I will give you the privilege of choosing it yourself," he said, smiling.
"Yogananda," I replied, after a moment's thought. The name literally means "bliss (ananda) through divine union (yoga)."
"Be it so. Forsaking your family name of Mukunda Lal Ghosh, from now on you shall be called Yogananda of the Giri [mountain] branch of the swami order."
As I knelt before Sri Yukteswar, and for the first time heard him pronounce my new name, my heart overflowed with gratitude. How lovingly and tirelessly had he laboured, that the boy Mukunda be someday transformed into the monk Yogananda! I joyfully sang a few verses from the long Sanskrit chant of Lord Shankara:
"Mind, nor intellect, nor ego, feeling;
Sky nor earth nor metals am I.
I am he, I am he, blessed Spirit, I am he!

No birth, no death, no caste have I;
Father, mother, have I none.
I am he, I am he, blessed Spirit, I am he!

Beyond the flights of fancy, formless am I,
Permeating the limbs of all life;
Bondage I do not fear;
I am free, ever free,
I am he, I am he, blessed Spirit, I am he!"
⊕ "I am me" and "I am who I am" - Yahweh - refers to the sense of "I-ness", which should be cultivated, rather than fine-sounding, pretentious words.
Every swami belongs to the ancient monastic order which was organised in its present form by Shankara. [3] Because it is a formal order, with an unbroken line of saintly representatives serving as active leaders, no man can give himself the title of swami. He rightfully receives it only from another swami; all monks thus trace their spiritual lineage to one common guru, Lord Shankara. By vows of poverty, chastity, and obedience to the spiritual teacher, many Catholic Christian monastic orders resemble the order of swamis.
In addition to his new name, usually ending in ananda, the swami takes a title which indicates his formal connection with one of the ten subdivisions of the swami order. These dasanamis or ten agnomens include the giri (mountain), to which Sri Yukteswar, and hence myself, belong. Among the other branches are the sagar (sea), bharati (land), aranya (forest), puri (tract), tirtha (place of pilgrimage), and saraswati (wisdom of nature).
The new name received by a swami thus has a twofold significance, and represents the attainment of supreme bliss (ananda) through some divine quality or state—love, wisdom, devotion, service, yoga—and through a harmony with nature, as expressed in her infinite vastness of oceans, mountains, skies.
The ideal of selfless service to all mankind, and of renunciation of personal ties and ambitions, leads the majority of swamis to engage actively in humanitarian and educational work in India, or occasionally in foreign lands. Ignoring all prejudices of caste, creed, class, colour, sex, or race, a swami follows the precepts of human brotherhood. His goal is absolute unity with spirit. Imbuing his waking and sleeping consciousness with the thought, "I am he," he roams contentedly, in the world but not of it. Thus only may he justify his title of swami—one who seeks to achieve union with the swa or self. It is needless to add that not all formally titled swamis are equally successful in reaching their high goal.
Sri Yukteswar was both a swami and a yogi. A swami, formally a monk by virtue of his connection with the ancient order, is not always a yogi. Anyone who practices a scientific technique of God-contact is a yogi; he may be either married or unmarried, either a worldly man or one of formal religious ties. A swami may conceivably follow only the path of dry reasoning, of cold renunciation; but a yogi engages himself in a definite, step-by-step procedure by which the body and mind are disciplined, and the soul liberated. Taking nothing for granted on emotional grounds, or by faith, a yogi practices a thoroughly tested series of exercises which were first mapped out by the early rishis. Yoga has produced, in every age of India, men who became truly free, truly yogi-christs.
Like any other science, yoga is applicable to people of every clime and time. The theory advanced by certain ignorant writers that yoga is "unsuitable for Westerners" is wholly false, and has lamentably prevented many sincere students from seeking its manifold blessings. Yoga is a method for restraining the natural turbulence of thoughts, which otherwise impartially prevent all men, of all lands, from glimpsing their true nature of spirit. Yoga cannot know a barrier of East and West any more than does the healing and equitable light of the sun. So long as man possesses a mind with its restless thoughts, so long will there be a universal need for yoga or control.
The ancient rishi Patanjali defines "yoga" as "control of the fluctuations of the mind-stuff." [4] His very short and masterly expositions, the Yoga Sutras, form one of the six systems of Hindu philosophy. [5] In contradistinction to Western philosophies, all six Hindu systems embody not only theoretical but practical teachings. In addition to every conceivable ontological inquiry, the six systems formulate six definite disciplines aimed at the permanent removal of suffering and the attainment of timeless bliss.
The common thread linking all six systems is the declaration that no true freedom for man is possible without knowledge of the ultimate reality. The later Upanishads uphold the Yoga Sutras, among the six systems, as containing the most efficacious methods for achieving direct perception of truth. Through the practical techniques of yoga, man leaves behind forever the barren realms of speculation and cognises in experience the veritable essence.
The Yoga system as outlined by Patanjali is known as the Eightfold Path. The first steps, (1) yama and (2) niyama, require observance of ten negative and positive moralities—avoidance of injury to others, of untruthfulness, of stealing, of incontinence, of gift-receiving (which brings obligations); and purity of body and mind, contentment, self-discipline, study, and devotion to God.
The next steps are (3) asana (right posture); the spinal column must be held straight, and the body firm in a comfortable position for meditation; (4) pranayama (control of prana, subtle life currents); and (5) pratyahara (withdrawal of the senses from external objects).
The last steps are forms of yoga proper: (6) dharana (concentration); holding the mind to one thought; (7) dhyana (meditation), and (8) samadhi (superconscious perception). This is the Eightfold Path of yoga [6] which leads one to the final goal of kaivalya (absoluteness), a term which might be more comprehensibly put as "realisation of the truth beyond all intellectual apprehension."
"Which is greater," one may ask, "a swami or a yogi?" If and when final oneness with God is achieved, the distinctions of the various paths disappear. The Bhagavad Gita, however, points out that the methods of yoga are all-embracive. Its techniques are not meant only for certain types and temperaments, such as those few who incline toward the monastic life; yoga requires no formal allegiance. Because the yogic science satisfies a universal need, it has a natural universal applicability.
A true yogi may remain dutifully in the world; there he is like butter on water, and not like the easily-diluted milk of unchurned and undisciplined humanity. To fulfil one's earthly responsibilities is indeed the higher path, provided the yogi, maintaining a mental uninvolvement with egotistical desires, plays his part as a willing instrument of God.
There are a number of great souls, living in American or European or other non-Hindu bodies today who, though they may never have heard the words yogi and swami, are yet true exemplars of those terms. Through their disinterested service to mankind, or through their mastery over passions and thoughts, or through their single hearted love of God, or through their great powers of concentration, they are, in a sense, yogis; they've set themselves the goal of yoga—self-control. These men could rise to even greater heights if they were taught the definite science of yoga, which makes possible a more conscious direction of one's mind and life.
Yoga has been superficially misunderstood by certain Western writers, but its critics have never been its practitioners. Among many thoughtful tributes to yoga may be mentioned one by Dr. C. G. Jung, the famous Swiss psychologist.
"When a religious method recommends itself as 'scientific,' it can be certain of its public in the West. Yoga fulfils this expectation," Dr. Jung writes. [7] "Quite apart from the charm of the new, and the fascination of the half-understood, there is good cause for Yoga to have many adherents. It offers the possibility of controllable experience, and thus satisfies the scientific need of 'facts,' and besides this, by reason of its breadth and depth, its venerable age, its doctrine and method, which include every phase of life, it promises undreamed-of possibilities.
"Every religious or philosophical practice means a psychological discipline, that is, a method of mental hygiene. The manifold, purely bodily procedures of yoga [8] also mean a physiological hygiene which is superior to ordinary gymnastics and breathing exercises, inasmuch as it is not merely mechanistic and scientific, but also philosophical; in its training of the parts of the body, it unites them with the whole of the spirit, as is quite clear, for instance, in the pranayama exercises where prana is both the breath and the universal dynamics of the cosmos.
"When the thing which the individual is doing is also a cosmic event, the effect experienced in the body (the innervation), unites with the emotion of the spirit (the universal idea), and out of this there develops a lively unity which no technique, however scientific, can produce. Yoga practice is unthinkable, and would also be ineffectual, without the concepts on which yoga is based. It combines the bodily and the spiritual with each other in an extraordinarily complete way.
"In the East, where these ideas and practices have developed, and where for several thousand years an unbroken tradition has created the necessary spiritual foundations, Yoga is, as I can readily believe, the perfect and appropriate method of fusing body and mind together so that they form a unity which is scarcely to be questioned. This unity creates a psychological disposition which makes possible intuitions that transcend consciousness."
The Western day is indeed nearing when the inner science of self-control will be found as necessary as the outer conquest of nature. This new Atomic Age will see men's minds sobered and broadened by the now scientifically indisputable truth that matter is in reality a concentrate of energy. Finer forces of the human mind can and must liberate energies greater than those within stones and metals, lest the material atomic giant, newly unleashed, turn on the world in mindless destruction. [9]

Notes
[1] Although Master failed to make any explanation, his reluctance to visit Kashmir during those two summers may have been a foreknowledge that the time was not ripe for his illness there (see chapter 22).
[2] Literally, "of the mountains." Parvati, mythologically represented as a daughter of Himavat or the sacred mountains, is a name given to the shakti or "consort" of Shiva.
[1] It is a mark of disrespect, in India, to smoke in the presence of one's elders and superiors.
[2] The Oriental plane tree.
[3] Many Christian saints, including Therese Neumann (see chapter 39), are familiar with the metaphysical transfer of disease.
[4] Christ said, just before he was led away to be crucified: "Thinkest thou that I cannot now pray to my Father, and he shall presently give me more than twelve legions of angels? But how then shall the scriptures be fulfilled, that thus it must be?" - Matthew 26:53 - 54.
[5] See chapters 26, 43 Notes.
[1] Goddess.
[2] The Hindu wife believes it is a sign of spiritual advancement if she dies before her husband, as a proof of her loyal service to him, or "dying in harness."
[1] I must do Professor Ghoshal the justice of admitting that the strained relationship between us was not due to any fault of his, but solely to my absences from classes and inattention in them. Professor Ghoshal was, and is, a remarkable orator with vast philosophical knowledge. In later years we came to a cordial understanding..
[2] Although my cousin and I have the same family name of Ghosh, Prabhas has accustomed himself to transliterating his name in English as Ghose; therefore I follow his own spelling here.
[3] A disciple always removes his shoes in an Indian hermitage.
[4] Matthew 6:33.
[1] I Corinthians 7:32 - 33.
[2] Literally, "This soul is Spirit." The Supreme Spirit, the Uncreated, is wholly unconditioned (neti, neti, not this, not that) but is often referred to in Vedanta as Sat-Chit-Ananda, that is, Being - Intelligence - Bliss.
[3] Sometimes called Shankaracharya. Acharya means "religious teacher." Shankara's date is a centre of the usual scholastic dispute. A few records indicate that the peerless monist lived from 510 to 478 BC.; Western historians assign him to the late eighth century A.D. Readers who are interested in Shankara's famous exposition of the Brahma Sutras will find a careful English translation in Dr. Paul Deussen's System of the Vedanta (Chicago: Open Court Publishing Company, 1912). Short extracts from his writings will be found in Selected Works of Sri Shankaracharya (Natesan & Co., Madras).
[4] "Chitta vritti nirodha" - Yoga Sutra 1:2. Patanjali's date is unknown, though a number of scholars place him in the second century BC. The rishis gave forth treatises on all subjects with such insight that ages have been powerless to outmode them; yet, to the subsequent consternation of historians, the sages made no effort to attach their own dates and personalities to their literary works. They knew their lives were only temporarily important as flashes of the great infinite Life; and that truth is timeless, impossible to trademark, and no private possession of their own.
[5] The six orthodox systems (saddarsana) are Sankhya, Yoga, Vedanta, Mimamsa, Nyaya, and Vaisesika. Readers of a scholarly bent will delight in the subtleties and broad scope of these ancient formulations as summarized, in English, in History of Indian Philosophy, Vol. I, by Prof. Surendranath DasGupta (Cambridge University Press, 1922).
[6] Not to be confused with the "Noble Eightfold Path" of Buddhism, a guide to man's conduct of life, as follows (1) Right Ideals, (2) Right Motive, (3) Right Speech, (4) Right Action, (5) Right Means of Livelihood, (6) Right Effort, (7) Right Remembrance (of the Self), (8) Right Realization (Samadhi).
[7] Dr. Jung attended the Indian Science Congress in 1937 and received an honorary degree from the University of Calcutta.
[8] Dr. Jung is here referring to hatha yoga, a specialized branch of bodily postures and techniques for health and longevity. Hatha is useful, and produces spectacular physical results, but this branch of yoga is little used by yogis bent on spiritual liberation.
[9] In Plato's Timaeus story of Atlantis, he tells of the inhabitants' advanced state of scientific knowledge. The lost continent is believed to have vanished about 9500 BC. through a cataclysm of nature; certain metaphysical writers, however, state that the Atlanteans were destroyed as a result of their misuse of atomic power. Two French writers have recently compiled a Bibliography of Atlantis, listing over 1700 historical and other references.