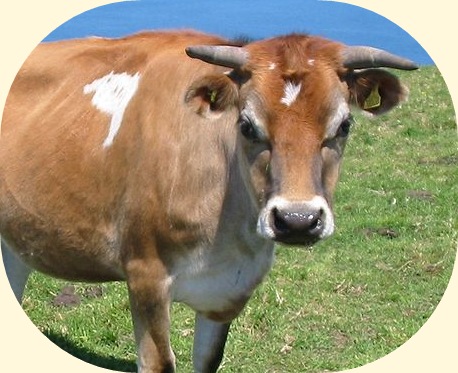 Moo!



Bengali: hamba
Chinese (Mandarin): mu mu
Danish: muh
Dutch: boeh
English: moo
Finnish: ammuu
French: meuh
German: mmuuh
Greek and Hebrew: moo
Hindi: moo-mo
Hungarian: bu
Norwegian: mø (pronounced as in French)

Cows bellow for many reasons. One is to warn intruders or scare them off. Another is to give vent to suffering and hardship. Another is to communicate with the flock - or calf. Perhaps to show they are afraid, even confused. There are many other possible reasons too.

The cows of others always have bigger udders [German, in Sx].

Who does not have a cow, can milk the cat [German, in Sx, mod].

The old cow too has been a calf [Norwegian].

A black cow too gives white milk [German, in Sx].

The cow must graze where she is tied [American Ap 596].

You cannot sell the cow and sup the milk [British, Dp 28].

The more cows, the less milk [American, Ap 123]. Compare: The fewer cows, the less milk [German].

Don't swallow the cow and worry with the tail [American, Ap 122].

The cow does not cost more because it is many-coloured [German, in Sx].

Each farmer's wife praises her own cow [German, in Sx].

One milks the cow and not the ox [German].

It helps little that the cow yields milk when she kicks over the milk pail. [Norwegian, Go 85].

The cow never goes so far that its tail won't follow [Norwegian].

The cow may die as the grass grows [Norwegian].

The older the cow, the prettier the calf [German, in Sx].

"It was no cow either," said the man, he lost his wife. [Norwegian, in Go 104].

What is born of the cow, cattle remains [German, in Sx].

It is not all butter which comes from cows [German, in Sx].