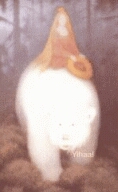 Innocent darlings may possess much curiosity, and rational thinking may yet seem out of reach, even unbearable to some. It is OK! Rational thinking comes in stages, and may be fed by good tales and other works of artistic imagination, it is held. Appropriate folk tales help in laying a groundwork for coming intellectual attainments as well, due to the very good ideas that are embedded in them, dressed in various images and actions. They are figures to go with for a spell. It is much of the methodology of the world-wide Waldorf Education movement.
Nice imagery and tales may be on fit "wavelengths" for young folks. Telling suitabel tales can be a fit and fine way of developing their minds on the developing minds' own terms and can lay the groundwork for later intellectual achievements. Parent who care about helping their children to cope better, could nurture the mind within by telling entertaining stories well, stories with a deeper meaning too. In this way many will be nurtured or fed on their own inherent terms or premises. Ideas may be got in tales, so that the ideas "baked" into them may be digested a bit. Much and good development can be had from it, and may even serve the young ones well.
Well "garnished" within costly folk tales are instigations to enterprises and venturing into the world a bit too. A little boldness may be helped up through the finest tales of folk arts. Maybe we can all learn something from fairy tales, for there may be an open-ended string of ideas of attainments to catch, if we accept these premises. And contrary to that, it may not serve a child or youngster at all to force rational thinking (intellectual thinking) on them - not in the long run development of the human.