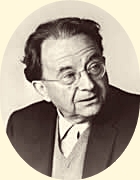 Erich S. Fromm (1900–80)
Erich Seligmann Fromm was a distinguished psychoanalyst, humanistic social philosopher, democratic socialist and a social psychologist. He was born at Frankfurt am Main, of Orthodox Jewish parents, and received his Ph.D. in sociology from Heidelberg in 1922. He was associated with what became known as the Frankfurt School of critical theory.
During the mid 1920s he was trained to become a psychoanalyst, and began his own clinical practice in 1927. In 1930 he completed his psychoanalytical training. Later in the 1930s Fromm moved to Geneva and then to Columbia University in New York.
Fromm moved to Mexico City in 1950 and became a professor at the National Autonomous University of Mexico. He taught at other universities too. In 1974 he moved to Switzerland, where he died in his home in 1980.
Interpreting modern conditions
Fromm analysed the modern industrial society with a pioneering attitude. His writings are notable for philosophical and psychological underpinnings. He thought that man is getting increasingly impotent and estranged in a society governed by technical developments. He criticised that production and consumption have become "the meaning of life" of nations where humans have become [half]slaves to technical developments.
He wanted to promote a decentralised "participative democracy", and etched out practical things to do in order to create a more human society, as exemplified in his book The Sane Society. He saw well into modern manís insanities and insanities of the society and became controversial from it too. He was moved to attempts at healing actions by the great wrongs he perceived. And he went for "citizen payment", as the Norwegian liberal party "Venstre" has done later.
Fromm was a deeply religious man all his life. Central to his world view was his interpretation of the five first books of the Bible, the Talmud. Yet he turned away from orthodox Judaism in 1926. Fromm's humanistic philosophy is rooted in an interpretation of the biblical story of Adam and Eve. He extolled the virtues of humans taking independent action and using reason to establish moral values. He became influenced by Zen Buddhism.
He saw estranged automatons against creative, independent individuals and some of their basic needs
Fromm viewed the experience of "falling in love" as evidence of one's failure to understand the true nature of love, which he believed always had the common elements of care, responsibility, respect, and knowledge.
Fromm also asserted that few people in modern society had respect for the autonomy of their fellow human beings, much less the objective knowledge of what other people truly wanted or needed.
Three main escape mechanisms that Fromm outlined are automaton conformity, authoritarianism, and destructiveness.
The word biophilia ("life-liking, life-love", or "holding life dear") was frequently used by Fromm as a description of a productive psychological orientation and "state of being".
Fromm also postulated five basic needs - compare Abraham Maslow's pyramid of needs. [Link A. Link B]:
Relatedness - relationships with others, care, respect, knowledge;
Transcendence - creativity, develop a loving and interesting life;
Rootedness - feeling of belonging;
Sense of identity - see ourselves as a unique person and part of a social group.
A frame of orientation - the need to understand the world and our place in it.
Fromm's penetrating analyses and syntheses of stultifications of humans and societies went together with his deep faith in authentic, self-directing individuals with decent relationships among themselves, individuals able to express their basic identity. He did not think all sorts of conformity are bad. Some can be rather good and helpful, actually.
Fromm saw that when people lost those ties which gave them security, this lag made freedom an unbearable burden that lacked meaning and direction. He learnt to discern between productive, positive characters and such as hoarding, marketing, and exploitative characters - malignant characters by and large.
Fromm criticized Freud's dualistic thinking: Freudian descriptions of human consciousness as struggles between two poles were narrow and limiting.
Marked works and activities
Fromm's most well-known work was Escape from Freedom. His most popular book was The Art of Loving, an international bestseller. And the culmination of Fromm's social and political philosophy was his book The Sane Society, published in 1955, which argued in favour of humanistic and democratic socialism.
Fromm's strongest political activism was in the international peace movement. He was fighting against the nuclear arms race and US involvement in the Vietnam War.
Erich Fromm Quotations and Little Else
To be fully awake is the condition for not being bored, [and] not to be bored or boring is one of the main conditions for loving. [From The Art of Loving]
Greed is a bottomless pit which exhausts the person.
Just as modern mass production requires the standardization of commodities, so the social process requires standardization of man.
There is hardly any activity, any enterprise, which is started out with such tremendous hopes and expectations, and yet which fails so regularly, as love.
One cannot be deeply responsive to the world without being saddened very often.
Because one does not see that love is an activity, a power of the soul, one believes that all that is necessary to find is the right object - and that everything goes by itself afterward.
Destructiveness is [often an] outcome of unlived lives.
Men are born equal but they are also born different.
Modern capitalism needs men who cooperate smoothly and in large numbers; who want to consume more and more; and whose tastes are standardized and can be easily influenced and anticipated. It needs men . . . willing to . . . do what is expected of them, to fit into the social machine without friction; who can be guided without force. [from The Art of Loving]
Selfish persons are incapable of loving others, but they are not capable of loving themselves either.
Education makes machines which act like men and produces men who act like machines.
In the twentieth century the problem is that man is dead.
To be loved because of one's merit, because one deserves it, always leaves doubt . . . [or] a fear that love could disappear. [From The Art of Loving]
Authority refers to an interpersonal relation in which one person looks upon another as somebody superior to him.
The danger of the past was that men became slaves. The danger of the future is that man may become robots.
The successful revolutionary is a statesman, the unsuccessful one a criminal.
The task we must set for ourselves is not to feel secure, but to be able to tolerate insecurity.