The main topic on this page is plain English, and guidlines related to it. There are many sides to scientific skills and writing needs, and writing needs in general. It pays to be polite. Expressing and presenting ideas well enough are sides to be learnt too - an ongoing project that matters.
Writing adjustments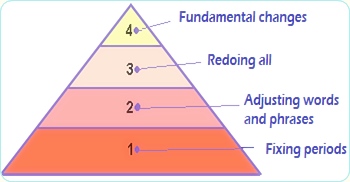 Fig. 1: Four adjustment levels of writing
Figure 1 divides planned, factual writing into four levels, for convenience. The idea is that some sides to writing take more than others, and that the easiest parts are those of fixing periods, wordings, and phrases. There is much counsel on those sides to writing on this page, and also a few sidelights into values expressed in writing, highlighted by some teachings of Buddha.
There are many sides to solid language, many are above just being plain and accurate. Being truthful is one. Being considerate is another. Clarity is fine too.
Being scholarly and scientific suits Buddhism, which encourages rational takes and does not depend on blind beliefs. It is called sober, realistic, undogmatic, compatible with science. But Buddhism goes far beyond the goals of basic science too; it aims at helping happy, successful living on and up, aiming at complete liberation (awakening).
Test things in terms of cause and effect, teaches Buddha. Whatever is unskilful, leading to harm and ill, should be abandoned; whatever is skilful, leading to happiness and peace, should be pursued. You can apply such guidance to things you do. One quick test may not do for a whole life, but you can keep at it to be better able to discern what is worth including in your lifestyle.
Over 2500 years ago Buddha formed many such principles that regularly apply. He normally does not seek to persuade anyone. In fact, he talks against such bravado attempts. Also, his doctrine of Right Speech (part of the Noble Middle Way) posits that using language in a moral, non-degrading way is not to be left out. Third, many of Buddha's conclusions are based on agreeable first principles. In his outstanding Kalama Sutta he also advocates that we examine the logical and illogical reasons mustered by others or ourselves and sources very well, and to our advantage. "Do not believe a thing wilfully or blindly; make sure as best you can," is a key message. Another is not to trust authorities wholly just because they are authorities. Many persons confuse truths with statements by authority figures, and that is being quite blind: One is not to trust appearances blindly and foolishly either. I suggest there is a better way: [Evidence]
Further, Buddha stressed the need for good language skills, and the value of abstaining from foul language. Being skilful is a significant side to his general teachings. Express with aplomb, then.
Right Speech is abstaining from lying; abstaining from tale-bearing; abstaining from harsh language; abstaining from vain talk.
The truthful one avoids and abstains from lying, being reliable, worthy of confidence. He speaks the truth, and is devoted to the truth.
The truthful one is not a deceiver of men. At a meeting, or among people, or in the midst of his relatives, or in a society, or in the king's court, and called upon and asked as a witness to tell what he knows.
The truthful one never knowingly speaks a lie, not for the sake of his own advantage, or for no other person's advantage, or for the sake of any advantage whatever.
The truthful man of concord abstains from harsh language. He speaks gentle words that are soothing and aim at the heart, courteous and dear.
Let no evil words escape from your lips.
Penetrate others with dear thoughts that are wide and deep enough.
Speak at the right time, in accordance with facts. Tell what is useful, tell about the law [dharma: law, teachings] and the discipline. Speech at the right moment, accompanied by arguments, moderate and full of sense, is a treasure: It is called right speech.
Buddha taught by speaking. What he said about speech, applies well to written communications too. Some vital principles of science are lined up with his teachings. But for the rest of this page we deal with common, accepted technicalities only.

Fifteen Tips - The Plain Language Commission
Consider carefully your purpose and message before starting to write – clear writing and clear thinking go hand in hand.
Wear the readers' shoes – how would you feel in their position?
Plan a structure that will help the reader, perhaps with headings, bullet-point lists, and a pithy summary of key points at the start.
In letters and emails, tell the reader clearly, concisely and courteously what has happened, how the situation stands, and what they can expect next.
Match your writing to the needs and knowledge of the readers – some of them may be baffled by official jargon and procedures.
Write sentences that average 15–20 words.
Keep the word order simple. In most sentences, put the doer early and follow it with an active-voice verb.
Take pride in using everyday English, sound grammar and accurate punctuation.
Where appropriate, use 'I', 'we' and 'you' to make the writing more human.
Maintain the flow by starting some of your sentences with connectors like 'but', 'however', 'so' and 'because'.
Use commands when writing instructions.
Cut unnecessary words.
Check that the facts and judgement are right. Nothing compensates for inaccuracy or illogicality.
Pre-test your high-use documents with typical readers.
Apply common sense and scepticism to all guidance about writing.
There are many similar lists, some with fewer points, and some with more points than fifteen. The next one is recommended far and wide.
Style and grammar
Over the whole document, make the average sentence length 15 to 20 words.
Use words your readers are likely to understand.
Use only as many words as you really need ["writing tight"].
Prefer the active voice unless there's a good reason for using the passive.
Use clear, crisp, lively verbs to express the actions in your document, and avoid using noun strings.
Use vertical lists to break up complicated text.
Put your points positively when you can.
Reduce cross-references to the a minimum.
Put accurate punctuation at the heart of your writing.
Remember the average reading age of the population: about 13 years.
Avoid being enslaved by writing myths.
Try to avoid sexist usage.
Use good grammar – but you don't need to know hundreds of grammatical terms.
In letters and emails, fusty [musty] first sentences and formula finishes.
Preparing and planning
Plan before you write.
Organizing the information
Organize your material in a way that helps readers to grasp the important information early and to navigate through the document easily ["using reader-centred structure"].
Consider different ways of setting out your information.
Management of writing
Manage colleagues' writing carefully and considerately to boost their morale and effectiveness.
Plain English for specific purposes: emails, instructions, the Web, legal documents, and low-literacy readers
Take as much care with e-mail as you would with the rest of your writing.
Devote special effort to producing lucid and well-organized instructions.
Don't waffle on the Web – put the big news early and make the style and structure punchy.
Apply plain English techniques to legal documents such as insurance policies, car-hire agreements, laws, and wills.
For people with low literacy, cut out the fine details, be brief, and test your document with the real experts – the readers.
Layout
Use clear layout to present your plain words in an easily accessible way.
Proofreading
Check your stuff before the readers do.
- from Martin Cutts: Oxford Guide to Plain English, 4rd ed. (Oxford UP, 2013, p. xxxi-xxxii).
The guidelines of the fourth edition differ a bit from the guidelines given in the previous three editions. The biggest changes are additions at the end of the list. Added guidelines reflect changing media and adaptations to email writing and Web presentations. Rephrasings improve a few of the older guidelines.
The title of the book was changed with its second edition (2004) from Plain English Guide.
Prefer a short word to a long one ... unless the longer word is better, and a single word to a phrase if brevity makes for clarity. [Scu 56 - See also Cop (Sir Ernest Gowers, The Complete Plain Words, 1973)]
Introductory and connecting phrases which can usually be deleted without altering the meaning of the sentence:
From this point of view, it is relevant to mention that ...
In regard to ... , when we consider ..., it is apparent that ...
As far as ... is concerned, it may be noted that ...
It is appreciated that ... in considering ...
It is of interest to note that ... of course ...
In order to keep the problem in perspective we would like to emphasize that ... there is no doubt that ... not least of these ...
In conclusion, in relation to ..., it was found that ...
From this information it can be seen that ... in so far as ...
It is known from an actual investigation that ... as follows:
This report is a summary of the results of an enquiry into ... which, as you may remember, ... with respect to ...
It has been established that, essentially, ... in the case of ...
The evidence presented in this report supports the view that ... in the field of ... for your information ... in actual fact ... with reference to ... in the last analysis
[From Scu 39]