"Founded, habitual, unfounded"
I find it very useful to discern between founded, habitual, and unfounded.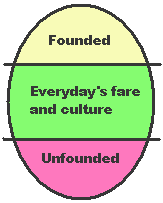 Fig. 1. Strains.
Figure 1 is an egg that may need some explanation. In a life:
Some things seem well founded (top third);
Some are habitual or comme il faut (according to customs etc);
Some seem to be unfounded (bottom third).
Dogmatism and cramped beliefs and cramped living can breed in the bottom zone of life, and in the middling zone too, but not to the same extent. The middling zone finds room for cultural outlets and everyday life.
Sound "objectivity" or neutrality involves clear-headed investigations, all of which may aid us on and up instead of being taken in.
Remaining very polite, we may be admitted to investigate much with reserve or suspicion.
Victims of hearsay often fail to accommodate fairly and well enough and for that reason may discard really helpful words. Some could be partly enmeshed in a bog of soap opera tenetss.
Yogananda's Rubaiyat commentary may be seen to fit into some area where things "habitual and unfounded" mingle. Yet, among the dross parts there may be good and delicate parts too.
There are many truths and many angles to a phenomenon. Find some that suit you.
In Hinduism Today (1994, No. 10: "Wine of the Mystic") it is observed that both the guru's fellowship and the other publisher, Crystal Clarity, plainly edited many guru statements and differed in many places. Quote:
It's a bit difficult to grasp just how extensively both Walters (Kriyananda) and Self-Realization Fellowship have edited Paramahansa Yogananda's words.
A minor sample from stanza one shows that not only did Yogananda fail to start off from a fair translation; there are also divergent versions of what he supposedly dictated for his commentary:
"puts the Stars to Flight." — FitzGerald.
"put the starlike, pale, mock-lustred material desires to flight." — Yogananda.
"putting to flight the pale stars of mock-lustered material desires." — Self-Realization Fellowship.
"put to flight the paling stars of earthly desire." — Kriyananda (James Donald Walters).
You are referred to the first page of this series for further aha's in the matter. Firstly, Omar himself may not even mention stars put to flight while mentioning "It's morning!" That leaves less room for tendentious, extraneous guru additions, regrettably.
It was startling to this reader to learn that in neither edition is one even offered the original writing of Paramahansa Yogananda. Self-Realization Fellowship explained that all of Paramahansa Yogananda's writings had been so edited". — From Himalayan Academy.
First, probably not much attuned to the orginal Omar, and second, Yogananda as editorially varied (as usual). Very much strange and odd could have come out of that glide downwards. The many changes of his book Whispers from Eternity in the hands of SRF years after his death, have been rather enlightening, if not surprising, that too. Compare ◦Rubaiyat, editorial comments by Kriyananda
Is Drinking Wine a Main Concern of Omar?
"What is the central concern of Omar?"
It could be a call "To Wine!"
"And what wine?"
One possible but not wholly accepted answer given by knowers of Sufism is that the wine is not wine — but a word used figuratively, as a metaphor. Quote: "The idea that the intoxication he writes of in his poetry is a Sufi metaphor for the Divine Beloved, is reportedly a minority opinion dismissed as wishful pious thinking by most Iranians" [cf. previous page].
Anyway, as with other poetic words that are meant as symbols or not, different readers have the freedom to interpret them as they themselves wish. Guru interpretations of the farfetched, little-supported sort are thus allowed in this world, but what good do they do? That is a question.
No Great Work
Guru followers and admirers hail Yogananda's commentary and do not question it as they should for the sake of their own sanity and development.
A source:
[www.lifepositive.com/Spirit/masters/paramahansa-yogananda/rubaiyat.asp]
In the SRF text Yogananda (aided by his editor, Mrinalini Mata,) interprets the morning as a dawn of awakening away from "delusive earthly existence". Yet, where would Yogananda and his many words have been without earthly existence? Well, nowhere.
Interestingly, in highest Mahayana Buddhism there is no difference between the highest state and everyday existence. We find the same outlook concerning Zen.
The later Mahayana view is that Consciousness is Wisdom and sangsara is nirvana. Consciousness is turned [into] Enlightenment somehow. In this later Mahayana view, Buddhahood is not had by destroying the mind's accumulated knowledge, but through direct identification of the limited human consciousness with the infinite Buddha-mind [cf. Tiy xxxvii].

When the Buddha was attaining Enlightenment, he observed, "Strange, indeed, it is, for I see that in reality all creatures are Enlightened, are Buddhas." Both the Mahamudra and Zen are founded on this view. [Tiy xxxvii — More]
Final Words
"He's a good fellow who knows more or better than just stanzas."
Outraged often spells outsmarted. We may get soundly mainstream accomplished to represent ourselves, mainly.