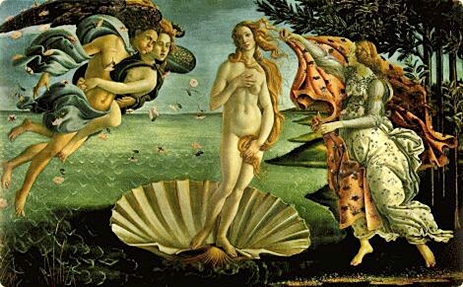 Birth of Venus by Sandro Botticelli. CLICK on the picture and a larger one appears in a separate window.
Looking at things, like looking at art, is quite an art in itself. This page goes into the famous Renaissance painting Birth of Venus (ca. 1485) by the Florentine artist Sandro Botticelli (1445-1510), with a large picture to study too.
The painting was made for the villa of Lorenzo di Pierfrancesco de' Medici at Castello, and is taken to present the birth of love in the world. The vary long-haired nude or semi-nude is a Renaissance painting - oil on canvas. The figure of Venus in the painting derives from an ancient statue of "Venus Pudica". We show you one of the ways to study art through it. At the bottom of the page are to works on art. Much of the content on the pages referred to there are about Botticelli and his masterpiece. - TK
THE CENTRAL, deep or inner 'beginner's mind' is inside everyone that is capable of love-making. What is more, it could do good to develop it. Artistic training assists it a little bit. There are other outlets too.
PROBING and perhaps also asking tidy questions within limits can help us use our minds, imaginations, past experiences, our eyes and other senses to discover meanings or invent others than intended.
Sober questioning can be designed for individual reflection and group contributions. There are perhaps no awfully wrong answers. Fit questions encourage many:
to use more senses to get into the art-work;
look more under the surface as skills develop;
slowly getting better attuned and perhaps also involved with the work at hand.
The main topics below can be applied to most works of art.
It can work well to resort to a sort of visual inventory, at least in beginning stages, for:
It provides a a common entry point in a group or wider context;
It may set the stage for deeper explorations;
It promotes seeing (first-hand observations) over and above studying (which is more often than not a second-hand information source).
It may counteract massive mind-conditioning (mind-battering as well).
Much allows itself to be observed tactfully and further explored in many ramifications Mind-mapping and brain-storming may be combined to further encourage creative answers and explore some of them.
Looking at Venus
Take your time. Perceiving objects depends on both training in observing and on learning about those objects. You can gain far more from looking at art and nature if you invest undivided attention and much time in it. For a photo or painting, maybe 25 minutes in one turn. How much time and effort you spend on any observed thing (phenomenon) or work of art, could depend on yourself, including the time you invest in training your observational faculties.
You don't have to look vital and interesting to observe well, just learn to observe cooly and catch big lines or patterns (sub-systems) at first. Have you looked at an observing cat? He may look half-asleep, even. Then go on from there.
Go ahead and just look and note things in your own way, minding no one's business but your own
If you feel you need schooling to appreciate it, think twice: for there are two main ways to look at things:
With a fresh eye (mind)
With preconceived notions.
One way may not help you more than the other. However, fair and fit study is generally helped by both methods, which are used in such as literature and counselling psychology. The first has to do with Einfühlung, (empathy, i.e., "feeling into this and that", looking at matters rather naively, dropping preconceived notions altogether and so on). The other has found a grid of learned categories or concepts that are applied to the item at hand.
For good all-round results we let the two approaches work hand in hand, and don't lose any of them.
Advocating idea map methods here too

For taking down notes we encourage mental maps (also called idea-maps) in this venture.
Also, in learning to see and tell what's in a picture (or many a phenomenon), try to apply the same approach: It starts with focusing on the (presumed) central idea and branches out from there.
If you need a larger picture for assessing finer details, here it is in another window for your convenience: Link.
THE WOMAN. In the picture the central area is a naked woman's female organs. They are covered by unusually long hair, as you can see.
When you "branch out" from there by following some of the dominant lines, such as body contours and further, don't miss the essentials.
She's standing on a shell, but may be out of balance - perhaps about to fall, but not about to run. She may succeed in getting on shore -
THE SHELL - what she is standing on - is too big to be from nature.
INTERTWINED, FLYING FIGURES TO THE LEFT: Now you may notice that the persons to the left are flying and puffing, if not hanging in ropes we don't see on the canvas. They are intertwined in such as way that the woman must be contortionist - and you could imagine they try to blow a dress away from the naked woman in the middle - but never bet on it. If you think that is the gist of it, you may add the Norwegian: "Pretty woman needs no clothes." That could be what they aim at or strive to show, eh?
Another version: "Pretty woman doesn't need jewelry." To some, that could be the crux of the matter, if unaided by what the painter had in mind in his commisioned painting, presumably. Are those meanings more essential than yours? Your opinions could be defended in certain ways. Here is one right: to interpret art in his or her own way. We just mention it again.
THE WOMAN TO THE RIGHT: You may suggest she has just received clothes that have blown off the naked lady in the centre. Is that what she is doing? Can you substantiate your interpretation of her? Is the woman to the right standing or flying?
GET INTO FINER DETAILS: There are flowers in the air. They could represent something. You should try to find out what, if you are up to it.
Many think the flowers around the couple to the left are falling. Are they falling of floating or moving upwards? Or moving in a circle around the couple? How can you tell how they move, if they move, when they are painted and thus fixed? Interfere to come up with an opinion. Take the whole picture into account for it, for details are best seen in their context; that's a good reason why.
DIE STIMMUNG. The mood of a picture and a scene is one of the rewarding things to feel into. One has a gut feeling, perhaps, and tries to draw it forth by way of describing it. Often allegorical hints are given through it, or comparisons. They may all be somewhat limping according to "The comparison limpers."
Martin Heidegger and architects more recently have tried to ascertain or come to grips with much imponderable moods. They are difficult to get into. Now, two examples:
1. "In this Botticelli, the (predominant) Stimmung is like an early morning: The sun rises, so wake up, dress up, and get ready for clothing."

2. "Maybe the sun is setting and the woman has been out fishing all day long in a bad boat, and has come home with nothing, not even clothes. Now it's time for her to go to bed if she can get warm clothes through the kindness of others."
Maybe you can muster another understanding through feeling a lot into the picture, through yourself, relate it to many experiences, sound and unsound ones, as the case may be. People learn different lessons, and people associate (psychoanalytic term) in different ways. We should allow for (and make leeways for) just that.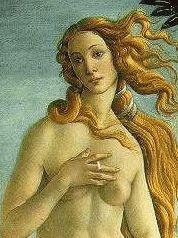 What is the travesty here? [Answer]
What do you see?
Describe the lines, shapes, colours, contours, and textures in this work of art.
Can you see people, animals, objects, or plants?
What materials are used to form the work into a whole?
If you could touch it, what would it feel like?
Is it more flat than three-dimensional? And does it seem that way too?
How is it all put together?
What catches your eye first?
Which element is most prominent or 'in charge'?
Is anything repeated?
Can you find any patterns?
How are things connected?
Do some shapes appear closer to you than others?
What is it all about?
What if you found yourself inside this maker's work - what would you hear, smell, taste, feel?
Does it remind you of anything you've seen before?
Is the art telling you a story, giving you a feeling, or sharing an idea?
If you could ask the maker one question about this work, what would it be?
What do you think?
What do you like about this work?
Would you change anything?
Do you want to learn more about this maker and his or her work?
What makes this a successful (or unsuccessful) work (manifestation)?
This section applies questions from ◦Looking At Bears in Art. Thanks!