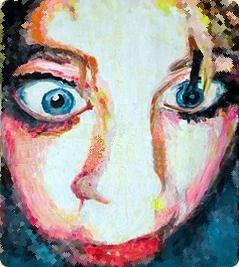 Unbearable stress of monasticism represented suggestively
Medical doctors estimate that emotional stress is involved in over half of all physical diseases [Hi 505]. Cramped and exploited living promotes stress. Moderate stress may wear you out, and conflicting interests may stress us too, in time. Stress needs to be dealt with before it makes life unbearable.
Those who aim to live apart
There are some who want to "live apart from the world" in this world. Some live behind high and thick walls in cloisters and monasteries. Will they have peace in such environments, or develop neuroses? And the people that are collective called nobility without necessarily being nobler than others at all, tend to shield themselves from the tabloid press and others too, in part by guards, bodyguard, and guard dogs, in part by etikette, aligned loathing and social stratification. Celebrities tend to enter a much similar road. Some do not make it - they give up, take an overdose, and finds peace at last. So people who stand out or try to separate themselves from others for other reasons, may encounter various problems. How they deal with them differs.
Very rich people and settled nobility may not want publicity. Upstarts, on the other hand, seek it and hope to bask in it. In between these poles apart one may broadly classify still others. Of course, the real world is more nuanced than these sketches, but see for yourself whether they hit and fit or not, for there is (too) little social research "upwards", on privileged people, that is. They tend to stop such efforts, guarding their privacy, in part because media and many former servants may be very eager to publish things about them, and not necessarily with a sanction. Knocking down paparazzis has helped little so far, even though some celebrities have tried that too. All the same, some rich and famous ones find it fit to shield themselves over and above wearing dark glasses in public. And paparazzis are not the worst menaces there are.There are kidnappers too, and greedy ones going for extortion.
Each deals with it as he or she finds best. It may not be very good, though.
Monks and nuns and the like
Monastics are monks and nuns, or persons living in monasteries. Many monastics among Christians have embraced a way that obviously makes them part of its tight, rigid system, and perhaps also living on guarded or closed premises for long years and for some reason or other, instead of seeking to make a living. Adapting to the self-assertiveness-cowing culture of the monastic fare may not be adequate. Nor may being enticed, tricked or fooled from the start into the follies of succumbing to deep, a bit crazy subservience, servility and service that ridicule the higher parts of men and women. In just such cases it may be tough to be a monk or nun. The scene mayn next be set for "moanastics". The coined word is related to 'moan' and plays on "monastic", which is derived from monastery, which comes from the Greek monasterion, 'hermit's cell', a word that in turn comes from monazein, 'live alone'. A monk typically does not accomplish that in a monastry, but he may have a cell.
Other environments that are marked by rigid, set-up dealings, few regulated boons, high, surrounding walls and demanding calls for self-control and obedience, include prisons and mental institutions, just to make some of the dominant features clear. There are few who voluntarily enter the two latter ones to get the time to meditate and challenge themselves without coupling in any normal, well-accepted heterosexual way.
What could be silly with becoming even a superior among monks or nuns? It seems to be rather ignorant of a great and holy command of loving oneself, maybe "a little bit" less than God and at any rate as much as the pope with or without his fine garments. If you love someone, you want to help him or her, enable him to cope with life, and much else, including wise padding. Are monks totally ignorant of delicate self-parenting or not?
Loving Oneself Well
To love yourself takes what it takes, and 'well' is not a little. Much conformism is capable of draining sincerity, which goes along with proper self-love. If you try to love yourself deeply and well, you don't have to exclude deep and fit reverence for others for it. Loving oneself all the way fits few monastic settings, so a few scriptural props could be called for here:
About the Lord
"Love the Lord your God with all your heart and with all your soul and with all your mind." This is the first and greatest commandment. And the second is like it: "Love your neighbour as yourself." [Matthew 22:37-39; also 19:19]
The Lord is a translation of "I Am", who according to Exodus told Moses from within a bush, "You are to say to the Israelites: "I AM has sent me to you.'" [Exodus 3:4,14].
If the Lord is sitting on heaven, according to Acts 7:49," and "the kingdom of God is within you [Luke 17:21]," then watch within to see "the settled Lord" somehow. As a means "lift up" the everyday consciousness for it, the Aramaic barnasha that the bible-translator George Lamsa considers various sides to [Net xxiv].
The Bible tells that God is in heaven, and also that heaven is within you. And the Americanised guru Yogananda's understanding of "The Son of Man must be lifted up [like a snake] [John 3:14] is rather similar to that of Lamsa, yet more elaborate and yoga-related:
Jesus said that each son of man, each bodily consciousness, must be lifted from the plane of the senses to the astral kingdom by reversing the matter-bent outflowing of the life force to ascension through the serpent-like coiled passage at the base of the spine – the son of man is lifted up when this serpentine force is uplifed . . . We must reascend . . . into God-consciousness." [Yj 56-59, cf. "Kundalini"]
Loving yourself - what can it mean?
The second commandment according to Jesus "is like" the greatest command. It tells you to love yourself also. Everybody does not seem alerted to it, but it is part of a biblical commandment all the same. Be that as it may, love is a word with many meanings. These ones and many others and ample details are found in Collins English Thesaurus (6th ed, 2008, s.v. "love"). These are included so that you may not forget any of them . . .:
love = adore, care for, treasure, cherish, prize, . . . hold dear, . . . feel affection for, have affection for, adulate . . . enjoy, like, desire, fancy, appreciate, relish, delight in, savour, take pleasure in, have a soft spot for, be partial to, have a weakness for . . . cuddle, neck (informal), kiss, pet, embrace, caress, fondle, canoodle (slang).
Well applied to yourself, any of these may be found to be fit where the circumstances are all right.
In Buddhism you may also come across a word attributed to Lord Buddha - "Lord" is one of the translations of Bhagavan, translated into such as "the Blessed One" and "Lord".
You can search throughout the entire universe for someone who is more deserving of your love and affection than you are yourself, and that person will not be found: You yourself, as much as anybody in the entire universe deserve your love and affection. [Buddha, attributed]
Buddha's stand is to keep the topic "God" out the debate, but after all it was Creator-God who made him start Buddhism, according to a few of the very ancient texts. [◦More]
To love is to cherish, among other things. How much should a human love and cherish herself? Here is a perspective implied:
What is man that you are mindful of him, the son of man that you care for him? You have made him a little lower than yourself. You have crowned him with glory and honour. [Psalms, 8:4-5, emphasis added].
Alternatives: "yourself; or the gods, or the angels" [Good News Bible]. Be up to "When in doubt, win the trick," by Edmund Hoyle: go for the best alternative. It is the one that frees you the most. More translations: [◦Biblos]

See what Jesus says about man's status to compare with: ""Is it not written in your Law, "I have said you are gods"? . . . the Scripture cannot be broken [John 10:34-35]." According to that, there should be no need to think man is inherently or necessarily inferior to angel messengers.

A few more points: The Bible tells that God is in heaven, and also that heaven is within you. Thus, it should be wise to honour even your body as the temple of God somehow. The structure and dominant activity of temple of Solomon is described to match coitus nicely and allegorically. As for coitus, it may save some, the Bible says too:

The unbelieving husband is made acceptable to God by being united to his wife, and the unbelieving wife is made acceptable to God by being united to her Christian husband." [1 Corinthians 7:14-16, Good News Bible]. This is taken to mean "put right with God through sex", which is "saved by sex", or "sanctified" and "made holy". Many translations prefer the last couple of words.

So man and woman in good shape could be fit for more than jogging, and a good standing should be above that of flying angels too. You could have to work to regain that native status. Many are reported to have levitated, also outside of the Church. Here is one: [Milarepa learns to fly]

These bible studies must lead to fit veneration for the majestic Self within you and the god in you, and less fear of popes.

However - yes, there is a but - some beings are not upright and of sterling worth. A Norwegian word, låk, sums up much, and "disgusting, malicious, mean and bad" are among the alternatives in English translation. Giants (spiritual entities) like that may pose many problems, like the mean, bad, and malicious Loki among the Norse (Germanic) gods. His three children were a ravening wolf, a hideous, venom-spewing serpent; and a horrible hag, Hel. You should be careful with your company, then, for pretending, crafty malicious ones may not give birth to blessings in your life. It is a very old lesson. [More]
Self-respect
Many suffer from lack of ample self-assertiveness and aligned selp-respect. What could be wrong with ignorance of what the second, great commandment that Jesus goes for (above) really mounts up to? For one thing, you could end up estranged, driven.
Who are taken in by cults, first sell out self-assertiveness and self-respect and perhaps some of their Human Rights. It may be done in the hope of gains, heavenly, royal or bigger, yet they suffer degradations in the name of God, loyalty and whatever else a cult with a pious or devotional facade finds fit along with its "indispensible folly faith" also.
Changing one's basic ideas and deep attitudes about life, one's prime life orientations, may be too hard for singles with the "better understanding". [Cf. [Lipe 103; Hi 493-95, etc.]
There are excellent reasons not to enter a cult. However, it is found that those who need good advice the most, may be the ones who most stubbornly refuse it. Those who find themselves starting out in a dangerous direction, can manage to turn around and consider better options. Their lives could get better that way, other things being equal.
Being up to Life's Challenges or Not
Many monastics - moanastics too - did not like how their lives were going and sought peace and shelter in a kind of environment that gives rude disappointments to some, for example the Self-Realization Fellowship Order in the USA. "Seeing is believing." [More]
The irony may be that some found life very disappointing behind solid walls where lots of words appeared to mask what was going on and not going on. By contrast, the art of able living consists in reckoning with what could come up next and sift some things so as to profit from it. Much essential filtering may help a person to discard harmful things or parts of things and go for what is essential. But moanastics may find themselves stuck.
When seemingly good and bad things (ups and downs) in life come our way, it could be wise to consider at least some of them as challenges and better: opportunities or possibilities for gains, success, and esteem - and you should feel free to filter my suggestions for your own personal gains too.
Some forms of yoga and deep meditation help against stress and other troubles. There is research on that. The monastics I have referred to, believed they had got the very best yoga and meditation techniques of all times, and yet great results failed to appear to many. May it be added that research into the yoga and meditation methods of Self-Realization Fellowship is absent, but great-looking and catchy words and phrases are not.
Are you able to replenish your strenght on a regular basis, it may be very good for you. And great-looking teachings that respect your freedom of thought and actions, may work for you. However, rigid dogmatism acts contrary to such worthy aims. So there may be good reasons to find a friendlier and more tolerable group to belong to than a cult.
Do not be all eager for boss-claimed Great Gains, and also learn to follow your heart. Yogananda uses the carrot and the whip for getting people to "ride on". Watch out for silly, demanded devotion, over-bossy teachings, slogans without foundations, and your fare through life may get better.
In a large society there is the stress of conformity too. In a culture, most persons have to adjust and accommodate - and thereby they are managed. But hang in there - for as the Sirian High Council on-line voiced: "Those who commit suicide do it only once."
Stress Teachings
The Russian researcher Dr. Ivan Semyonovich Khorol has defined stress in step with a definition by Dr. Hans Selye:
Biological stress is the organism's general reaction to any demand to it - whether pleasant or unpleasant - which demands adaptation to a new situation. [Ivan Semyonovich Khorol, in Lip p. 99]
Along a similar vein, Atkinson et al tell that many events create stress. They include major life changes, moving to a new area, changing jobs, getting married and so on. Everyday hassles can also be experienced as stressing. Both traumatic events and inner conflict may engender stress. Outer events that cannot be predicted, controlled, tend to be stressing. And people differ in how much stress they are able to take, and in how they are able to handle or manage their various stresses. [Hi 493-95, passim]
Also, stress can be many things: "Good stress", which does not overtax you and which you are able to master, is even called one of the spices of life as you try for good gains. But when the burdens exceed the ability to cope at any time, stress becomes detrimental to health. "Chronic stress can contribute to physical disorders, such as ulcers and heart disease, and can increase our vulnerability to infectious diseases by impairing the functioning of the body's immune system." [Ams 486]
The biological stress mechanism has these four stages:
The alarm reaction (fright, fight, or flight).
Adaptation.
Depletion - through protracted, stressful adaptation.
The energy for adaptations may stop [Lip100.]
We often get exposed to intense stress that demands more adaptation energy than normally, and then the organism emits what Dr. Selye calls a "distress signal", one or more "maydays" of some sorts [Lipe 102.]
Even minor stress may wear on us and wear us out if it goes on for long. Protracted stress of such as mild and medium intensity may wear on the organism and also cause (or co-cause) functional disorders.
Intense stress may cause hypertension, stomach ulcers and diabetes and many other common ailments. Medical experts today seem to agree that over 50% (estimates may range between 50 and 70%) of the common bodily diseases are caused or co-caused by stress.
Sources here include: [Lipe 102-3; Hi 502-10]
❖ Consider that "doctors estimate that emotional stress plays an important role in more than half of all medical problems." [Hi 505].
Habituated
Dr. Khorol holds that there are norms of social behaviour, and some are deeply ingrained in the culture by traditions. When someone senses a discrepancy (gap, deviation) between what he is used to (habituated into) regard as normal or common or appropriate, his social adaptation mechanisms will drive or urge him to try and change the situation. That is ONE outlet. Another is introverted, guilt-ridden too, perhaps [Lipe 103]
The difference between the ideal and what is really going on may be awfully hard on the urge to make a consistent world picture, or it may be hard on one's sense of belonging. In Dr. Gordon Allport's view, a truly religious attitude contains both elements: a sense of belong in a world that makes deep sense. "The religious sentiment . . . has attachments to the most elusive facets of becoming. . . To feel oneself meaningfully linked to the whole of Being". [Bpe 93-94; More]
Renouncing your fit and fair ideals can make you feigning, which in the long run favours neuroticism and assists in making your cynical. Cynics are those who manage to discard their inborn idealism. Being governed by monks and nuns far and wide can make monks and nuns cynical too.
Confidence in yourself helps against renouncing your heartfelt norms and ideals (idealism) for the sake of conformist gains. However, variants of stress may combine, and persons may succumb and break down [Lipe 103-5] Drs. Thomas H. Holmes and Richard H. Rahe at Washington Medical School devised a scheme of stressors. It is much used.
Death of spouse is stipulated to be the worst thing that could happen (stress-wise). It is given 100 points. Wedding is given 50 points as the middle of the scale, in comparison. It appears that about 10 of the 14 worst stressors (stress agents, stress causes) link up with having and being part of a family. There are different sorts of families. Not all are good ones. Good and bad families mar and deplete the ones they sacrifice, such as by giving them bad names, and hence low confidence and bad self-images. It is quite as with PR: not everything is kind and decent, and not everything is foolish.
Some young people may not want to live on. Others wonder if they can manage to live on without the Internet, according to a recent international survey that was conducted among 3,000 students and young people under 30 years in 13 countries by the IT company Cisco. The survey shows: "Over half of the participants in the survey believe they cannot live without the Internet." [◦ NTB, Adresseavisen, 26/09/2011]
The stress scale of Rahe and Holmes does not (yet) take this last stressful influence into account. It has its uses still, in predicting what are the possible odds of getting ill or even die - in this way:
Add the stressors you have experienced during the last 12 months:
With a total score of less than 150, there is "merely" 37% chance of getting ill (from that past stress) in the next 2 years.
With a total score between 150 and 300 points, the chance of getting ill is 51% in the coming two years.
With a total score above 300 you may have 80% change of getting ill in the next two years.
All these figures should be considered to be rough estimates only, for real life is not as clear-cut. More goes into the "bargain" too. [see Lipe 106-7; Ams 468, Hi 496-97]
Knowledge about stress and ways to deal with stress can increase our odds of success and longer life somewhat
Some individuals are naturally more able to withstand stress (more stress-resistant) than average, and the points about are average stipulates only.

Further, learning about stress and how to cope with it, increases the odds of maintaining health and of survival as well.
A functional family does not ignore to assist its children to get a sound measure of patent (readily intelligible, affordable and cleverly protected) independence.

MUCH HAS been stated about cults and some of their general means to grow and prosper on behalf of group members. Watch out for these marks:
They exclude others.
They take to dispensing methods.
They take to reductionist thinking and such language to accomplish one or more general aims.
They function in step with separating members from those outside.
They bring ideological totalism to members and use reinforcements that shame some of those who don't conform enough.
There is simplistic thinking used for furthering mind-control as needed.
In a great many cases we can refrain from the simple "Yes" and "No" to any such points (parameters, components), for fairly nuanced responses can help far better: So instead of responding "Yes" and "No", there may be room for something like the Likert scale's more nuanced responses:
emphatic no";
"moderate no";
"don't know" or "maybe" or "unsettled" or "neutral" etc.in the middle,
"moderate yes";
"emphatic yes" (thumb up response)
This sort of nuanced responses form the basis of the Likert scale. It is often resorted to in social science to get a firmer hold and more reliable outcomes. An advantage is that we may go on to weigh our responses and sum them up in a better way than when we are based on "yes" and "no" responses.
Problem
Do the members of a freaking cult consider well enough what made them enter and tango with (complement) the bosses they find? Solvent solutions are not simplistic solutions which about in cults. Opposed to cult living, a rewarding life has some hallmarks not easily seen in cult settings and cultish fares. Sound pleasures, humane dealings, natural enough variety, and one's own sex life are some of them.
Many who enter cults are insecure to begin with, says professor Philip Zimbardo (1933-) He also tells that "People join interesting groups that promise to fulfill their pressing needs." But some such groups turn out to be deceptive, defective, dangerous, or opposing basic values of their society. And "Cult methods of recruiting, indoctrinating and influencing their members are not exotic forms of mind control, but only more intensely applied mundane tactics of social influence practiced daily by all compliance professionals and societal agents of influence." And his solution? "We have to . . . create an alternative, "perfect cult", he says. in the American Psychological Association Monitor of May 1997, page 14.
To get a more welcoming large society, in Zimbardo's solution against negative cult influence on somewhat insecure youngsters. Maybe, but that goal is "in the clouds" yet, frankly. What single youngsters and others ought to do, is to strengthen individual and fit assertiveness, and the ability to observe and investigate gracefully, preferably in advance of committing to anything or anyone. That is farily often feasible, and is recommended against being outwitted.
A man approached Buddha and wanted to have all his philosophical questions answered before he would practice. In response, Buddha said, "It is as if a man had been wounded by a poisoned arrow and when attended to by a physician were to say, 'I will not allow you to remove this arrow until I have learned the caste, the age, the occupation, the birthplace, and the motivation of the person who wounded me.'" (Abridged)
Cult knowledge applied to sectarian-minded ones and their cherished teaching spells: "First get out. Next try to recover." As for preventive measures when it comes to groups that may seem a bit weird at first glance, it might do well to inspect somewhat, and take into account such as:
The general environment and its permissiveness or tolerance, for example.
Oneself, including one's deeper needs.
Councellor's basic teachings, advice and expert opinions (they count).
Sense of belong (who is/are your in-group(s)?
Your expectations, how sound they might be, for example.
Your ability to combat (sort out YOUR strengths for it and go ahead).
To the degree you take some of these things into account and sort them out well, your life could become less traumatic. You never know -