◣ WHAT IS ON THE GOLD SCALES SITE? The Gold Scales is a quite extensive, family friendly site, rich in content. It contains classic works, and a quite large collection of traditional and modern wisdom, including sayings of avid thinkers, sound art and various extracts. Here are many proverbs, quotations, tales and fables too. That is the main profile.
Despite some frivolity and personal opinions of mine, I sincerely honour Shankaracharya Brahmananda (1871-1953) and his gurudeva Krishnananda. Maharishi (1917?-2008) who brought TM to the world, was a disciple of Sri Brahmananda.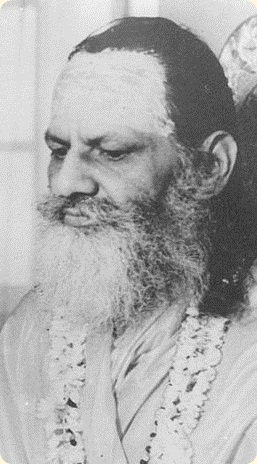 HH Brahmananda Saraswati
◣ SITE OWNERSHIP AND LOCATION. The non-profit site is located at the ◦University of Trondheim and has been up since 1995. The site owner is a cultural historian, Tormod Kinnes, MA. There have been many million visitors to the site over the last years.
◣ TOPICS THE SITE DEALS WITH. As part of its art content the site presents art paintings, especially paintings from the history of art, but not in a completely systematic way, and not on all its pages. Very wide benchmarks for permissible picture content are formally okayed by the site's host, the university of Trondheim, and the site is within their bounds. But while a picture may delight adults, one should check pages if children are to take them in, or the other way round. Parts of the site's humorous, original art content bear some likeness to art of Picasso, and he was disliked to the degree that critics called him insane for a decade.
Although the site contains prolific and critical investigations of the far-fetched teachings of one guru, a Yogananda, it is not anti guru. Far from it. And just like ◦Dr Philip G. Zimbardo I don't say that sects and cults are bad in all cases, but that the free society may hold better promises in store for those who can handle it, especially if one's inner basis is good enough and not violated overly much.
◣ NO MISSION. The 'No' here is Japanese: I offer works that could enrich your life, widen your horizons, and go into understandings that offer progress or other benefits. Hovering conditions need to be all right and not too detrimental too. Dogmatic belief is out; although there may be exceptions to that good rule and other general attitudes. It should be wise to take to heart what is deeply feel to be true and good, well and rightly, and things could open up. [Purpose]

◣ A GOOD GRASP: From basics well mastered and enjoyed in a widening circle, proper education is catered to. Compare such as: [Buddhism] [Learning Pages]

◣ WHO VISIT? The most typical US visitors attend Stanford, Berkeley, Harvard, and the University of Virginia, according to Quantcast. Visitors also use sacred-texts.com, gutenberg.org, and accesstoinsight.org and wikiquote.org. For more: [Site statistics]
◣ IS ALL FOR FREE? No strings are attached.