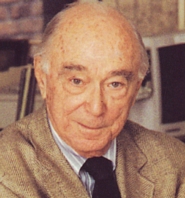 Jerome Bruner (1915–2016). Picture used with permission.
Jerome Seymour Bruner (1915–2016) was an American psychologist who contributed to cognitive psychology and cognitive learning theory, and also to the general philosophy of education. He holds that people interpret the world in terms of similarities and differences, in the end to form mental categories, which form parts of our inherently grounded, systematic, categorical cognition abilities. This page presents Jerome Bruner and some of his outlooks or tenets.

DEEPLY responsive and adhering to stability and development combined somehow, Jerome S. Bruner took part in changing US psychology - accomplishing such a "miracle" - much in keeping with inner sights of mind-improvements.
IN SUCH as psychological experiments, seldom showing off his romantic or sensitive inner depths at full range, perhaps, he saw into clearer and clearer thinking, and may be called an individual with complex or even conflicting energies -
He could express himself through reasoning and possibly 'foreign lands' - by travels or otherwise - Appropriately, very emotive and perceptive he ventured along such a "path". ◇
Perhaps he was having a little bit of guilt for going against the Behaviorists at times, but he navigated on, steadfastly, and founded far and wide that a young one had better adhere to main interests, because many a young person may progress far better by it than by being merely controlled ('tamed') and then assisted. ◇
ON TOP of that he had enough potential to appropriate artistic outlets, or get a very good reputation as a sensible man, basically.
Intense and varied in his personal life, he was likely to harbour a very deep commitment to individual freedom some way or other. It might be seen when it was at stake. ◇



On top of what others write
Jerome Bruner (b. 1 Oct 1915 in New York, d. 5 June 2016) was an American psychologist and culture-interested educator. His work on perception, learning, memory and other aspects of cognition in young ones influenced the American educational system.
"I'm interested in the various institutional forms by which culture is passed on ... My preferred method of work in both instances is the anthropological-interpretive." - Jerome Bruner. [Link]
As Professor of psychology at Harvard (1952-72) and then as Watts Professor at Oxford (1972-80) and now at the New School for Social Research in New York City, he was at the forefront of what is often called the Cognitive Revolution [taking off in the 1960s] - which today dominates psychology around the world.
Bruner helped start the educational reform movement in the States during the early 1960s and served on the President's Science Advisory Committee during the Kennedy and Johnson administrations. His book, The Process of Education, from 1961, was and still is one of the movement's jolly decent guides. Bruner was since involved in many educational enterprises, including the founding of the US Head Start. He was a major architect of it. [Link]

Major ideas: According to Bruner, all children have natural curiosity. Further, learning is an active, social process in which students construct new ideas or concepts based on current knowledge. The student selects information, originates hypotheses, and makes decisions in the process of integrating experiences into their existing mental constructs.
As far as instruction is concerned, the instructor should try and encourage students to discover principles by themselves. The instructor and student should engage in an active dialogue. [Link]

Bruner holds that a theory of instruction should address four major aspects. They are:
Predisposition towards learning;
The ways in which a body of knowledge can be structured so that it can be most readily grasped by the learner;
The most effective sequences in which to present material;
The nature and pacing of rewards and punishments.
His view is: Good methods for structuring knowledge should result in simplifying, generating new propositions, and increasing the manipulation of information. [
Link
]
Three Principles
Instruction must be concerned with the experiences and contexts that make the student willing and able to learn (readiness).
Instruction must be structured so that it can be easily grasped by the student (spiral organization).
Instruction should be designed to facilitate extrapolation and or fill in the gaps (going beyond the information given).
More