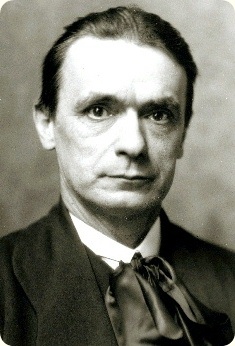 Rudolf Steiner (1861-1925)

Rudolf Steiner is the founder of the anthroposophical movement besides Waldorf Education and its educational philosophy. [Steiner Biography and Timeline]
The Waldorf approach emphasises imagination in learning. The main goal is to provide young people the basis for developing by stages into free, moral and integrated individuals. There are over a thousand independent Waldorf schools and 1400 independent Waldorf kindergartens in about sixty countries. It is one of the world's largest independent educational systems.
There is also Waldorf-based homeschooling. Besides, Waldorf methods have been adopted by numerous educators in state and private schools. For example, In Israel, the Harduf Kibbutz Waldorf school includes both Jewish and Arab faculty and students and has extensive contact with the surrounding Arab communities.
Good Sides to Steiner Education
Unesco, The United Nations Educational, Scientific and Cultural Organization, states that the Waldorf movement's ideals and ethical principles correspond to those of Unesco.
A UK Department for Education and Skills report noted significant differences in curriculum and pedagogical approach between Waldorf and mainstream schools and found that schools in the state sector could benefit from elements of Waldorf education, such as the emphasis on child development guiding the curriculum and examinations; the attention given to teachers' reflective activity and heightened awareness (in collective child study for example); and collegial structure of leadership and management. A 2008 report by the Cambridge-based Primary Review found that Steiner/Waldorf schools achieved superior academic results to English state schools.
An Australian study compared the academic performance of students at university level. It was found that students who had been at Waldorf schools significantly outperformed their peers from non-Waldorf schools in both the humanities and the sciences.
A Canadian study found that Waldorf-educated students scored significantly higher on a test of moral reasoning than students in public high schools and students in a religiously-affiliated high school.
A 1995 survey of U.S. Waldorf schools found that parents overall experienced the Waldorf schools as achieving their major aims for students, and described the education as one that "integrates the aesthetic, spiritual and interpersonal development of the child with rigorous intellectual development", preserving students' enthusiasm for learning so that they develop a better sense of self-confidence and self-direction.
Studies comparing students' performance on college-entrance examinations in Germany found that as a group, Waldorf graduates passed the exam at double to triple the rate of students graduating from the state education system, and that students who had attended Waldorf schools for their entire education passed at a much higher rate (40% vs. 26%) than those who only had part of their education at a Waldorf school.
Waldorf pupils have been tested and found more creative than state-school students.
A study of 6,600 children from five European countries, ages 5 to 13, showed a lower incidence of allergies amongst children attending Waldorf schools.
Educators Endorse Waldorf Education
Thomas Nielsen of the University of Canberra considers the imaginative teaching approaches used in Waldorf education (drama, exploration, storytelling, routine, arts, discussion and empathy) to be effective stimulators of spiritual-aesthetic, intellectual and physical development and recommends these to mainstream educators.
Dr. Ernest Boyer has recommended Waldorf education's unique integration of the arts into traditional content as a model for other schools.
Thomas Armstrong sees Waldorf education curriculum as organically embodying Howard Gardner's seven intelligences.
Professor Robert Peterkin considers Waldorf education a healing education whose underlying principles are appropriate for educating all children.
UK educational evaluators see the Waldorf approach conforming to the principal direction of educational theory based upon Comenius and Pestalozzi.
Anthroposophy
While anthroposophy is not generally taught as a subject, Waldorf education grows out of anthroposophy's view of child development, which stands as the basis for the educational theory, methodology of teaching and curriculum. Anthroposophy teaches there is an objective, intellectually comprehensible spiritual world accessible to direct experience through inner development. [Training]
Festivals play an important role in Waldorf schools.
Rudolf Steiner has authored several books, and many of his lecture series have since been published in book form. [On-line Steiner Works]
First He Was a Theosophy Lecturer
The Theosophical Society was founded in 1875 in New York by H. P. Blavatsky and H. S. Olcott. Steiner writes, "I found it necessary to join the Theosophical Society." [21] The German Section of the Theosophical Society was founded in 1902, with Steiner as General Secretary. He lectured extensively. In 1913 he founded the Anthroposophical Society in Berlin (February 2-3).
Parts of Steiner's teachings correspond to Theosophy teachings.
One Book
The Essential Steiner by Professor Robert A. McDermott at Baruch College, The City University of New York, is said to cull the best of some sixty of Steiner's published works. McDermott explains Steiner's methods and contributions in many fields, and describes Steiner's writing as vast, his thought as complex and deep, and "Steiner's teachings seem to me well grounded." [McDermott 1984, xi-xii]
Such a view surely ignores the vast vistas and many details about Steiner's Atlantis and Steiner's version of the making of the moon, and of milk animals on the moon and planets, to name a few things.
Robert McDermott on Steiner
McDermott describes Steiner as "a genius in twelve fields". [1]
"Steiner himself urged that his readers and others interested in his works look to the mode of spiritual perception that made both his knowledge and his work possible." [3]
"A closer look at Spiritual Science, or Anthroposophy, shows that its purpose is to bring to humanity an entirely new capability - knowledge of the spiritual world by conscious sense-free thinking." [3]
About development: "It is necessary to begin with more ordinary, frankly selfish, means and ends." [3]
"Practical application of Steiner's teachings can be helpful." [4]
This site's Steiner studies are here: [Steiner pages]

Think "well-well"; there are good reasons.
Most of the following is from two of Rudolf Steiner's ten Hague Lectures (GA 145 and 350) from early 1913. In them, Steiner spoke for the first time to an anthroposophical audience in a detailed, intimate way, and see what he says - Beginning with what he thought or saw was the body's experience of food stuff - meat, coffee, alcohol, milk, chocolate, and so forth - he unfolds the role of the human being as evolving between this and that.
I have rendered some of his original German statements into English from the Norwegian edition available in the large Steiner eLibrary. Enjoy!
First Hague Lecture
Who is at heart an anthroposophist, notes the character of a strange city in his blood. He certainly doesn't have to bother with so much else.
Man kills - or at least paralyzes - part of his organism when he eats an animal.
Second Hague Lecture
On the whole one could say that sugar physically heightens man's personality character.
Belligerent nations have a penchant for more meat-eating than peace-loving nations.
There is milk substance on Earth, but not on any other planet in our solar system. What is produced in a similar manner by the living beings on other planets in our solar system, would present itself to you as something quite other than milk.
On each and every planet those who live there have their own milk.
No doubt the vegetable kingdom on earth is of a different form than the vegetable kingdom on other planets in our solar system.
The vegetable kingdom on earth is related to the vegetable kingdom on the other planets in our solar system, so that we in in plants have something which also is exists on other planets in our solar system.
The earthly animal kingdom is very different from what exists on the other planets.
Eating meat condemns man to make the stay on earth something permanent, to something that he completely adapts to, if this is not counteracted by something else.
The will to meat-eating means: Living on earth attracts me so strongly that I renounce all the heavens, and I'd rather be wholly wrapped up in sides to the earthly existence.
For us not to become eccentrics who onesidedly strive for soul development and get estranged from human feeling and human activity on Earth, it's good that we as earthlings to a certain extent get weight (heaviness) by the use of milk and milk products in the diet.
The physical and etheric bodies are somewhat separated by enjoyment of coffee.
One may say that for the people who will rise up to the spiritual life's higher regions it is often not so stupid to drink coffee.
It can sometimes be defensible to stimulate the logical thinking ability by use of coffee.
Coffee can contribute much to give weight, solidity - besides its harmful sides.
For a soul that develops in the anthroposophical sense it is less desirable to drink tea, since tea more easily leads to charlatanry than coffee.
Chocolate promotes most of all being bourgeois, narrow-minded, philistine [not liking or understanding art, literature, music, etc: Cf. Babbitt: a person who is satisfied with a narrow set of values and thinks mainly about possessions and making money]. Chocolate is the markedly bourgeois drink . . . Chocolate can be recommended for use in folk celebrations, and one can also understand quite well that people drink chocolate during festive family gatherings, on birthdays, etc. - especially in certain circles and at certain festive events.
The blood drives the heart and not the other way round.
More from Hague
When we try to impose an idea upon another person, we are trying to implant our own concept into another person; this concept we have implanted into another person is the blunted weapon that Cain plunged into Abel. [Steiner 1997, p. 164]
By developing ourselves further, we actively contribute – though in small measure – to the evolution willed by the gods. [Steiner 1997, p. 200]