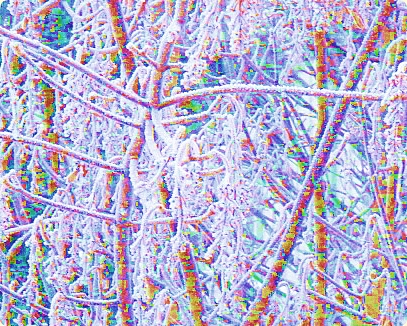 Kriya yoga works.
Research findings show that kriya yoga works - that is, the kriya yoga of Satyananda's line, and an unspecified kriya yoga in Das and Gastaut's ground-breaking kriya yoga research from the 1950s. The authors do not tell which kind of kriya that was investigated by them. Since there are many kriya methods with variations and Das and Gastaut did not specify which kriya methods they measured effects of, the question of which kriyas they studied, remains unsettled for now.
During TM and kriya yoga meditation the brain get electrically charged and decharged at different speeds and in different brain patterns (waves), depending on the focus. For example, the more sharpened we get, the faster brain waves we have. [◦Meditation brainwaves]
The Scandinavian psychologist Erik Hoffman and his team assumed that the brain waves before and after kriya would be considerably different. And so it was, they found [the first link]. Hence, one form of kriya works (per se) - works on the brain wave patterns in the favourable ways that are shown. It is the form of kriya that was handed over to Swami Satyananda (1981, 2001) and modified by Satyananda. It is possible to study the findings, going for facts, and then draw proper conclusions from that again:
The findings tell that kriya affects the brain.
There seems to be very little or nothing wrong with the novel research methods and equipment of measurements.
The kriya researcher of the novel study is an internationally renowned brain researcher. The quality of kriya studies rests on his competence and the measurement devices, most of all.
The kriya-teaching school of yoga and meditation in question is not a cult.
Relaxing, called yoga nidra - and breathing gently in a particular way, called kriya yoga
Scandinavian kriya yoga were done by the psychologist and brain researcher, Erik Hoffmann Ph.D.
What is called Yoga Nidra (yoga "sleep") in the referred-to study is a a decent relaxation technique that is free for all. Descriptions of it are found on the Net and in several books. One of them is Yoga Nidra (2001) by Satyananda.
Kriya teachings are not withheld today as two thousand or two hundred years ago. Kriya is described in details in books, even (Satyananda, 1981, 2001).
The Scandinavian Yoga and Meditation school is a school of independent teachers. It is like an umbrella with independent schools and teachers in Germany and Scandinavia.
In a study it is not the funding channels but the professionalism of the work that really matters.
The integrity of a study tends to rest with the one accountable for it - in this case a mature, international researcher and associate professor, Erik Hoffmann, Ph.D. etc. What is at at the heart of sound research and sound study; is skill in getting and handling and presenting relevant data. Also, one should be fit or competent to receive and assimilate the data as well. The research by Hoffmann (Ph.D.) has a neutral tone and tells about measured facts etc. [1].
Principles
Dogen (1200-53) of Soto Zen wants all of us to align to the realization state. It can be done in various ways.
The way of yoga is of awakening from concepts through deep meditation. Transcendental Meditation is for that - too.
Exhortations may do you no good, but great benefits of deep meditation may be had. You can read about such practical benefits in these three new books on the matter: William F. Sands' book, Maharishi Mahesh Yogi and His Gift to the World. (MUM Press, 2012), Norman Rosenthal's Transcendence: Healing and Transformation through Transcendental Meditation (London: Hay House, 2011), and Jack Forem's Transcendental Meditation: The Essential Teachings of Maharishi Mahesh Yogi (London: Hay House, 2012).
Updated research presented online: [◦Nice site]
I recommend TM. Studies into effects of different forms of meditation say why. [◦Brainwaves]