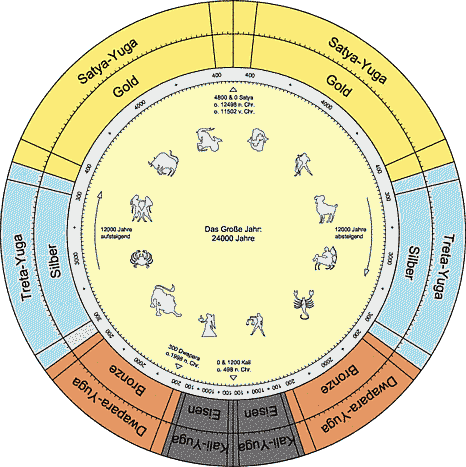 Figure 2. The four eras, called yugas, form a cycle. According to the scheme, there are bronze, silver, and gold ages ahead for a long time. But the Age of Aquarius is not yet – The main parts of the figure are explained and referred to below.
Judge as fairly as you can. The integration it tends to bring about, serves you when you try your wings and discover things in other places.
This page can be a turning-point to some who previously had the idea that Yukteswar is always right, and like to lean on that idea against evidence. There is clear evidence on this page that Yukteswar cannot be trusted in all things, even though his disciple Yogananda calls him infallible and things like that. It is futile to get disappointed when such romantic ideas turn out to be untrue. To turn one's back to truth is not genuine success, not good luck either, but folly which may affect the rest of your life. We should refrain from allowing ourselves to be victimised and emotionally blackmailed by big boss hailings and manipulative croakers around.
Clearly mistaken notions of old should be abandoned, for in this way we will not so easily spend our life energies immaturely, but can be strengthened deep inside where it is needed. This should turn out for the better for you.
Astronomy teachings
SWAMI SRI Yukteswar wrote a Bible commentary which disappeared, a Commentary on the Bhagavad Gita, and The Holy Science. Some Yukteswar admirers have deep faith that his wisdom is infallible, just because his emissary to the West, Paramahansa Yogananda, taught so. Yogananda has a large following in California. [yoganiketan.net/kriyayoga/chapter_3.htm] [yoganiketan.net/sriyukteswar/sriyukteswar.pdf]
It is said by followers that Yukteswar excelled in kriya yoga and in calculations related to heavenly bodies. He came up with several answers. However, some of them lack any astronomically accepted foundation.
We should ask: "Where is the scientific evidence that he is right?" If that is missing or wanting, his related theory-making is to be evaluated as "classical" speculation. That is the general way of tackling unproved ideas in the realm of science. This has to be understood: In regular science one has to discern between faith and knowledge and base oneself on knowledge, no matter how sparse or meagre it appears to be. It is a standard approach. And if that approach is neglected or disregarded, many sorts of "gang tales" may crop up. The proverb "Twin fools: one doubts nothing, the other, everything" can be a useful reminder as well.
At present there is no evidence of the twin sun that Yukteswar postulates, so there is no reason to argue over it. What is without evidence, must be treated as conjecture, recognising our limitations duly. To some this way is far too hard, but it is a standard approach to many phenomena, and does not depend on harsh belief.
Some calculations of Yukteswar will now be tentatively evaluated, and perhaps in too much detail.
Why the equinox axis moves backwards through the stars
According to Yukteswar, what is called the equinox axis moves backwards through the stars because our sun has a dual star and revolves around it [Hos 7]. However, mainstream present-day astronomers do not find or calculate with such a dual star. And they have not come across any.
Q: Then, what are the equinoxes?
A: They are imaginary points linked to the two days each year when night and day are equally long: In Spring the vernal equinox is ca. March 21; and the autumnal equinox is ca. September 22. The leap year cycle of four years may change the exact dates somewhat.
Q: Why is the position of the equinoxes slowly changing with respect to the background stars?
A: The short word for this is precession. At present the vernal equinox is in the constellation Pisces and is slowly approaching the Aquarius constellation. This also means that on the first day of spring the sun is seen "in" the constellation Pisces, or rather, the Pisces constellation is its backdrop then, and not the constellation Aries. Year by year and little by little the gap widens, and the distance to the first degree of Aries becomes larger. The drift we refer to forms a cycle of said 25.770 years – also called a Great Year – but give or take according to the current astronomical knowledge.
Q: Why does the precession of the equinoxes come about?
A: There are some theories about it. Yukteswar, whose theory-making we look into here, states the reason is our sun revolves around another star. Almost all astronomers today think otherwise, even though they appear to agree that most stars are likely part of a binary or multiple star system. And there are a few who search for a companion star to our sun, says Science Daily (Apr. 24, 2006). Further, the standard explanation you get from mainstream astronomers is that the precession of the earth's rotation axis is caused by the gravitational pulls of the Sun and the Moon on the Earth's equatorial bulge. In other words, according to astronomy based on known occurrences, the precession of the equinoxes is caused by the gravitational attraction of the Sun and Moon on the protuberant matter at the Earth's equator. In still other words, the gravitational attraction of the Sun and Moon on earth causes the axis of the earth to tilt. That is one theory. [Maso 63, 148]
Another way of understanding is that the precession is not an actual rotation.
Q: Where is our sun's dual star, and what is its name?
A: There is no hard evidence in astronomy of any dual star. Till enough evidence of such a hypothesised star shows up and as long as the present reasons for precession are considered OK, is is to be handled as "speculation" – such a way of handling new ideas or hypotheses is all right on scientific grounds, and searching for evidence. There is a "skylark and wren" allegory in the matter. The wren does not soar much on his own.
Q: The skylark and the wren, please -?
A: In (wren) science, what is proposed but not (yet) founded on solid documentation, may be said to belong pretty well to so-called pre-stages where theories are proposed somehow. They may next be considered and modified and perhaps tried out – if there is no valid way of finding out of them, they may be laid to rest (in some back room), so to speak. Such ways of handling theories can make science fit, as they do not mar much and unduly.
On the other hand, bringing out theories (like a soaring and singing lark) without that needed backup from the lowland vegetation of data, is not deemed appropriate in science, where theories are to be backed up by solid research and verification that matters. The burden of proof rests on Yukteswar in this; wrong theory-making should not breed stupefied admirers in a cult. All the same, what the lark sings may sound delighting, exhilarating and be all right and contain truths all the same.
Thus, a wren problem (scientist's dilemma) may set in when the wren hears a lark's song, without being able to soar and see the same vistas unaided. Now he must declare himself unable to say either "yes" or "no" to what he is told: he has to keep the larch theory in suspense, then, and rigidly resist to say "yes" or "no", and firmly stick to "I do not know" because he is basically well educated: He does not know, he has not seen it and finds no back-up too; on top of that he resists any "guessing games" that may crop up.
The lack of such proper wren-handling schemes calls for faith and proselytising, which are worth steering out of by and large, to be on the safe side. A man can do worse things than that.
Do not get misused by anyone
In The Holy Science [Hos], written in 1894, Yukteswar considers European and American scientists fit to hold communion with spiritual devotees (of India). [Hos 3n, 5] His Great Preceptor Babaji (so called) wanted him to help in establishing basic truth. [Hos 6] And truth is exact correspondence with reality, according to one definition in later editions of Paramahansa Yogananda's autobiography. [Ha 476; also Wl 46]. In The Divine Romance Yogananda elaborates on it:
Truth is exact correspondence with Reality; hence its end result is always good. Those who develop the habit of telling little lies all the time will find it hard ever to be wholly truthful in any statement. Such chronic liars never think of the importance of speaking truth; they don't even realize they are lying. Their own imagination becomes truth to them, and they can no longer see the real truth in any situation. [Dr 37]
Statistical evidence counts too, with its degrees of probabilities.
Cycle Talk
Yukteswar presents the concepts of "ages" that allude to the Greek Golden, Silver, Bronze and Iron Ages. The corresponding Sanskrit terms are Krita (Satya) Yuga; Treta Yuga; Dwapara (also Dvapara) Yuga; and Kali Yuga. A yuga is an era, then, an age, a period of time. Yukteswar holds that such eras come in cycles, and fixes them to an astronomical phenomenon, the precession of the Vernal Equinox. That is where our present adjustment troubles start:
The yuga cycle is of 24,000 years.
Astronomy estimates that the precession of the equinoxes takes quite precisely 25,770 years to complete a full circle. This is called a Great Year.
The length of the two spans cannot be the same if the precession rate is constant all through its large cycle. But we have no proof that it is constant, nor do we have sound and conclusive proof that it is inconstant in ways that fit Yukteswar's theory. Today we cannot prove anything about possible, changing retrogression speeds at different phases through the large precession cycle and further whereabouts and details of that. What we have so far, is the cycle of estimated 25.770 years to go along with.
Yukteswar equals the span of the Hindu yuga cycle that is seen in Manu Samhita with the Great Year, and calculates as if these cycles are equally long. They are not, in astrology. The Great Year (the large precession cycle) that he fixes the yuga data onto, is considerably longer (see above). Yukteswar's approach could work like a watch that shows 22 hours a day, not 24 hours, getting more and more out of step as time goes by.
Because the scientific foundation for great time spans like the Great Year is not perfect, parts of what we deal with ahead are rooted in probabilities. [yoganiketan.net/kriyayoga/chapter_4.htm]

Where is the bottom area found, and how?
Yukteswar teaches that the yuga cycle has an ebb, and finds the year CE 499 fit for being called THE BOTTOM. He uses astronomy for fixing the date, but other dates may be just as palatable. We go into that below.
Now we get somewhat technical: Yukteswar links up the cycles to the star zeta Piscium; in Sanskrit the star is called Revati [Hos 12, 13, 17]
He renders Manu Samhita when it comes to how long each age is, and what characteristics each has. [Mux 20 (Ch 1, v 69-71), 20-22 (Ch 1, v 81-92), 396 (Ch 9, v 302] etc.] He correctly points out that Manu in the old book has postulated a cycle of 24,000 years, and not divine years. Others arrived at the latter through text interpolations. F. Max Muller uses brackets to show such interpolations in his English translation. It is on-line on-site. [LINK].
Yukteswar goes on to fix one bottom arc to CE 499, and furnishes ideosyncratic evidence for it [Hos 12-13]. However, about CE 560 (hopefully 18 March 564) the tropical and the sidereal zero points were at exactly the same place, not in CE 499, which is Yukteswar's date. [www.astro.com/swisseph/swisseph.htm#_Toc476664205]
Apart from fixing a first date (CE 499) by stipulation, the swami fixes the spans of each era to the slow retrograde motion of the Equinoctial points: The complete retrograde cycle takes roughly 25,770 years*; which differs considerably from the Manu cycle of 24,000 years Yukteswar makes use of. But astronomers have adjusted the recession rate – but we do not know everything exactly in this. Hence, speculation becomes atemptation.
So far we have come up with this: First, the starting point at CE 499 is debatable - it could be CE 564 according to old sources that there seems to be more agreement about. Second, The complete Manu cycle of yugas in his calculations seems too short, but there are no irrefutable long-range data on it today.
*"The IAU [International Astronomical Union] system of constants sets the general precession rate to be 5029.0966 arc-seconds per century. At this rate, a full cycle (360 degrees) is completed in 257.7003591 centuries, or 25770.03591 years." - Chris Palma
That figure, 25770.03591 years, marks the stand of today's astronomy. The exact length of the rate of change has been modified over the years, either because it changed, or because measurements became more accurate, or both. However, if we depart from the current and valid-considered values without sound and good evidence, it could be to our woe, for the IAU figure is considered to be a very good reference point.

No reason to seem dogmatic
In science, the burden of proof rests on the proponent. It is not the other way around. Thus, it is the job of Yukteswar to furnish facts that show his proposed things are correct. It is often good to know just where the burden of proof lies.
One thing we can do is to base ourselves on findings of astronomy, think them through and consider how long the yugas (eras) will be if the present estimate of the precession rate is fair. We also have to presuppose the precession rate does not change through the Great Year, for if it does we lack needed information, and cannot tell much fit. Modesty is thus called for, and lack of it may foster tomfoolery.
Yukteswar did not adhere to the elementary ground rules of present-day science when he formed his time-reckoning: He did not furnish evidence of the sort that is rooted in the universal, systemic web – and that part has to be furnished if a hypothesis and the like are to be looked on as theory. That is the way it should be in science.
"If – then" arguments
Manu says that the yuga lengths are in the proportion: 4 to 3 to 2 to 1. The "Golden Age" is the longest; the "Silver Age" comes next, and so on. If we adjust this set of proportions to the span of 25,770 years in astronomy, we come up with the following:
Suggesting that a retrograde cycle (Great Year) is 25,770 years, a half-cycle will be 12,885 years, and the four allotted ages – yugas with their anciently postulated transitional time-spans (Skr. sandhas) – as follows:
UPWARD CYCLE
Kali Yuga:
Iron Age:
107.375
1073.75
107.375
1288.5

Dvapara Yuga:
Bronze Age:
214.75
2147.5
214.75
2577
Treta Yuga:
Silver Age:
322.125
3221.25
322.125
3865.5
Krita Yuga:
Golden Age:
429.5
4295
429.5
5154
In sum:
12,885
These estimates are quite accurate and suffice for our purposes here and now. What such a table helps us see, is that maybe the swami got solidly wrong figures in calculating time according to the system he set up. Present-day astronomers do not support his time-span assertions by and large. He could be right anyway; our point is that "wrens" have no way of ascertaining that today, and thus need to "not know" for a while or for long. Yukteswar is reportedly not fond of blind believing:
"Many teachers will tell you to believe; then they put out your eyes of reason and instruct you to follow only their logic. But I want you to keep your eyes of reason open; in addition, I will open in you . . . wisdom." [More here]
If the map does not fit the terrain, the mapmaker is not to be called unerring and hailed far and wide for such feats as well.
Some say that Yukteswar arrived at his strong points by divine insights alone or mainly. They seem to be wrong on that point: Yukteswar studied astrology for long, as shown:
From his studies of Astrology and Vedic literatures Swami Sri Yukteshvar found . . . Calculating on the above basis . . . the constellation Aries . . . 501 B.C. [etc.]
[yoganiketan.net/kriyayoga/chapter_4.htm]
Downward cycle
Find the "Upward Cycle" table above. Reverse the scheme to get the downward cycle. As you have seen, the sum of these two will be 25,770 quite accurately.
The proportions between eras are 1 : 2 : 3 : 4. You may have noted that in the Manu Samhita and in Yukteswar's use of it [Hos 11 et, Mux ch 1, cf v 81-86 too], each era has a grey zone (mutation period) in front and rear, and that any grey zone, sandhi, is one tenth of its respective 'era proper', the 'strict' yuga, which is 10/12 of the whole yuga era.
A REPEAT: Yukteswar postulates that the Vernal Equinox left the star sign Aries in CE 499 and entered Pisces. [Hos 13] Opinions differ about when this celestial phenomenon took place. However, there are ancient sources that suggest it happened in the 560s CE.
The guru further employs the possibly much wrong time scale of 24,000 years in fixing ages, and not a 25,770.036-year cycle which is acceptable (with possible modifications) in modern science. When we base our reckoning on the latter cycle, we are not in Dvapara Yuga 300 in CE 2000, contrary to the Indian swami's views. Then, in what "age" are we now?
Based on the date CE 564,
Ascending Iron Age mutating: 564 CE – ca. 671.375 CE
Ascending (proper) Iron Age: till ca. 1745.125 CE
End of Iron Age mutation period: 1852.5 CE
Ascending Bronze Age (Dvapara Yuga) mutation (transitional) period: from 1852.5 CE to 2067.25 CE, roughly.
Ascending (proper) Dvapara yuga: (Bronze Age proper): ca 2067.25 CE -
Accordingly we are in a Transitional Bronze Age, a "Bronze Age mutation period", till 2067.25 CE, and a "proper Bronze Age" (Dvapara yuga) will not begin till then.
Fixing time
The ways of fixing time that Yukteswar wanted the public to use, have not been well received. Yogananda and his disciples, a rather large following in the West, date almost all publications according to the Common Era. If your followers and admirers do not stick to your recommendations, do not expect the public to take your advice either.
My revision (based on the premise of a steady precession rate, and not one of changing speeds) yields a peculiar date: Subtract 1852.5 years from what your (Gregorian) calendar shows, and you might just have it. Accordingly, The year CE 2009 may be 146.5 Dvapara Sandhi (Bronze-Mutation Age). If so, we could all be in an upward Bronze transit period of time in CE 2009.
A little chart may shed further light here, and maybe not: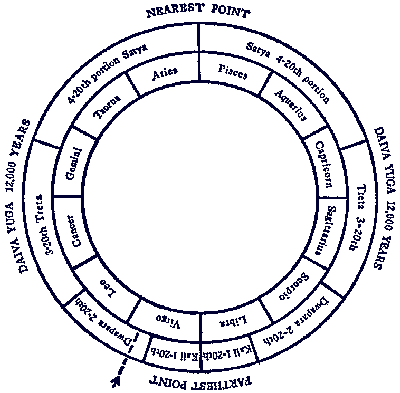 The four ages, yugas, according to Yukteswar. [Hos 9] CLICK ON THE CHART to inspect a larger one.
TO THIS: To the left near the bottom of the figure, is an arrow that indicates the position of the autumnal equinox in the constellations somehow. The vernal equinox is opposite it.
However, there is reason to have some misgivings here too.
We have presupposed a steady pace of precession, and not postulated any changes of speed in it – as long as there is lack of verified information on that subject.
Just when was the postulated bottom area reached? Is there real evidence that it was just at the time Yukteswar proposed? Or was it about 60 years later? Or?
We have no verification methods in science proper to infer or induce from selected base happenings that they were part of some major, overriding (even galactic) pattern by and large. An accomplishment of that sort is not easy to arrive at. One reason: present-day man lacks access to large amounts of historical evidence from tens of thousands of years back. What Yukteswar refers to or brings up, is an aftermath to be read in literature, some afterglow, if that is what it is.
That is where we stand.

Time Reckoning Contains Many Problems
Fixing time is not always easy. Sir Isaac Asimov has devoted a chapter of a book of his [Aso] to time reckoning and calendars. It is quite entertaining. Yukteswar relates our time to eras that are marked by different qualities, or changes of the Zeitgeist at large. He forges that approach with astronomy. Astronomy presents time by linking it to stars and solar systems and the like. And that is what we go into here:
The large Great Year is a whole cycle made by the equinox axis. So where does the vernal (spring) axis point? That it points toward the fifth degree of Pisces, give or take, seems to be the common agreement. However, modern astronomers do not seem to know exactly where in Pisces the vernal equinox is. Yet estimates can be found, different authors have different outlooks. ◦Astrodienst Online in Zurich uses a displacement of 24.44 degrees (May 21, 2000 CE), you can see, if you inspect their Extended Chart Selection. Their "geocentric sidereal selection" – which comes with a warning – employs a divergence of about 25 degrees today.
Accordingly, the vernal equinox is now at "constellation Pisces 5" – but only when we ignore that the constellation Pisces is broader that the star sign Pisces, and a few other things, which include the problem of determining where and why to think an irregular polygon shape ends along the zodiac belt and another starts; and also the uncertainty of the displacement span itself, due to differently fixed focal points somehow.
Maybe 5 degrees Pisces fits, maybe not. It seems wise to allow judiciousness and leave the matter be for now, if you do not have fit clues for the plumbing in these waters. Few have them.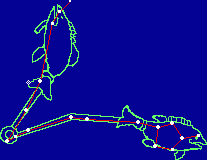 Pisces star image. The polygon in red is drawn through the stars highlighted, and the two imagined, bound fishes are added.
But the gap (now nearly 25 degrees according to Astrodienst) increases in time: there is a displacement of 50.29 seconds of celestial longitude yearly, Chris Palma explains. Thus, it takes almost 72 years to complete one degree for the slowly moving (retrogressing) equinox axis – and there are 360 degrees around the zodiac circle. [See also Maso 63, 148]
In other words: When the sun reaches the vernal equinox in its yearly round (one day in March), the sun enters the first degree of the Aries star sign. But the constellation is different; it drifts away from the star sign and also "drives" away from here (and changes its contours through that). Yes the constellation is yet getting steadily displaced throughout time – 50.29 seconds a year according to Palma (above). Thus, that the vernal equinox is in the constellation Pisces 5-9 could fit if we think in a certain way. Other numbers may arise if we think along other veins. That should be welcomed as a problem.
Has the Age of Aquarius come?
The Age of Aquarius, a New Age after the Piscean Era we are inside, is not now. At least the given technicalities support this outlook:
The full cycle that these ages link up to, is the retrograde movement of the equinox axis through the zodiac. As you may know, the zodiac is a ring of constellations that the Sun seems to pass through each year as the Earth orbits around the sun. There are actually 13 zodiacal constellations today, as defined by astronomers: The Serpent Holder is now in the zodiac too, and lies between Scorpio and Sagittarius.
As you may recall, a Great Year is the time it takes for the equinox axes to make a full circle around the earth. Put otherwise, the retrogression cycle through the zodiac takes ca. 25,770 years. A circle is typically divided into 360 degrees [Maso], and each star sign is 1/12 of that again, i.e. 30 degrees. If the length of the Great Year (the large cycle) is quite correct, it takes 25,770.036 : 12 = 2147 1/2 years for the axis to move through one star sign. That is an age, and it is not 2400 years. If the Pisces Age started in CE 564 (give and take) – and not in 0 or CE 499 – the Age of Aquarius is about in CE 2712. We are not there yet . . . Our stipulations may not be perfectly correct, but are very close to the best suggestions we have come up with when based on present-day astronomical knowledge.
Thus, the Age of Aquarius is not now – there are many centuries to go till it arrives. We are in a Pisces Age in CE 2000.
It takes the equinox axis nearly 72 years to traverse one degree of the zodiac circle (and it moves roughly 1 degree and 24 minutes per century). In the light of this there are years and centuries to go till the Age of Wisdom (Aquarius) arrives. It could be interesting to know that James Donald Walters, aka Kriyananda, has pointed out the same phenomenon in one of his books: Your Sun Sign as A Spiritual Guide. [Ssg]
Can We Be in Pisces and Virgo at the Same Time?
Yukteswar teaches that in the West the spring point of the equinox axis (ie, the vernal equinox point) is given the attention, and that in the East the autumn part of the axis is held to be of much value. Thus, the Pisces Age is also a Virgo Age by polarity. Both outlooks unite in this: We are in a Pisces-Virgo Age (We are all in the same boat). Further, if the spring point is associated with personal matters, the autumn point is associated with fellowship issues; it is a twin or dual perspective.
❖ Thus, nearing the Aquarius Age, we are also and just as much nearing the Leo Age. Quite few have heard of that.
There is a problem, nay, many problems. Our calculations so far tie in with the fact that any star sign is 30 degrees wide and broad. It is so defined. Thus, the sign Pisces is 30 degrees. But the constellation Pisces that is linked to what we love to call fixed stars, even if they move away from here at a high speed, is over 30 degrees wide. Gemini is far less than 30 degrees. An astronomer can tell you how many degrees each constellation (handed-over star image) covers, and we bring you a table survey of it also. But there is another snag to it:
"The International Astronomical Union (IAU) adopted boundaries for each constellation in 1930. The accepted boundaries are published in the following work: E. Delporte, in, Delimitation scientifique desconstellations (tables et cartes), Cambridge University Press, 1930. The boundaries are irregular polygons, so the width varies depending on where you choose your starting and ending points." [Chris Palma in a personal communication]
Thus when does the Pisces Age end? According to what? The star signs, what beginnings and ends of the constellation images? What is the proper guideline? If you can tell, please do.
Rubbing it in: Are we considering star signs of 30 degrees each when we should deal with constellations of irregular polygon shapes and unequal length? Can anyone resolve this without yodeling a bit off tune here and there? [Cf. Maso 148; Alk]
Constellation whereabouts
Name
Star sign dates*
Constellation dates* (2000)
Days/ degrees
Aries
Mar 22–Apr 21
Apr 18–May 13
25
Taurus
Apr 22–May 21
May 13–June 22
40
Gemini
May 22–June 21
June 22–July 21
29
Cancer
June 22–July 21
July 21–Aug 10
20
Leo
July 22–Aug 21
Aug 10–Sept 16
37
Virgo
Aug 22–Sept 21
Sept 16–Oct 31
45
Libra
Sept 22–Oct 21
Oct 31–Nov 23
23
Scorpius
Oct 22–Nov 21
Nov 23–Nov 29
6
Ophiuchus*
Nov 29–Dec 18
19
Sagittarius
Nov 22–Dec 21
Dec 18–Jan 21
34
Capricornus
Dec 22–Jan 21
Jan 21–Feb 16
26
Aquarius
Jan 22–Feb 21
Feb 16–Mar 11
24
Pisces
Feb 22–Mar 21
Mar 11–Apr 18
38
Rooted in a table by David Hasenauer in the Encyclopedia Britannica.
[www.britannica.com/bcom/magazine/article/0,5744,43234,00.html]
Or: [www.tribuneindia.com/2001/20010317/windows/main4.htm]
*CORRECTIONS
THE DATES given in the column of "star sign dates" may vary with a day or at most two in a leap year cycle of 4 years. They are approximate, then.

OPHIUCHUS, 'Oph', is the Serpent Holder or Serpent Bearer:

This constellation is not part of the zodiac, but the sun passes through it in December each year. When the Babylonians drew the zodiac 3000 years ago or so, the sun passed through just the twelve constellations we still refer to as the zodiac. Because of the Earth's precession (wobble) the apparent way of the sun through the sky has changed through the millenniums.
[www.seds.org/Maps/Stars_en/Fig/ophiuchus.html]

"While the sun still traverses Scorpius, it only takes nine days [sic] to do so; most of the time is spent in neighbouring Ophiuchus (which is the only constellation that the sun enters but which is not a part of the zodiac)."
[www.dibonsmith.com/sco_con.htm]

"Each year the Sun spends . . . only six days within the boundary of Scorpius. . . . And . . . for those born in early December, the Sun spends some time within Ophiuchus, the Serpent Bearer. Although it's one of the largest constellations in area, Ophiuchus is the unrespected Rodney Dangerfield of the zodiac."
[www.britannica.com/bcom/magazine/article/0,5744,43234,00.html]

There is a rich mythology around the Serpent Holder too.
[www.coldwater.k12.mi.us/lms/planetarium/myth/index.html]

DATE AND DEGREE DIVERGENCES: Astrodienst in Zuruck does not operate with exactly the same DATE AND DEGREE DIVERGENCES as D. Hasenauer in their strict-looking calculations.
[www.astro.com/swisseph/swisseph.htm#_Toc476664205]

The handy purpose of presenting the "Hasenauer survey" is to show how widely the spans of constellations vary – it's seen from the right column above by "one day is approximately one degree of arc". – As for Scorpius and Ophiuchus, they are taken as 'one Scorpius' too.
World Cycles
Lord Bertrand Russell

"I wish to propose for the reader's favourable consideration a doctrine (...) this: that it is undesirable to believe a proposition when there is no ground whatever for supposing it true." [Sir Bertrand Russell, from "Introduction: On the Value of Scepticism", in Sceptical Essays published by Allen and Unwin in London, 1928]
A skylark does not have to adjust to how moderate others are when he soars and sings. Nor is the skylark asked to leave the sky to advance low growths of bushes and the like.
Skylark theories without backup tend to fall down on the ground, whereas modest or sensible wren-like outputs with a lot of back-up from the ground, may get a far better fate or fare in science.
We talk for all-round "wrennish" sensible modesty in science, instead of promoting unverified tenets. Opposite to that, Yukteswar often soars like a lark. Is there a resolution between the "skylark theory-making" and the "humble wren theory-making"? Not in known science, to our knowing.
Yukteswar (1855-1936) tells us about a yuga cycle that humans are inside, subjected to its regularly patterned, changing influences, and relates that heavenly cycle to the Great Year of astronomy. That era stems from the precession of the zodiac and is today estimated to be 25.770 years. Yukteswar (a) "divinely" applies a Hindu scripture cycle of 24.000 years to the astronomical cycle of 25.770 years, ignoring they are of unequal length. (b) He fixes a "low ebb point" of his calculated cycle to CE 499, but it is a questionable date. (c) He ascribes different qualities of humans to four main stages (called yugas, eras) of that huge cycle. Yukteswar also takes to idiosyncratic mentions of advances in science throughout the centuries. Such mentions may also be called episodic verifications (read: claims). Episodic "verification" may rest on humbug. One should know that. And that the way he seeks to confirm his ages reckonings are coloured by his design – he seeks and finds "confirmations" with no alternative notions (no counterhypotheses) in it. Such a verification way is called idiosyncratic. Shankara and many others may have been born in an era of primitive, low-levelled thinking according to Yukteswar's scenario. What is needed is to resolve not to believe masters unless there is good evidence. Let the evidence talk, then.
Watch out
Further, it looks like an illusion that things will always work out well. Sri Yukteswar appears to advocate it too, in a saying of his that Yogananda cherishes. The essence of it is: "Everything in future will improve if you are making a spiritual effort now." Will the precession rate improve in that case? Or will Yukteswar's yoga calculations? It depends a lot on on what is meant by improvement. The guru leaves out that necessary part of it.
Do not believe it till you see it. "Seeing is believing" is the proverb. I go into other tenets of Yukteswar's in the next few chapters.
The silence habitual to Sri Yukteswar was caused by his deep perceptions of the Infinite. [There is no Infinite.] . . . "In oceanic minds the whales of inspiration make hardly a ruffle." – Yogananda

The other side of the story is that whales are mammals that need air and may splash wonderfully, thereby catching pray and having fun. "Gullible ones swallow words in faith too easily."