Rubaiyat is a collection of Medieval Persian quatrains (verses of four lines).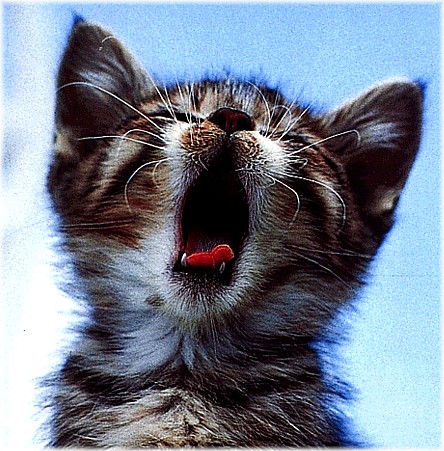 Wake! For the Golden Cat has put to flight
The Mouse of Darkness with his Paw of Light:
Which means, in Plain and simple every-day
Unoriental Speech---The Dawn is bright.

Oliver Herford
Miao, that is Chinese for the ultimate wonderful Essence, according to Lin Yutang [Wic 31n]. The essence of this article: Yogananda's commentary of the Rubaiyat bored me so. By steps I found out why, and here I share it with you, and also a verse from The Rubaiyat of A Persian Kitten by Oliver Herford (caption).
There are somewhere between 1,200 to over 2,000 quatrains (poems) attributed to the Persian mathematician and astronomer Omar Khayyam (1048-1123). Translations of these poems differ, in part depending on one's interpretation of Khayyam's stand as to life. Some find him to be a nihilist, others an anarchist, and still others a Sufi (Islamic mystic). Interpreters do not agree whether Khayyam was for or against alcohol either.
The best known English version (in five editions) was made by Edward Fitzgerald (1809-83). Four editions were published by him while he was alive, and the fifth edition was edited after his death on the basis of manuscript revisions he had left behind. As has been noted, Fitzgerald's versions are noted more for freedom than for fidelity to the original. Fitzgerald did not strive for any literal translation at all, and his work is of only some hundred four-lined verses.
Edward Henry Whinfield published his second edition of a literal translation of 500 verses in 1883.
Arthur Talbot published his translation of 158 verses in 1908, from the prose translation of Edward Heron-Allen.
Robert Graves and Omar Ali-Shah published their alleged translation of the Rubaiyat in 1967. Their work purported to be a translation of a twelfth-century manuscript in Afghanistan, "where it was allegedly used as a Sufi teaching document. But it proved impossible to produce the manuscript, and British experts in Persian literature had no difficulty in proving that the translation was . . . based on a study of the possible sources of FitzGerald's work by Edward Heron Allen." [Wikipedia, sv "Rubaiyat of Omar Khayyam"]
There are many other translations too. The works of Fitzgerald, Whinfield, and Talbot can be compared on-line. [◦Link]
Fitzgerald and Yogananda
In the following I will compare a few verses of the Fitzgerald version with the Graves-Shah work. And why? The famous, Americanised guru Paramahansa Yogananda (1893-1952) furnished a "spiritual commentary" of tall stock phrases on Omar Khayyam, while basing his judgements on the first of Fitzgerald's liberal and limited renditions. Graves and Ali-Shah on the other hand stuck to "the possible sources of FitzGerald's work". Other translations - including that of A. H. Whinfield - can be surveyed by following the link just given.
Several problems almost spring to the eye: Many of the phrases and key terms in Fitzgerald's work are missing in the original Persian, as may be ascertained by comparing some translations with one another.
Fitzgerald produced four more editions of his work. When an author or translator finds it fit to make changes, the experienced commentator bases his work on the last of those editions. That is normal procedure. However, Yogananda found it fit to act otherwise, thereby overriding FitzGerald's matured sentiments and versions.
When we consult the fifth Fitzgerald edition, and a few translations of the Rubaiyat, we do not find all the imagery contained in Fitzgerald's first edition, the one Yogananda hinged his commentary on. At the same time Yogananda purports to have tuned in to the secret meanings of the poem and the poet by the less likely translation/rendering. The word "baloney" comes to mind.
What we are faced with at first is this: A "commentary" of stock phrases that draws heavily on words and phrases that are in part missing in Rubaiyat translations attributed to Omar - and in the last editions of FitzGerald's work too.
Second, there are today two often differing, independent versions of Yogananda's commentary. It is not wise to feel terribly confident that you have got the true wordings of Yogananda either - after essentials of Khayyam perhaps have been done away with or distorted by Fitzgerald with Yogananda's Fitzgerald commentary in his wake. Even if I don't say "regrettably" to this, I mean it.
If you want to hear a horse neigh, go to the horse and listen, and shun the one that improvises and renders neighing as he wants to. If you want to know the Rubaiyat poem, go to the poem, at least a renowned translation or more, and do not mistake the poem for the poet either. It may be unwise, for they are different!
Yogananda's defence of his approach
Against sound folk wisdom and other wisdom of going to good sources first and foremost, there is Yogananda's defence of his approach.
First, he was told "long ago in India", that the poetry of Persia often has two meanings, one inner and one outer. And then, one day he concentrated on the pages of Omar Khayyam's Rubaiyat, and saw "the vast inner fortress of golden spiritual treasures" in it, that "previously invisible castle of inner wisdom," "this dream-castle of truth," he tells. [ix]
So he wanted to present the "deep philosophy" of Omar against misinterpretations of many translators (basing his work on Fitzgerald's first edition), since "Omar, by a very large number of Western readers, has come to be regarded as a rather erotic pagan poet, a drunkard interested only in wine and earthly pleasure," as Charles F. Horne is quoted to say in Yogananda's work. [ix]
Yogananda further goes for that the Persian poem's passionate praise of wine and love is a metaphoric device or two: (1) the wine is the joy of the spirit, and (2) the love is the rapturous devotion to God. Horne is quoted for both of these. [x]
Yogananda, further:
"With the help of a Persian scholar, I translated the original Rubaiyat into English. But I found that, though literally translated, they lacked the fiery spirit of Khayyam's original. . . . I realized that FitzGerald had been divinely inspired to catch exactly in gloriously musical English words the soul of Omar's writings. [Thus, FitzGerald was more "divinely inspired" than the guru, the guru indirectly states. Interesting!]

Therefore I decided to interpret the inner hidden meaning of Omar's verses from FitzGerald's translation rather than from my own or any other that I had read." [x]
The publisher adds a note, informing that Yogananda chose FitzGerald's first edition, saying that the poet's "first inspiration -- being spontaneous, natural, and sincere -- is most often the deepest and purest expression." That is not why SRF has edited and edited Yogananda books after his death, including his Whispers from Eternity. [xn] [More]
I have decided to go through eleven Rubaiyat verses in the following. Along with the different versions and translations that are offered, you get a sort of lowest common denominator of each verse, called Bare Bones. All of that sets the scene for Yogananda's glossary of each of the eleven FitzGerald verses. Afterwards some gist is given in most cases. The first few interpretations of Yogananda are not condensed, though.
This is all to say, "See for yourself." And even though I for my part silently put the text away as boring, others praise it. It may in part be a matter of "different strokes for different folks," but more goes into these matters than that.
Some say they like Yogananda's book
Opinions differ, and some reviewers are less informed than others. That needs to be taken into account. Amazon.com [sv "The Wine of the Mystic"] is the host of the following comments and others.
Yogananda made the fatal error of believing that . . . he, himself, could discern it [the only religion etc.] in all religions. He did that with the Bible. He does this here with a Sufi poem . . . But Yogananda's Self-Realization Fellowship was and is Hinduism . . . So this book is an Islamic poem as interpreted by a Hindu. [Bill Butler]
One person finds Yogananda's commentary "irresistable immediately upon opening its pages".
Another finds "Yogananda's commentaries on these poems will bring every scholar on mystical Islam to shame . . . I would love to recommend this piece of timeless art to all the Muslims in this sordid world . . . no one is in a better position than Yogananda (except for those souls who have God realization), to interpret these poems the way Khayyam had intended it to be understood."
A third person: "This wonderful book is . . . a collection of deep spiritual discourses."
I would not rule out that some of these guys are followers of Yogananda and just eager to present their guru's work as tall, nay, outstanding, instead of keeping their thoughts to themselves for a time - those deep and pondering "good soils", if that is what they are:
A guru went out to sow his seed. Some fell along the path, and the birds came and ate it up. Some fell on rocky places, where it did not have much soil. It sprang up quickly, because the soil was shallow. But when the sun came up, the plants were scorched, and they withered because they had no root. Other seed fell among thorns, which grew up and choked the plants. Still other seed fell on good soil, where it produced a crop. [Cf. Matthew 13:3-8]
He who has ears of corn . . . has a lot to consider. There is reason to do better than to make much of shallow soil, soon parched soil, and thorny guys. [Cf. Matthew 13:9] From this I learn:
The parched and scorched guys that easily wither, are not supremely rooted.

He who manages to discern well, has perhaps withstood much untoward, and can think for himself, and may steer out of "blunderbuss tactics" and instead get well informed, and nicely too.

As good a keen discernment is, consistent action on top of it is often needed too. "Do on the hills as ye wad do in the ha'," is Scottish. "Be consistent in your actions. Do in public as you would in private," explains Colin Walker [Scs 40]. If not, well, there is a danger of repressing what we know, in order to follow suit. Repressed ideas may then start rotting (going asunder) inside us. But perhaps 'disintegrating' is a better word.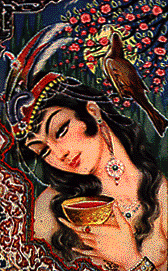 Many who read form wrong opinions. The forlorn ones seem to hail sayings and works that lack credibility.
Below is Yogananda's commentary to verse 1 in Edward Fitzgerald's adaptation-poem Rubaiyat, so you can see in detail how Yogananda made his book The Wine of the Mystic. I throw the Whinfield translation into the bargain too. Fitzgerald did not actually translate the poem, he wrote an adaptation.
FitzGerald inflicted liberties on his purported source. A considerable portion of the very unliteral "translation" is in fact FitzGerald's own creation. "Many quatrains are mashed together," he informs. Many of the verses are paraphrased, and some of them cannot be confidently traced to any one of Khayyam's quatrains at all.
The content and phrasing of Fitzgerald's translations change with his evolving editions. I bring his verse 1 from five editions to document it.
Yogananda makes use of the first Fitzgerald edition to "interpret Omar". Yogananda claimed he peered through the free-standing poem adaptation of Fitzgerald into the thoughts of the Medieval Persian author Omar Khayyam. Can that interesting claim be substantiated too? Much evidence goes against the guru's ideas.
Yogananda's claims must be ascertained in the light of this:
Fitzgerald's later translations do not all include the words Yogananda uses.
The sources of many Fitzgerald verses are obscure, and may be lacking too.
Other versions - translations - do not contain key words from Fitzgerald's first edition either, the edition that Yogananda uses to "psych Omar", purportedly - by what is essentially a yogic interpretation.
Yogananda's Approach
Yogananda inspiration from ideas that are FitzGerald's poetic inventions and hardly those of Omar Khayyam - at any rate not in the Graves-Shah work - is out of the blue, or, as we say, by yogi associations. There is no denying that Yogananda has some good points of his own too, and such points seem mostly imposed on the medieval poem, regardless of what could have been meant back in Persia.
Yogananda approaches the Fitzgerald verse by fixing Hindu meanings meanings to some phrases and terms to promote some pivoting ideas that are easily found in other works by him too. In other words, he uses many FitzGerald inventions as symbols of what Omar had in mind when Omar expressed himself differently . . .
It matters to know that many of the phrases that Fitzgerald concocted, are not found in other translations, literal and other ones, and correspondingly, some of them hardly take us straightway to Omar's poetic talk either, and could represent his suggestive meanings rather poorly, if at all.
Graves and Ali-Shah make a case for wine as love, as Yogananda does too; they think that Khayaam treats wine as a metaphor of the ecstasy excited by divine love [p. 4] They also think the drunkenness Omar writes of, is ecstacy. [8, 9]
Omar Khayaam's Rubaiyyat is a collection of - in the words of George Saintsbury - "a jumbled ragbag of discarded Oriental verse". Out of some eight hundred and odd quatrains, and Fitzgerald and Yogananda use just one eighth of that corpus. And FitzGerald gave himself the "the widest licence of paraphrase, omission and addition", says Saintsbury further. [10, cf. 16]
Some have looked in vain for the original of several of FitzGerald's lines, although "He has been applauded for imposing his own structure of thought on the Rubaiyyat". [11, 16, 23 etc.]
Yogananda in turn uses Fitzgerald's first edition and makes strong claims on behalf of his own intuition.