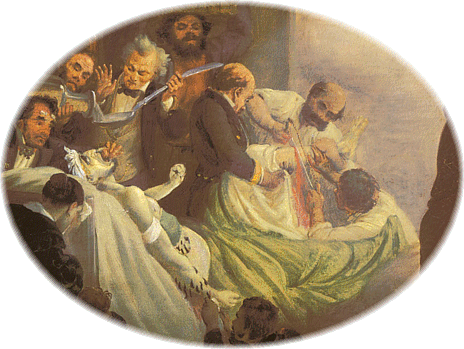 Horrors of conventional medicine in the past
Homeopathy's Lot
Homeopathy in a nutshell
Homeopathy involves giving very small, non-toxic doses of substances called remedies. In many cases the substances that go into the remedies, get so diluted in the process of making remedies, that there is nothing material of the original substances left in remedies that carry their names, nothing at all. Still many such remedies are reported to work, and better than substances that have not been "dilited away" in the particular making of homeopathic remedies.
Many think that that remedies of this sort may not work, that it is impossible that it could be. That seems like a paradox, at least until we learn about magnetic photons and Dr Karin Lenger's magnetic resonance method to measure many homeopathic remedies, and her findings that such remedies do contain "information" (See next page).
Homeopathy treatment is tailored to each individual and homeopathic practitioners work to select remedies according to a survey of patient symptoms. The most telling symptoms are compared with the remedies that are told to match them well, or good enough, and so on. There are various forms and levels of homeopathic treatment, and different ways of thinking underlying each approach too.
Echoes of the past: "Homeopathy is worthless quackery"
In August 2005, the British medical journal the Lancet published a review comparing clinical trials of homeopathy with trials of conventional medicine. The conclusion of this study was widely hailed as evidence that homeopathy is worthless quackery. It stated that homeopathic medicines are non-effective and, at best, just placebos ("fake medicine").
Also, an accompanying editorial in the Lancet said this "evidence" should close the door on the non-toxic, alternative treatment method, and proclaimed this review should mark "the end of homeopathy".
The corrective: "Homeopathy is effective"
Two later published studies, one in the journal Homeopathy and the other in the mainstream medical Journal of Clinical Epidemiology, both say the Lancet review was hugely flawed and downright inaccurate. Instead of showing homeopathy does not work, the conclusion should have been that, at least for some ailments, it is effective.
In a statement to the press, George Lewith, Professor of Health Research at Southampton University in Great Britain, stated:
The [Lancet] review gave no indication of which trials were analyzed nor of the various vital assumptions made about the data. This is not usual scientific practice. If we presume that homeopathy works for some conditions but not others, or change the definition of a 'larger trial', the conclusions change. This indicates a fundamental weakness in the conclusions: they are NOT reliable.
Not how the same study yields so widely divergent conclusions. At least one of them is too biased to be of any real help.