There are warm and favourable welcomes and other welcomes. Not all of them are delightful and worth working for. Yet it is thought it can be favourable to work one's way up along general lines like the ones to follow, applying some of them as is fit for oneself and also fit locally, if all of it can be at all:
It matters a lot to get properly enabled. To find favour and reap sweet welcomes of a kind, or many kinds, try to make yourself worthy of them.
Learning to process data helps, and good skills help. Improved conditions allow for having much leisure and fun. Fun comes slowly out of the darkness, maybe in a cosy group and family.
We should feel free to go for savoury schooling and calm, proper training if our initial welcomes hardly suffice. There may be no easier way.
Bland welcomes tend to be fit ones. Fit welcomes could also help yourself.
Go for savoury welcomes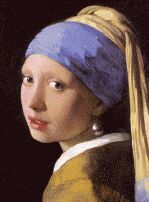 Girl with a Pearl Earring (c. 1665-1666), by Johannes Vermeer.
Do not ignore the art of studying without thoughts - that is, of observing nicely. "Nature first," may help too.
Sanity-helping standards of excellence can be hard to find. And decent schooling may assist self-initiated interests onwards and upwards.
Some folks around that seem to think that there is nothing as fit as being one of a gang - being conform. But bad, indecent conformity has been found to stultify. It can be quite a problem to those with capacity to get further.
One may ken people by how they look, by what appearance they find convenient for themselves, and not only their body exteriors.
Try to make progress in life where it may matters the most. As for cool, relaxed garden living - the good side to being a villa owner - Adam and Eve were to protect and defend their garden of living. Yes, it may be vitally important to master the art of bulwarking one's habitat well.
Sorting essentials can be good help in the art of living, at least as a student
In its own way, Rogerian councelling is very much attuned to the "organismic feel", as Carl Rogers himself calls it.
Also take the time to pay heed to your inner drives and secret longings, plans and hunches, for things to work out better.
Good teachings work well if they are adhered to -
With training you may eventually learn how to "peel" sentences so as to arrive at core ideas, also called key points, even cream teachings. The proof of the pudding is in the eating; good teachings for you help you where you are, provided you are not too weak to follow them through, or that the conditions are not wholly unsuitable for nice training. The baby needs not only mother's milk, but also congenial, proper conditions to prosper.

One should go for savoury welcomes that look fit and possible. If the natural-looking ways won't do, maybe some modern technological outlets offer help along with schooling.
Reaching and sorting essentials can be well done by a farm dog. Sorting neatly should also help yourself.
Computing well can help, within limits. Physicists and realists often tackle this and that through mathematics. These teachings are rooted in vector-mathematics.

Although all welcomes are not sweet you may still make the best of welcomes. Go on from sorting possible and fit to the essential. On top of that, try to compute ever so often, and you may get progress in life as you go ahead in such a way.