There are many forms and facets of knowledge. The Tao system divulged here, allows a man to build handling knowledge in a string (row) of beads (accomplishments). Words that give vent to such a row (stretch) of thinking, are favourable summaries. They are fit for that sort of kings who claim "My home is my castle". Fgreigure 14 shows when stringed ideas in an essay have been grasped and gathered in such a way. They are not easily arrived at, and some may help you.
When you reach all right satisfactions, it should be time to move on or up toward some next stage(s).



Cybernetically aligned Tao wisdom
This cybernetical Taoism shows how to build relevant Tao forms and facets, whereas the ancient philosophy of Taoism of Tao Te Ching and the Chuang Tzu and other Taoist classics tends to portray the decline of Tao.
There is one more difference between such Taoism and this new form: whereas philosophers like Lao Tzu fairly often seem to dethrone adult thinking, or the Adult in Dr Eric Berne's terminology, we do not. The Adult (rational instance) is also rationality, which is needed for gathering and gauging old and new wisdom.
Structuralism of Design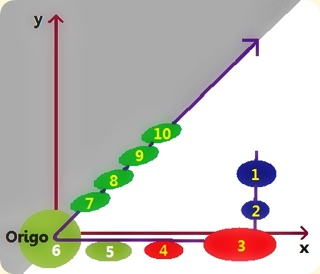 Figure 15. Tick tack tao figure with its first ten beads numbered. Simplifed design.
Doing research and writing research papers - including term papers - conforms to the pattern shown under the "Writing Process" on another page: (Thesis making in short]. The numbered stages are embedded in the all-over stretch (route, trek) that needs to be built up.
The solvency giving scheme behind it is a structural grid which is shown in considerable detail here. [Link].
According to this solvency giving scheme we sift and sort and serialise good points and find solutions to many problems of life, and could work very well for home-making - but results also depend on understanding things, on circumstances, accomplices, associates and so on.
A few more words on schemas: A schema (pl. schemas) is a cognitive structure that helps us perceive, organize, process, and utilize information. It guides our perception in basic ways, and helps us identify what is important by providing a regular structure within which to organize and process information [Smith et al. 2003, 474, 475].
Dale Schunk gives this definition: "A schema is a [cognitive] structure that organizes large amounts of information into a meaningful system." (Schunk 2012, 189) Thus, a schema is a stereotype specifying a standard pattern or sequence [or both] of steps associated with a particular concept, skill, or event. Schemata are types of plans we use during our environment interactions [emphasis added]. Schemata aid in comprehending information. (Ibid. 189) Also, from the same source:
Any well-ordered sequence can be represented as a schema. (Ibid. 189)
Common educational schemata involve . . . studying and comprehending . . . (ibid. 189)
Schemata assist encoding because they elaborate new material into a meaningful structure (Ibid. 189).
Schemata may fascilitate recall. (Ibid. 190)
Schemas (or schemata) are large networks that represent the structure of objects, persons, and events (Anderson, 1990) (in Schunk 2012, 195)
Schemas are important during teaching and for transfer (Matlin, 2009). Once students learn a schema, teachers can activate this knowledge when they teach any content to which the schema is applicable. . . . Once students learn the schema, they can employ it to categorize new formations they study. (Schunk 2012, 1996)
Also, according to Jean Piaget, human development involves the acquisition of schemes, which are types of cognitive structures that underlie and make possible organized thought and action. [Schunk 1996, 104].
Jeanne Ellis Ormrod
In contemporary cognitive theory, the term schema usually refers to a closely connected set of ideas (including concepts) related to a specific object or event. (Ormrod 2012, 243)
Our schemas often influence how we perceive and remember new situations. (Ibid. 244)
[A] person's mental script for an event will influence what information the person "learns" from a given instance of the event. (Ibid. 244)
[S]chemas and scripts influence how learners process, store, and remember new information. For instance, people have an easier time remembering events similar to those in their own culture, presumably because such events are consistent with recognizable scripts. (Ibid. 244)
Schemas and scripts provide a means for reducing . . . information overload: They help people to focus their attention on things that are likely to be important and to ignore what's probably unimportant . . . . Schemas also enable people to make sense of incomplete information. (Ibid. 245)
Schema theory has intuitive appeal as a way of helping us understand how we organize our past experiences and use what we've learned to predict and interpret future experiences.(Ibid. 245)
The tick tack tao table that we use, is designed for sensible schema learning, and what is more, research also says that icons help identifying various levels that go into it. Icons are image expressions aimed at efficient communication, drawing better attention to what is meant to be essential information.
Schemas helped by icons
Schemas are helped by carefully designed icons. Not all icons are equal in how they affect people. Some icons are arbitrary, others are apt. Intrusive icons are a bother - deceptive icons are far worse.
Icons communicate through shapes, lines and colours. Icons can be quick to recognise and process. Icons can make handling of textual information much easier.
Iconic forms can be quickly recognized and processed, and their meanings are memorable. Icons also build context in that they give a sense beforehand of what its aligned text will be about. It puts the information in context, which may save time and improve comprehension.
Use of apt icon devices helps memory, as images can do - for people have a better memory for pictures than for words. And when images and words are used together, learners are likely to remember the image and associate it with the key point.
Icons may enhances aesthetics when designed with enough care. Aesthetically pleasing materials are preferred by users and can increase their motivation.
Chunking information into categories - for example 'anecdotes' - can be a good way to help people learn. Categories provide a framework for storing information. Icons can enhance the framework by being associated with various categories too.
(Cf. Malamed 2016; 2011, 133 -)
People form more cohesive representations of content (and more accurate schemas) when they acquire the content both visually and verbally (called dual coding) rather than acquiring it through visuals only or text only (called single coding), says Karen Schriver (2010).
Related infographics: Infographics can be implemented to explain things such as a process and structure to help understanding of different relationships and how ideas are connected. (Smiciklas 2012, 35)
The science bit
Finally, our basic way of stringing topics into spans or stages is like the scientific ways of handling things in research and report-making. It conforms to all right scientific basis procedures. [Master a thesis: basic steps]
In basic research there are steps and stages. One switches to and fro many of them. What follows is a mere sketch of the steps. Rigid training may be needed and useful in science accordingly:
You typically start to struggle with some ideas that come to your mind and try to evolve them.
You group them and try to bring order into them, by setting up arrays and the like.
Then you seek for evidence or a good foundation of some other sort, depending on the type of study you are into. A good library tends to give help in this phase.
Next you streamline the best ideas and methods you hae found to fit your problem.
You seek to implement them in this phase.
You strive for feedback and try to improve or evolve ideas (concepts, constructs), methods, and even designs - maybe technological devises as well.
You will find that the steps indicated thought this very allround solution finder - or problem solving allround methodology - are linked to the tick tack toe schema above and the mainframe schema [Link].
Through exploring and scientific knowhow man gradually rises above the "monkey" level of aping and conformism, and that is thought to be good and wise, but it can be hard work too, both advancing and keeping the hard-won assets may be hard. All the same, one may reduce the toil more or less by sensible use of the advance modifiers, the "well-wells" we have devised. Many of them are found on another page. [Modifiers].
These very basic steps and stages of research in general correspond very well to a very useful semi-cybernetic scheme that we have developed, and which lies at the bottom of some of our essays. [Defining scheme]
Four into One
The unified, novel Taoism model solves hard problems too. It is a powerful tool for thinking and forming routines that can assist constructivist activity. Good condition are needed along with it, too. The model may be put to work for "all" and one may further be taught how to catch gold eggs through it (a metaphor is there). Gold in this context represents (pleasant) selfsameness, selfhood is another term, and both are linked to the Sanskrit word 'swa' or 'sva', which means self. In other contexts (settings) we use 'gold' as a synonym for handy, all right handy, which is specially valuable.
Tao handling according to models handed over;
Basic cybernetical philosophy after Norbert Wiener;
Parts of the general structuralism of Algirdas Greimas, at times including selfhood-bulding;
Basic steps, layout and values of scientific workings and presentation -
It is also good to form neat and elegant keyword poetics from the gist of the allround solution finder. Keywords and key phrases may work well when thus stringed. There are several ways of doing it. [Aligned metrics]