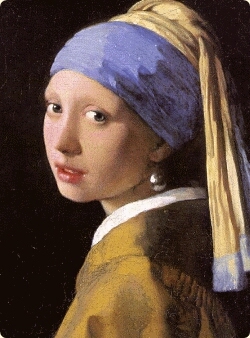 Detail from the painting Girl Wearing an Earring, by Jan (Johannes) Vermeer (1632-75).

DOROTHY MACLEAN was one of the first three to live at the ◦Findhorn Community by the Findhorn Bay in northeast Scotland, with Peter and Eileen Caddy. She was described by a previous mentor as one of "elfin mind" and "shimmering" thoughts.

Her first communication at Findhorn came through her favorite vegetable, the garden pea, which Dorothy had connected with on the soul level. She took down notes. One of the results is her book To hear the Angels Sing. It contains much substance to ponder. [Th]
A Story
ONE DAY at Findhorn she was trying to rid some gooseberry bushes of caterpillars and decided to pick them off by hand. That was unpleasant to her. Part way through, she realized that she was working from hate, and decided she had better start working from love instead.
A few days later she noticed that the bushes she had worked on with love were free of caterpillars. Not so with the others.
AFTER she had moved back to North America she tuned in to the city angel of Milwaukee and experienced a beer-drinking kind of Being.
She also tuned into the Angel of Canada and it said it couldn't do its job because Canadians didn't have a clear identity.
Advances may come from tuning into the intelligence of nature. All life carries intelligence. What is called angels and devas (Sanskrit: 'shining ones') by her, hold energetic patterns. [◦More]
Spiritual teachings . . . cannot throw light on the inner Self. - Guru Dev (Shankarachayra Brahmananda, 1870-1953) [◦More]
One Life breathes Oneness.
Dorothy was one of the co-founders of Findhorn Community in northeast Scotland. Dorothy worked in the garden from early morning until dark, now and then meditating and writing down messages.
On 8 May 1963 she was told to feel into the wind. She thought this was a nice excuse to go off and enjoy walks in nature. But soon the garden that she and another co-founder, Peter Caddy, worked on, began to bear strangely large vegetables, for overjoyed nature spirits took part in raising them, she was informed. And also that "The smaller individual nature spirits are under [the] jurisdiction of" "the spirits of clouds, of rain, and of vegetables".
She learnt to seek into the glorious realms of nature, where everything has a soul and intelligence. Now a garden pea said to her once she tuned into it, "You have come straight to my awareness . . . While the vegetable kingdom holds no grudge against those it feeds, man takes what he can as a matter of course, giving no thanks."
She saw she was not communicating with a single vegetable, but with the soul of the whole of the species of that vegetable. As soon as Peter Caddy got to hear this, he made a list of questions she was to ask different vegetable devas (lit. "shining ones", devas, in Sanskrit).
There was another founder too, Eileen Caddy, the wife of Peter. Her and Dorothy's inner voice guidance brought them to the location (next to the town's dump) and encouraged them throughout. Dorothy: "We didn't have the slightest idea what we were creating."
Also, Robert Ogilvie Crombie (called "Roc") began to see and talk with "the 'smaller' nature spirits" or 'elementals'" shortly after visiting Findhorn for the first time in 1966 at around the age of 75. The 'larger' nature spirits that Dorothy contacted, stood out as "the architects who have the plan and pattern for Nature", while the elementals were the blue collar workers that did the actual work, they say.
Ogilvie never lived at Findhorn, but he had to explain the behavior of mankind and Peter Caddy to the nature spirits there and beg for forgiveness and patience from them, "telling them that the offending people were well-intended, just ignorant. This included preventing a nature spirit strike at Findhorn when Peter cut plants in full bloom. Ogilvie was told flowers should never be cut down while in bloom.
With some people nature spirits will cooperate when invoked, Findhorn teaches, and the results of working with Nature was astounding. Some vegetables were growing to extraordinary sizes - including a 21 kg cabbage! Fruit trees thrived, and many herbs and flowers, and word got around that something very strange was happening. Experts came, and a compost expert and Soil Association member wrote: "...'By their fruits shall ye know them.' The fruits are those I have been looking for."
From 1970 people were showing up to be a part of this endeavour, and some stayed. It changed Findhorn into a community and school. Dorothy's communications from arch-angelic devas had gone beyond gardens and to what was possible for humanity. Findhorn soon became a community which included areas for arts and crafts, printing and publishing, construction, communications and a college program. Today the Findhorn Community has become an eco-village conference center.
Then, by the end of 1973, Dorothy left Findhorn with a group of several others, including David, to form the Lorian Association in California. Eileen stayed at the Findhorn community and Peter left some years later. And in the spring of 1975 Ogilvie died.
Dorothy has written and published several books, such as To Hear The Angels Sing. The Findhorn Garden tells about Ogilvie, some deva communications, and others.
MAIN SOURCE: Spirit in the Smokies. Interview with Dorothy Maclean. Asheville, NC: Spirit in the Smokies: Magazine of New Paradigm Living, 1999. On-line:
[(0054)http://spiritinthesmokies.com/interviews/dorothym.html]


Dorothy Maclean was one of the founders of the Findhorn Community in northeast Scotland in the 1960s. After she left there in the 70s, she has become renowned as an author and worldwide lecturer.
The outer discipline includes: Stop condemning that you have free will
THE CRITICAL analyzing mind is a wonderful servant. [Abr]
Choose to be in higher, more loving energies. [Mod]
I had to have an outer discipline . . . I didn't have the inner discipline . . . Fortunately I had someone I respected to give me the outer discipline . . . The word discipline has got a bad name . . . but I had someone help me.
One of the things about Findhorn [is] that people [hardly] realize the work we had to go through . . . but we had many years of preparation.
Our higher self or inner core or the divine within . . . the personality can be aligned with it.
It's a strange thing having free will. It gets us in all sorts of good and bad places.
Another form of selfishness [can be] thinking of oneself as unable to do anything.
When we stop condemning ourselves we stop condemning others [Yet "You don't have to be ill to be a doctor."] ◊
We want wealth, shall we say, and we get it and find we're still not happy. So we keep on. [Both Hinduism and Buddhism say wealth is good and fit for a balanced development. It does not have to be any either wealth or happy, but a both-and.]
Accept what you are and give it time to blossom and then get fruitful
A PART of the game of living is to learn to deal with the own negativities. We can't run away from them very well, so better learn to resist them. [Mod]
What we think is evil could have some got good in it. That's true. [Mod]
You may accept what you are in all parts of yourselves, and your highest feelings. We all need to give what is central, good time to blossom in a life. ◊
Go the Way toward Conscious Self

HOW DO you change the world? By changing our own consciousness. . . be nearer to that core and work with your own divinity.
Get to Consciousness of the planet. [Abr]
Find out what you really want to connect with your personality or your central, inner selfhood. [Abr]
No country, no body stays the same. ◊
We've been given this wonderful opportunity of free will to learn.
It's got to be lived in one's life.

Stop condemning that you have free will
Accept what you are. give it fit conditions, and also time to blossom and set fruits in abundance.
Go the Way toward Conscious Self. It is like turning the great Wheel of Dharma in Buddha's central teachings.

Favour a will that goes for abundance and good conditions, for it can assist against depletions along the path toward the Great Goal - Self.
SOURCE: Choosing Love: An Interview with Dorothy Maclean, by Michael Bertrand. On-line:
[(0041)http://www.banyen.com/INFOCUS/MACLEAN.HTM]
Works containing Dorothy Maclean's deva messages and the book about the Findhorn garden, offer so interesting, alternative perspectives that your mate might think you have become some crazy "friend of flowers" and the like unless you maintain a largely tentative position as you try out her fit parcels of wisdom in a wider, more considerate perspective than the dominating exploitative one, which so many, many get adapted to . . .