Indian mythology is complex. One reason is that in ancient texts, various gods intermingle and call themselves the greatest, one by one. The eminent scholar Max Müller (1823-1900) coined the word henotheism that signals that if the god in question is a funnel into the one divine sea of godhood, each may have a right to call himself the greatest. But "Many later authors prefer the term monolatry—which is the worship of one god, whether or not the existence of other deities is posited." [Ebu "monotheism"]
It is not like the former boxer Mohammed Ali, earlier Cassius Clay. He was a self-made "I'm the greatest!" in the ring in his day. Krishna too fought for his title, the scriptures say - Words alone will not do it, though.
Without comparisons with the boxer, about a century earlier Lahiri Baba (1828-95) wrote, "The sun is Kali (Goddess Kali), I myself am Kali. Thinking about Kali I become Kali. Now I will be father of Kali, Brahma, the ultimate Self." "The sun is Kali [Goddess Kali], and I am what I am." [◦Sayings 43, 44]
It has to do with a yogi spotting. Lahiri Baba made kriya yoga widely known. In kriya outward attention of the mind and its denominators are quenched a lot [Ut 47]. Said in other words, in deep mediation there are hardly any outward references. "Being outward" is not the main issue in meditation. And esoteric mentions hardly mean what they say on the surface - it is surprisingly often that way.
Also: The sun is the sun, and being oneself in handly ways is not all bad.

It seems to me that Hare Krishna altar worship is hardly set up in genuine Christianity. And even if the guru Paramahansa Yogananda (1893-1952) in his autobiography said Babaji was ever in union with Christ Jesus and had planned salvation of the world with him [Pa] there are lots of bits of this jig-saw puzzle that hardly fit in - major bits, central parts of the Christian canon. And there is evidence that the Catholic father Matheo says Yogananda's teachings are heresy in some ways, without even covering all the ground. [Link]
Although most Yogananda followers of the old days did not have to worship Krishna, they got Kriya and by that entered "Elysium" (Heavenly Bliss), it is stated. Well, can a Christian have Hindu gurus that call themselves avatars and Christs? Must he be put to institutionalised picture-veneration to fit in?
For the faults of some gurus and fellowships, do not judge all of them. It is not fit to laugh at all the gurus who say they will help you.
Avatars or avataras are descents or emanations into some animal or human form - allegedly supporting the forces of good. [Clh 61] God Vishnu's avatars are "descents", often called "incarnations". There are ten Vishnu avatars in the work Garuda Purana, twenty-two in the Bhagavata Purana, and many others. Not all avatars are thought to be of Vishnu. In the Mahabharata, these characters are considered avatars among others: Krishna, Arjuna, Draupadi, Drona, and Vyasa. Further, some avatars are said to be full avataric manifestations, others partly manifestations. Maybe Shakespeare's saying on greatness applies to the figures:
Some are born great, some achieve greatness, and some have greatness thrust upon 'em.
Myths at times are rooted in heroes whose greatness later generations build up and up into godhood even, and there is a chance that some of the dozens of avatars in Hinduism fall under this mechanism of collective minds, whose heroes and god project admired sides to themselves too. If they did not have it in them, how could they have admired a thing and called it great?
Other avatars than those of god Vishnu are seen in such as the Siva Purana. [Si, index].
Historically, it seems there is room for a process like this, too: First someone thinks up a great title. Later a cult cements it and institutes it in its worship. It happened to Jesus in Christianity too. Narrower concepts borrowed from Jews soon took on bigger and wider meanings as time went by. And later still, others sucked those concepts again. In America, the love avatar (so called) Paramahansa Yogananda could freely set forth in a magazine he edited, that Lahiri Baba raised many Christs through yoga - whatever he meant by that - and that Yogananda's father Bhagabati was one of those many Christs. His guru and guru's guru too, although that one, Lahiri Baba, said, "I am not holy. Know it for certain." [Sayings 50, 93 mixed; Inner Culture Magazine, March 1937]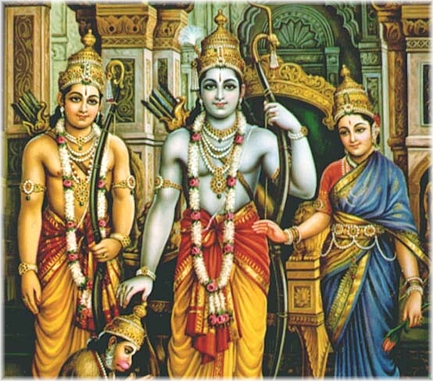 Rama, avatar of Vishnu, is at the centre.
Vishnus are also interpreted symbolically. There is internal evidence in many Hindu scriptures that such practice has been wide-spread. For example, the very old and long book Yoga Vasistha [Su; Yv] presents the Indian epic Ramayana [Karb; Ra] as the outer coat of an inner quest. "Creation is what one sees and is aware of, and this is within oneself," says Vasistha. Like Krishna, Rama is thought of as a whole, complete incarnation of Vishnu (he too).
Yoga Vasistha is presented as a discourse of the sage Vasistha to Rama at a young age. It is the longest Sanskrit text after Mahabharata and Ramayana, and an important text of Yoga and Advaita Vedanta [monism]. From the work:
Sarasvati: "O dear lady, you have worshipped me for a long time with intense devoltion; therefore, I grant you the boon sought by you."

The first Lila: "Your words never fail, your wish always comes true."

Saraswati: My dear, I do not really do anything to anyone. Every jiva [soul, etc], earns its own state by its own deeds. I am presiding over the intelligence of every being; I am the power of its consciousness and its life-force. You longed for liberation, and you obtained it - it is consciousness alone that bestows the fruit upon you. [Yv 63-64, abr.].
Discern between and mingle handsome short-range benefits, middle-range benefits and long-range benefits to win the day on an all-round plan, as Buddha teachings are thought of: excellent in front, in the middle and to the end. Why not? It is too shortsighted not to remain alert to the fact that some phenomena are short-lived and give only brief benefits, whereas others have effects that last long, and so on.
In Northern India, Vishnu is said to descend into bodies of both men and animals. One of his incarnations was a world-saving boar. And pigs love pigs. Pigs are among the most intelligent creatures on the planet, studies show [Link]. And Yogananda has taught of a squirrel avatar too.
Speaking of avatars, a descent can be due to a fall - even into animal form - and falls are considered harsh punishments in Manu Samhita [Mux], the Institutes of Vishnu [Viom] and other sources.
"Love yourself well" could be the overlooked side to a Christ-command [Mark 2:31]. There is a saying attributed to Buddha:
You can search throughout the entire universe for someone who is more deserving of your love and affection than you are yourself, and that person will not be found: You yourself, as much as anybody in the entire universe deserve your love and affection. [Buddha, attributed]
Hence, cater to your own good too. Do greater works than wail and sob in the garden: Enjoy life as best you can. Go for better living on an all-round plan. [Cf. Mark 14:31-41; John 14:12].