Sociable wisdom manages to see such as: Some relations are derelict; some are teeming with ulterior motives; worth is judged by one's outward positions, or even the ideas that were put "into infirm heads". From these and many other influences hard-hearted ones profit, and cling to them.
Ramakrishna once said,
"The cow cries "Hamba!", which means 'I". That's why it suffers so much. It is yoked to the plough and made to work in rain and sun. Then it may be killed by the butcher. From its hide shoes are made, and also drums, which are mercilessly beaten. Still it does not escape suffering. At last strings are made out of its entrails for the bows used in carding cotton. Then it no longer says, "Hamba! Hamba!" "I! I!" but "Tuhu! Tuhu!", "You! You!"
Only then are its troubles over. [Only now it is dead!]
Egotism is the cause of all suffering, says Ramakrishna [Tas, tale 50]. Well, it is not true. But the cow says "Moo" and similar. You can count on that . . .

The 'ego' in Freudian analysis is termed 'the Adult' by Berne. It helps one to cope, do realistic appraisals of the outer world and that could be needed.

Suffering can often be avoided and reduced by a sound, well-functioning ego (rational instance).
Healthy Egohood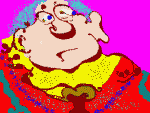 THE ART of living well is seen in filtering out harmful contacts, maximising good ones, and go for healthy endeavours on an "even keel".
Healthy egohood is an integral, deep part of man's mind as he was meant to be - normal and not to be dispensed with. Selfishness is different. But even selfishness steered well may pay for a long time, depending on how enlightened you are. It is possible to do good out of selfish concern, and benefit from doing good. The idea of laying up heavenly merits - akin to "good karma" is rooted likewise.
The Transactional Analysis (TA) of Dr. Eric Berne counteracts much badness if set into system, and there is documentation that it can do so. [see for example Bnn]
Don't be run over
A lot of Hindu teachers talk down on 'egotism'. What is meant by it may be blurred or unclear, though, and breed confusion. Confusion often incapacitates. What seems wrong is too much selfishness in adults. But it tends to drops off in some. Selfishness is natural in children, and at times dear. "Not too little, not too much" seems to be the better attitude. The same goes for bland assertiveness. Much depends on blandness.
A kind of well-proportioned "middling fare" could serve many.
Stories and alleged wisdom of such as Indian "saints" seek to fix conformity to standards and ideals and notions, but not all of them make fit for living after all.
Hinduism is vast. Some of its goodies may be hard to come by, if at all, and besides, appearances may deceive. And it could pay to stay at home and not steer into merely alleged Hindu wisdom.
Some balanced, non-proselyting survey first should work well. A fine study of Hinduism a few decades ago, was made by Dr. Zaehner. [Him] And it's good to have built up a general frame of understanding before outright propaganda by foxes. Moral lessons matter. Instead of advocating adaptations fit for guru servility and "giving up the world", we may focus on deep-going instructions for all-round thriving.